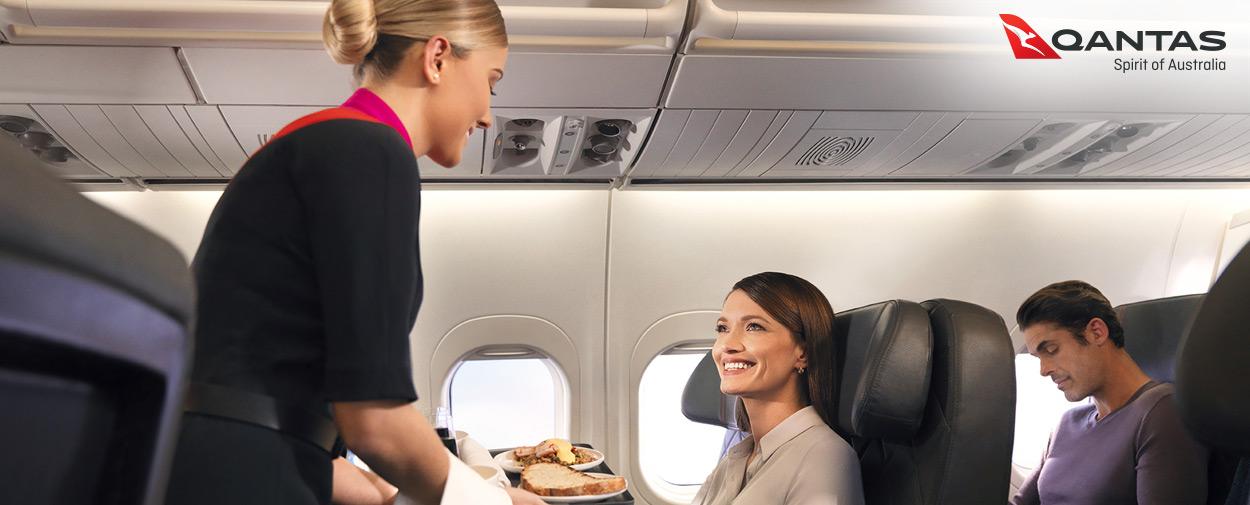 Would you like an upgrade to Qantas Business Class? How about credit towards your Qantas flights? Or perhaps you'd like to experience the benefits of an annual Qantas Club membership?
Join Corporate Traveller in August or September 2019 and we'll lift your expectations of business travel right from the get-go! How will we do this?
By giving you $1,000* Qantas credit as part of our exclusive Onboard & Upgrade offer to help you travel in comfort.
Elevate your travel experience with any of these …
Qantas flights 

Enjoy the comfort and perks of a full-service legacy carrier when you fly with Qantas. A full meal and beverage at the end of a long day interstate can make all the difference!
Business Class upgrades

The ultimate for any business traveller, particularly for longer trips, is an upgrade to Business Class. With Corporate Traveller's Onboard & Upgrade offer you'll be able to enjoy everything that Qantas Business Class has to offer including access to the business lounge, fine dining options created by celebrity chef Neil Perry, exceptional service, lie-flat seat, welcome onboard champagne and more!
Annual Qantas Club memberships or renewals

If you're a frequent traveller, a lounge membership is a must have. Most Qantas Club lounges offer free refreshments, business facilities, Wi-Fi throughout and shower facilities. As a Qantas Club member, you'll have access to a range of priority domestic check-in options regardless of your class of travel.  More info.
Save with our exclusive lounge rates:

Membership joining fee: $247 (save $152)

1-year membership: $442 (save $97)

2-year membership: $803 (save $176)
Greater choice, more value
There are so many ways you can boost your business travel with our Onboard & Upgrade credit and loung passes. Don't take too long though, as there are only 20 credit offers available!
All you need to do is …
Become a Corporate Traveller customer in August or September 2019, and spend a minimum of $6,000 on eligible# Qantas flights within the first three months of trading.
Ensure your business is a member of Qantas Business Rewards.
*Terms and conditions

Want to hear more good news? This is just the start! As a client of Corporate Traveller your business and travellers can tap into exclusive benefits, campaigns and offers with Qantas – all year round!
For more information, fill out the online enquiry form or call us on 1300 732 280
Qantas Business Rewards program
The Qantas Business Rewards program provides benefits to both your business and your travellers from the first eligible flight* booked. Take your business travel to new heights and earn rewards today!  Read more
*Terms and conditions: 1. Promotional period starts 1 August 2019 and ends at 5pm AEST on 30 September 2019. 2. To qualify, companies must become a customer of Corporate Traveller and book and pay qualifying Qantas flights within the first 3 months of trading with Corporate Traveller. 3. Must be a Qantas Business Rewards member or sign up during promotion period (1 August 2019 to 30 September 2019). 4. $1,000* credit issued must be used towards Qantas related products and only be booked through Corporate Traveller e.g. Qantas flights, Qantas upgrades, Qantas Club annual memberships (or renewals) and Qantas lounge passes. 5. Qantas credit must be booked by 30 September 2020. 6. A maximum of $1,000* Qantas credit will be awarded to the customer organisation rather than individual travellers that the bookings are registered to during the promotion period. 7. Credit issued must be used towards Qantas related products and only be booked through Corporate Traveller. 8. Credit is not redeemable for cash or foreign exchange. 9 This promotion is not to be used in conjunction with any other offer. Corporate Traveller has the right to change or cancel this promotion at any time without notice. #An eligible flight means a domestic or international flight which has a Qantas 'QF' flight number on the ticket that is purchased in Australia; is operated by Qantas, Emirates or American Airlines; has a ticket number commencing with '081'. Australian OpCo Pty Ltd (ABN 20 003 279 534) trading as Corporate Traveller. ATAS Accreditation No: A10412.