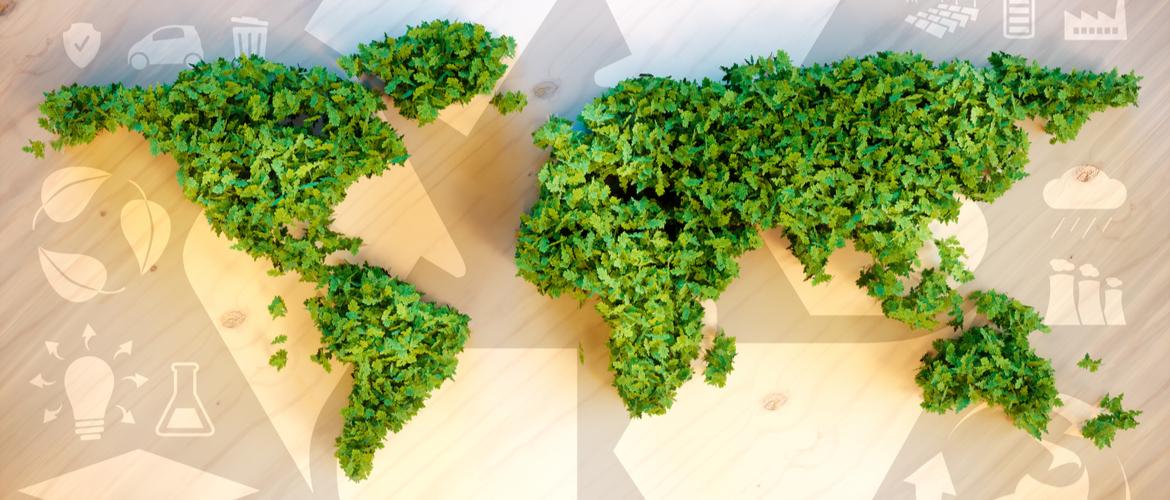 For many years now, our environmental footprint and the impact we have on our travel destinations have been important considerations for both business and leisure travellers. There has also been an increasing expectation that companies operating in the travel industry – and those contributing to the growing impact – are doing more to support sustainability.
So, what is sustainability in travel, and why is it important? What is the industry doing to address issues and growing concerns? And, importantly, how can your business implement sustainable practices into your travel program? Let's take a look.
What is sustainability in travel?
From preserving nature to respecting cultures and supporting local businesses, every trip has an impact, whether it be positive, negative, or both. Sustainable tourism is about taking responsibility and action for the current and future environmental, social and economic impacts of travel.
When we talk about sustainability in travel, we mean more than opting to offset the carbon emissions of your flight or using your towels more than once. While every small action is essential – especially when taken by the majority of people – they aren't enough.
Establishing sustainable travel practices can form part of your corporate social responsibility (CSR), which is a framework that incorporates social accountability into your business model. CSR is more than lip-service; it is specific and targeted and, importantly, valued by employees and customers alike.
Why is sustainable travel important?
According to the Australian Federation of Travel Agents, business travel accounts for just under 10% of outbound international travel. And when we consider that the number of Australians flying out of the country sits just over 900,000 per month, that is around 90,000 business travellers flying internationally every 30 days.
With this amount of travel comes significant impacts on the world's resources and its sustainability. Fuel emissions from your air and ground transport, food waste, water usage and the use of disposable containers are apparent and often tangible impacts of travel. But travellers and businesses alike are increasingly aware of aspects like over-tourism. Also known as overcrowding, this can congest a destination, leading to environmental damage, cultural conflicts, increased demands on resources and higher costs of living for locals. And the industry is responding through concepts like managing growth at popular destinations and establishing development plans around sustainability.
Growing expectations for more sustainable travel options are driving many industries to offer responsible products and implement sustainable practices into operations. From a business point of view, this means:
Your customers want to know that they are buying products that have been sustainably sourced and transported or services that are supporting local cultures and businesses;
Your employees want to travel sustainably and know that they are working for a company that promotes these values; and
People local to your origin and destination want to see what you have done to ensure that your travel is not negatively impacting their way of life.
Organisations that are embracing sustainability as an integral part of their business practices and travel programs are experiencing a range of positive outcomes, including:
Positive publicity;
Employee retention;
Improved relationships with customers;
Increased sales; and
Better financial results.
Where is sustainable travel headed?
For the average business traveller, choosing flights and accommodation that support sustainable practices are the obvious and simplest ways of adjusting their habits to have a positive impact. So, what are airlines and hotels doing to reduce their customers' footprints? More than you realise.
Hotels
According to research by Accor, 85% of guests said it was important for a hotel group to protect the environment and the local economy. In addition, 67% of guests, including business travellers, said they would agree to pay a little more for a hotel that has taken steps to protect the environment.
"Almost all firms polled by Accor said that CSR is important to them. The statistics certainly support the fact that sustainability is an important issue for travellers doing business with our hotels," says Simon McGrath, Accor Pacific's Chief Operating Officer.
As with the broader travel industry, Accor has found important issues facing the accommodation industry include food waste reduction, energy and water-saving initiatives and supporting environmental improvement projects within the destinations and communities they operate.
But one of the more exciting developments and opportunities for progress in the accommodation industry is the move towards smarter design. This involves the sustainable sourcing of local products and sustainable materials, as they seek to increase building efficiencies and reduce their carbon footprint.
"Through various initiatives such as Plant for the Planet and the group's pioneering food waste reduction program, Accor Australia is making huge strides in reducing the impacts associated with its operations and acting socially responsible," said Simon.
This sentiment – and action – is echoed by Intercontinental Hotel Group (IHG) who are listening to their guests when they think more broadly about sustainability.
"Travellers expect hotels to demonstrate how seriously they take issues and make it easy to travel responsibly. Reusing your towels was the poster child of hotel environmental responsibility in the nineties and naughties, but that is now considered the bare minimum. Now, guests think about sustainability in broader terms, including healthy and sustainable food sourcing (such as organic, paddock to plate), in-room power-saving technology, water scarcity, and reduced energy, food and plastic consumption," says Leanne Harwood, IHG's Managing Director of Australasia and Japan.
Recognising that tourism has an impact, and the industry has an important role to play in reducing that impact, IHG is stepping up their war on waste through global and local initiatives. One such program involves moving their entire global estate of more than 5,700 hotels and almost 843,000 guest rooms to bulk-size bathroom amenities. The initiative was a world-first, with the transition expected to be completed in 2021. And other hotels have started to follow suit.
Other IHG initiatives include opting out of housekeeping in return for IHG Rewards Club points and local area programs such as banning plastic bottles and using bedding made from recycled materials.
"The great news is these initiatives are not only doing good in the world, they can actually enhance the guest experience, save costs and even help in attracting talent that now expects this kind of approach from their employers," says Leanne.
Airlines
The very nature of airlines – flying people around the country and the world – makes them a target for customers demanding better sustainability practices. And they are responding through several initiatives, not just in offering carbon offsets to passengers.
But let's start there. When you purchase a carbon offset as part of your flight booking, you're contributing funds to projects that the airline runs or supports to reduce greenhouse gas emissions. The reduction in emissions is a global goal, with targets set by the International Air Transport Association (IATA) including 1.5% annual fuel efficiency improvement between 2009 and 2020 and carbon-neutral growth from 2020.
For Virgin Australia customers, carbon offsets help to preserve over 28,000 hectares of forest in Tasmania, with 30,000 tonnes of CO2 emissions offset each year. The airline also promotes its Sustainable Aviation Fuel Initiative, which uses biojet fuel derived from sustainable sources, including sugarcane bagasse, molasses, wood waste and agave. 
The airline is also committed to reducing food waste by donating over eight tonnes of food to OzHarvest every month, which provides over 16,000 meals to people in need.
Qantas is also raising the bar when it comes to reducing waste, with their Bowerbird Project aiming to eliminate 100 million pieces of single-use plastic from flights by the end of 2021. This is an ambitious initiative which will reduce the airline's waste by a significant 75%. To achieve this goal – which is one of Australia's single-biggest waste-reduction initiatives - Qantas and Jetstar will replace 45million plastic cups, 30million cutlery sets, 21million coffee cups and 4million headrest covers with green alternatives.
The airline has also set targets of saving 20% on their electricity and water usage and reducing overall waste by 30% and is committed to reaching IATA's emission reduction targets.
Both airlines also partner with Australian organisations to support conservation and cultural programs.
Virgin Australia partners:

Australian Indigenous Mentoring Experience;
Surf Lifesaving Australia; and
Greening Australia.

Qantas partners:

The Great Barrier Reef Foundation;
North Kimberley Fire Abatement Project; and   
Ngati Awa Heritage Estate in New Zealand to support reforestation.
Holding businesses accountable for sustainability
Accor's research highlighted the importance of a robust CSR program, not only for the benefit of sustainability but to demonstrate the business' values and practices to employees, customers and suppliers.
According to the results of the study:
75% said they have a responsible purchasing policy prioritising sustainability;
50% of companies said that CSR would be a deciding factor between two otherwise competitive options; and
33% would terminate a supplier if they were not happy with their CSR performance. 
"Importantly, this survey included business-to-business clients and found that the (Accor) group's CSR credentials certainly help to win more business from a client base that is increasingly conscious about corporate responsibility," says Simon.
So, what does this look like in practice? Respected supplement company and Corporate Traveller customer, Blackmores, recently implemented a supplier Code of Conduct, which provides a framework outlining their expectations for sustainable sourcing, social responsibilities and business transparency.
The company works through their Code of Conduct with all their suppliers to assess and understand where they're meeting the requirements of the Code and where they could make improvements.
"We're a values-based business, and we strive to make a positive difference to the world. But we're limited in our impact if our suppliers aren't doing it too. Our code takes a holistic view and considers key values such as employee conditions, community, ethics and sustainability. Our investors, our consumers and the community expect us to behave and operate with integrity, and the consequences can be significant if we don't," says Gemma Edwards, Category Manager Indirects at Blackmores.
As a supplier to Blackmores, Corporate Traveller were assessed as part of their Code of Conduct supplier review. As an organisation with a strong sense of corporate social responsibility and being part of the Flight Centre Travel Group's Brighter Futures program, the assessment was welcomed.
"When the Blackmores team first spoke to us about the Code, we were excited straight away. In our assessment, we were able to demonstrate how Corporate Traveller cares about treating people well. We showed how we give back to the community, we talked a lot about ethics and good governance, as well as our commitment to sustainability and reducing our environmental impact. Caring about people is in our culture, so working on the Code and answering all of the questions was a task we really believed in," says Sally King, National Account Management Leader for Corporate Traveller.
How to implement sustainable practices into your travel program
Companies domestically and internationally are incorporating sustainability into their business travel programs, regardless of their size. A study by the Global Business Travel Association (GBTA) found that, of the companies surveyed:
37% track the carbon footprint of their travellers;
23% use a sustainability index or scorecard system to understand the sustainability practices of key suppliers; and
7% set carbon emission reduction targets.
So, how can you introduce sustainable practices into your business travel program? Here are our top tips:
Choose airlines that offer the option to offset carbon emissions, and add it to bookings;
Choose hotels that have sustainable practices;
Encourage your travellers to stay close to meetings so they can walk, ride or catch public transport to and from;
Provide tips to your travellers on being environmentally responsible hotel guests: reuse towels, turn off the aircon and lights when out, avoid dry cleaning, and sleep in the same sheets for more than one night;
Encourage travellers to forego single-use plastics by supplying reusable water bottles and keep cups;
Provide digital or tech-based processes to reduce paper waste, including expense management systems; and
Partner with suppliers who have solid sustainability programs and practices in place.
The best way to achieve up-take with these practices and make a real difference is through education. Provide your employees and your customers with the tools and information to help them make informed decisions and travel responsibly.
Start today for a better tomorrow
Even the smallest of changes to travelling habits can have significant impacts. By introducing more conscious practices, you'll not only be supporting the sustainability of the world but also benefiting your bottom line.
As part of the Flight Centre Travel Group, Corporate Traveller is proud to support and advocate responsible travel, positive diversity practices, empowered giving, and conservation of natural resources and sustainability. We established our CSR program by consolidating these pillars into the FCTG Brighter Futures program.