Is your accounts team swimming in paperwork?
You can give them a huge break by switching to Rapid Reconcile.
Rapid Reconcile takes the grind out of processing your travel expenses by creating a direct link between our billing system and your Expense Management System. 
That means your accounts team can skip the time consuming hassles of manually inputting invoices and expense line coding.
Rapid Reconcile gives you:
A 75% increase in Accounts Payable productivity with automated matching and expense line coding
Touchless, daily delivery of Corporate Traveller invoices, receipts and meta-data directly into your chosen Expense Management System (EMS)
Auto allocation and coding of expense lines into your EMS or accounting platform
Auto creation and delivery of tailored financial files into accounting or enterprise resource planning systems
Consolidation of on account and credit card charges into a single EMS
The Rapid Reconcile ROI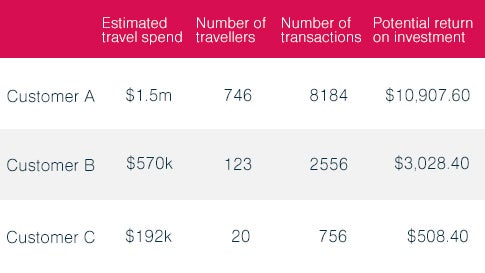 You don't need a high volume travel program to get a boost from Rapid Reconcile.
Take a look at our ROI results from three different customer spending levels.  It doesn't matter if you're taking off once a week, once a month or just a few times a year, Rapid Reconcile's highly configurable module gives you a leg up on the back end no matter what your spending level.
Whether you're processing 10 expenses or 10,000, every reconciliation process has room for improvement and Rapid Reconcile can deliver no matter where your business sits on the scale.
How to get maximum value from your accounting data
Collecting good solid accounting data at the time of making a booking is one of the keys to seamless back-end accounting and expense reconciliation.
When travel bookers are able to enter the right information directly into the system up front, programs such as Rapid Reconcile can then deliver data to accounting systems efficiently and effectively, reducing the time and money spent completing manual data entry and checks.
Hear from Corporate Traveller's Business Improvement Manager Simon McHugh demonstrate how we have helped our customers improve their business with Rapid Reconcile.
Check out our case studies to see the huge efficiency boost Rapid Reconcile delivers.