There has long been a saying in the corporate travel sector … 'If you can't measure it, you can't manage it'.
The same can be said of our carbon footprint from travel. We can't control our travel footprint if we have no idea how big it is. Travellers and travel bookers need visibility of a trip's carbon impact, if they want to make informed booking choices that help their organisation achieve its sustainability goals.  
Having transparency of each traveller's Co2 output is an important part of developing a sustainable travel program. So too is educating individual travellers and travel bookers on the amount of Co2 emitted from different trip components. To encourage more people to think about green travel, Savi now features a carbon-emissions display, which details how much Co2 has been emitted from flights. The emissions panel is visible on the recommended itinerary page.
Powered by Tasman Environmental Markets' (TEM) BlueHalo - a leader in travel climate technology, the display feature is one of numerous tools Corporate Traveller will use to help your business understand its overall environmental impact from travel.
There is a growing demand from businesses that Co2 footprint functionality is available within their travel booking tools - both to influence purchase decisions and to allow travel bookings to be offset for carbon credits.
The new feature, which includes Co2 information against each flight segment, may be the start of a new sustainability journey for businesses keen to embrace more sustainable travel.
The new carbon display within Savi includes two programs your business can follow -:
The first option, which is now live, includes the Co2 display against flight segments.

The objective here is to educate travellers and travel bookers about the emission footprint of each booking.

The second, which will be available soon for interested customers, is a program where Corporate Traveller will work with your business to introduce carbon levies against each flight booked and package into a portfolio to offset with your chosen green initiative.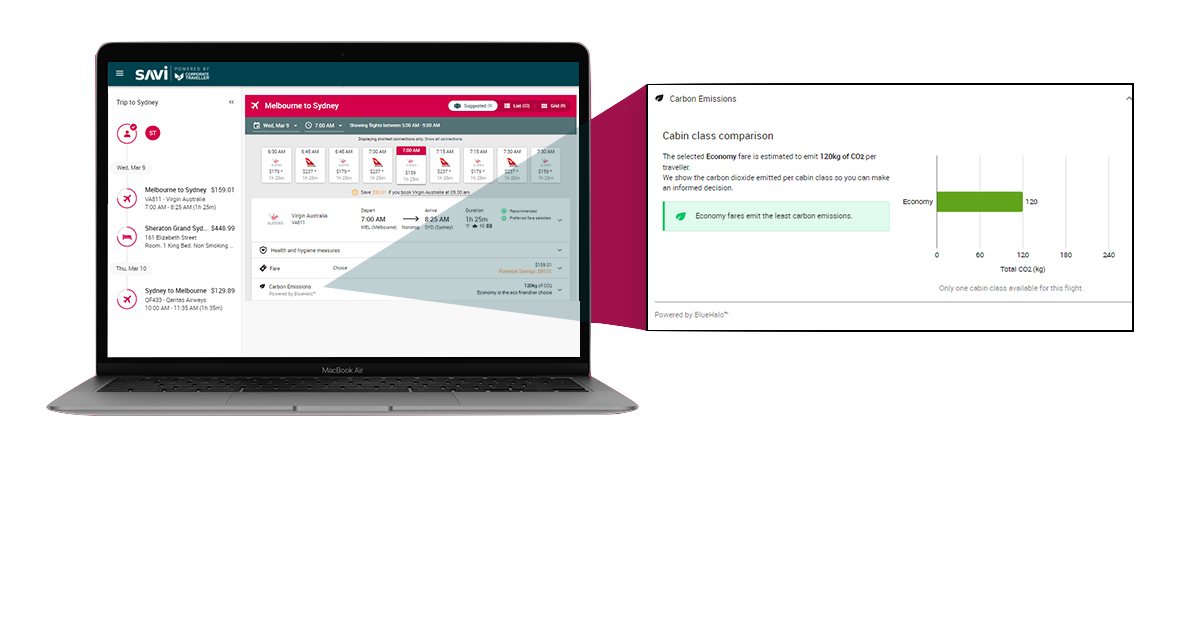 Corporate Traveller will work with your business to understand what your sustainability objectives are and how interested your business is in a carbon offset program.
In establishing what is important to your organisation from a sustainability perspective, your Travel manager or Account Manager may ask you questions such as:
Is your organisation mainly focused on your air travel footprint or would you like to see strategies in place for air travel, accommodation and ground transport?

How much is your organisation willing to contribute to reduce your overall environmental impact? (Carbon offsetting budgets are now becoming a key part of the sustainability picture)
TEM, which is a New Zealand based organisation, offers a range of high value carbon offsetting initiatives in Australia and New Zealand that support renewable energy or emission reduction projects. All projects sequester carbon and deliver benefits to local communities and economies.
TEM is a certified B Corporation, certified carbon neutral by Climate Active, member of CMI and signatory to the Australian Carbon Industry Code of Conduct.