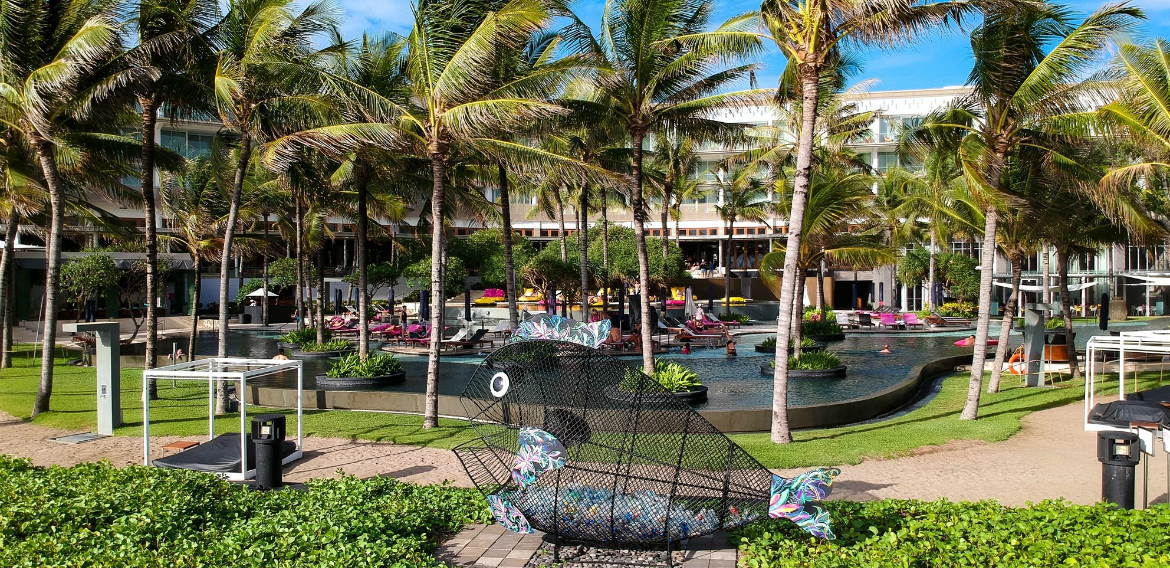 Visit any hotel within Marriott International's network of 780 properties across Asia Pacific and you'll see first-hand how this global hotel chain is reforming its operations for a more sustainable future.
The hotel industry juggernaut has set itself ambitious sustainability targets, which by 2025 will have made a significant difference to their environmental and social footprint.
During the next five years Marriott International, which operates a global portfolio of 7,200 properties under 30 brands, is aiming for:
45% decrease in waste to landfill
50% decrease in food waste
15% decrease in water usage
30% decrease in carbon intensity
Achieve minimum 30% renewable energy use
100% of hotels certified to a recognised sustainability standard.
The vehicle being used to drive change and operational evolution throughout their hotel network is a global program called Serve 360: Doing Good in Every Direction, which the group launched in 2017.
Two years into the program and Marriott International is seeing a raft of innovative sustainability initiatives at work and making a positive impact locally, regionally and globally.
Group President, Marriott International Asia Pacific, Craig Smith, said properties throughout the region all were actively participating in the program and working to reduce their carbon footprint by investing in and implementing operational changes including initiatives to engage guests and local community groups.
"Travellers are increasingly concerned about the impact of tourism on the destinations they visit, so it's important that we are transparent with our sustainability efforts and how we're progressing," Mr Smith said.
"We've made some great strides in advancing sustainability in Asia Pacific over the past two years, and we will continue to positively impact the communities and environments in which we operate."
It's not just leisure travellers that are focused on more eco-friendly practices. The hotel group highlighted a significant shift in the business travel sector in 2019, with corporate clients placing a greater emphasis on the sustainability component of their hotel program Request for Proposals (RFPs).
Corporate clients are now attributing more value to this aspect of hotel RFPs, asking more questions and requiring suppliers to provide in-depth information on their sustainability efforts.
Mr Smith said that as the largest hotel group in the world, Marriott International, would continue to use its size and scale to drive positive environmental and social change to meet the changing mindset of staff, guests, corporate clients and the broader travel industry.   
Reducing landfill and food waste
The evolution of waste management and recycling initiatives with a focus on reducing plastic consumption and waste, is a key focus for the hotel group. Leveraging the group's size and scale, Marriott's priority has been a series of sustainability initiatives to eradicate single-use plastics. As part of its Serve 360 program the group is working to remove disposable plastic straws and plastic stirrers from all its properties globally and replacing the tiny, single-use toiletry bottles in guestrooms with larger, pump-topped bottles.
When globally implemented, Marriott International's expanded toiletry program will prevent over 770 tonnes of plastic going to landfill, translating to a 30% annual reduction from current levels. Additionally, the company continues to explore alternatives for single-use plastics, such as edible, marine-degradable and compostable seaweed straws.
Marriott International's recycling standards require each hotel to offer recycling bins in all guest rooms, which are collected and recycled where local services are available. The company is helping hotels to install recycling bins and signage in guest rooms for easier collection and disposal.
The group's efforts to achieve zero food waste to landfill has seen some remarkable local initiatives from hotels involving the redistribution of food to charities working with underprivileged sections of the community. The group's Marquis Queen's Park Hotel in Bangkok is the first urban five-star hotel in the world to receive the Pledge on Food Waste certification. The Scholar of Sustenance Foundation Thailand (SOS) network, a partner that redistributes meals to underprivileged people in Bangkok, works with nine Marriott International properties in Bangkok's CBD. SOS has collected more than 28.5 tons of surplus food since the partnership started in March 2018.
Marriott International has also reformed its meetings and events offering across many of its hotels in Asia Pacific in response to the influx of businesses looking for suppliers with sustainable conferencing solutions. Changes in their MICE offering include everything from more eco-friendly meetings packages to ensuring conference rooms run on minimal energy supply.
Local and responsible sourcing
By 2025, Marriott International aims to source 50% of all its produce locally, with 95% of its top 10 priority categories sourced from ethical and sustainable suppliers. This includes companies that supply to their hotels - meat, eggs, cleaning supplies, bottled water, cocoa, coffee, guest room amenities, paper products, seafood, sugar and textiles.
By the end of 2020, the hotel group will require all contracted suppliers in these top 10 categories to provide information on product sustainability, inclusive of social and human rights impacts and by 2025 all (centrally contracted) suppliers will need to provide this information.
As part of their work in this space, the group also has launched a responsible seafood awareness and education program, and many Marriott International hotels in Australia, New Zealand and Fiji source their seafood locally and have herb and vegetable gardens to complement menus with home-made ingredients.
Reducing water consumption
With increasing pressure on water resources in Asia Pacific, Marriott International also has implemented water-saving strategies to reduce water and energy consumption. By 2025, the company will minimise its water intensity by 15% through reduction, water treatment and collection initiatives.
Marriott International's Asia Pacific Properties Making a Difference
Plastic waste reduction
W Bali – Seminyak launched the local initiative 'feed Goby the fish'. Goby is crafted out of metal and can be filled with used plastics for recycling. Goby reminds guests that this is the only 'fish' that should be eating plastic.

Sydney Harbour Marriott Hotel is reviewing a program with its fresh juice supplier to see juice served on tap at the hotel rather than in plastic bottles – the move will eliminate approximately 3,000 plastic bottles from being used at the hotel each month.

Pier One Sydney Harbour provides things like eco-friendly corn starch guest laundry bags, buffalo Brown Kraft paper note pads and aluminium cans instead of plastic bottles in each mini bar. 

JW Marriott Phuket Resort & Spa installed a Generation Water system that draws potable water from the humidity in the air, to reduce the need for bottled water in the hotel. The system replaced over 2 million plastic bottles in 2019.
Recycling
Marriott Manila Hotel is making school chairs from single-use plastics for the Philippines School for the Deaf and the Philippines Red Cross, providing better learning opportunities for students in the community.

The Ritz-Carlton, Millenia Singapore is turning ring tabs from guests' aluminium drink cans into artificial limbs for those in need.
Minimising food waste
Bangkok Marriott Marquis Queen's Park Hotel contributes approximately 38 kgs of food on average to the Scholar of Sustenance Foundation Thailand (SOS) network, which redistributes meals to underprivileged people in Bangkok.
Eco-friendly conference and events
The Athenee Hotel, a Luxury Collection Hotel in Bangkok, was the first hotel in the world to attain an Event Sustainability Management System standard (ISO20121). The hotel offers a 'Green Meeting Package' including eco-friendly materials and refreshments. All the hotel's conference venues and meeting rooms operate on minimal energy.

Pier One Sydney Harbour made its banquet notepads half the size and offers conference guests eco-friendly wheat straw pens.
Local and responsible sourcing
Hong Kong Ocean Park Marriott designed all menus to comply with World Wildlife Fund standards, using only sustainable seafood in all its restaurants and catering.
Sustainable water solutions
Le Méridien Mahabaleshwar Resort & Spa in India has installed high-efficiency showers in guest rooms, and treats wastewater to use in flushing systems at the hotel.