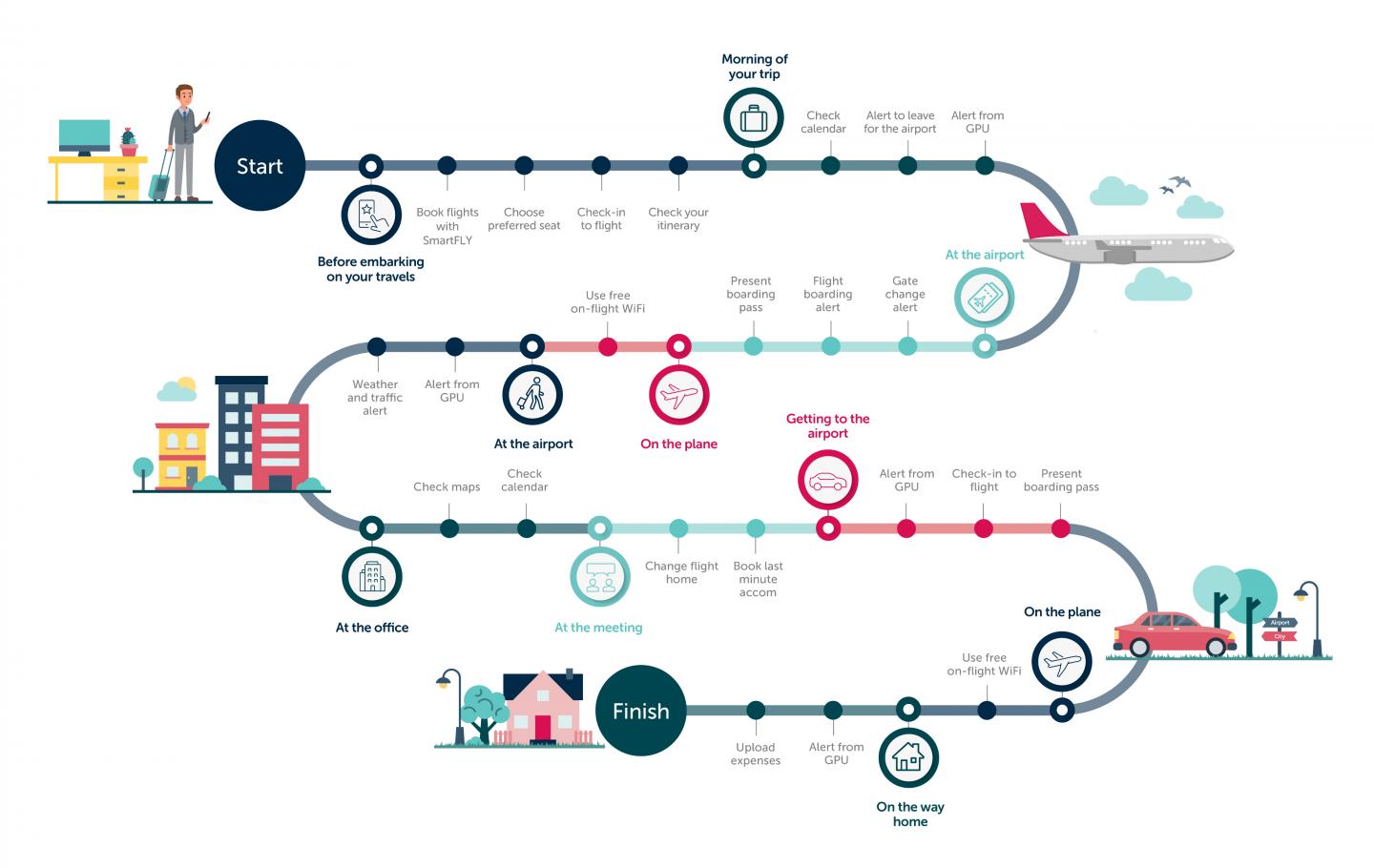 Imagine this, you're based in Brisbane and you're heading to Sydney for a business meeting. Sounds relatively simple right? What could possibly go wrong? Follow the adventure of a business traveller and find out how technology can make your life simpler and easier.
The Day Before You Leave
You've been called up by your boss to go urgently present to a key client. First step, you'll need to book a flight. Luckily your company is with Corporate Traveller.
Tech Touchpoints
You book your flight and accommodation through the Corporate Traveller Mobile app and get a great deal with pre-negotiated rates.
You make a seat request through the app based on your frequent flyer status (you want the aisle seat and near the front, so you can get off the plane quickly).
You check-in to your flight through the app since you're within the 24-hour window from your flight 
You check your itinerary for travel times and view the city safe guide to learn all there is to know about Sydney.
You get started on your presentation for the client now that your travel is all booked. Now you only need to worry about your public-speaking skills and remembering to breathe.
The Morning of Your Departure
You went to bed early and got a good night's sleep. You wake up to your alarm buzzing and remember you're heading to Sydney this morning, so you remind yourself not to accidentally catch the bus. You get dressed and have a snack for breakfast.
Tech Touchpoints
You check your phone calendar to check what time your meeting is in Sydney. You're pretty sure you'll have enough time to get to the office and grab a coffee before you have to meet with anyone. This is great because a day without coffee…well is it even a day?!
BING! Your Corporate Traveller app lets you know that it's time to leave for the airport based on the preferences you entered earlier.
BING! You get a message from your pre-booked GPU private car that they're waiting for you in the driveway.
You jump in the car and head to the airport.
Brisbane Airport
You get to the airport and head straight through security and to the gate (since you've already checked in). You head to your airline's lounge and grab a bite before you have to head to the gate.  
Tech Touchpoints
BING! Your gate has changed – says the Corporate Traveller app. Phew! Lucky it popped up and interrupted your addiction to Candy Crush or Solitaire. You make a mental note of the new gate.
BING! The Corporate Traveller App lets you know right before the plane commences boarding.
Your plane starts boarding and luckily your phone stores your boarding pass, so you hand your phone to the attendant (with the brightness turned up).
On the Plane
You sit down in your aisle seat and the people next to you look like they'll keep to themselves, so you breathe a sigh of relief that you'll be able to get some work done on this flight.
Tech Touchpoint
This plane offers free in-flight Wi-Fi (jackpot!) so you connect and note the email from your boss with some minor changes to your presentation. Now you'll be ready to go.
At Sydney Airport
You're ready to get off the plane and oh no! There's a short delay on the tarmac while they're waiting for another plane.
Tech Touchpoints
BING! You get a text from your pre-booked GPU private car driver in Sydney letting you know the details of the car. You send a text back saying there's a short delay, but you'll be there soon.
BING! You get an alert from the Corporate Traveller app that you can expect clear weather in Sydney today and moderate traffic. Phew!
You exit the airport and head to the pickup spot where your driver is waiting. You jump in the car and head off for Sydney CBD. Luckily your private car booking comes with a fixed fee so you're relaxed knowing you're not racking up the bill for the company.
Tech Touchpoint
BING! You receive an instant message from one of your colleagues letting you know it's the client's birthday today. You make a mental note to wish them a happy birthday.
At the Office
You're almost at the office, about 3 minutes away and you're dying for a coffee.
Tech Touchpoint
You quickly google the coffee shop in your client's building. YES! They take online orders through a coffee ordering app that you have. You quickly order your skinny latte and rejoice that coffee is not far away.
You arrive at the building and jump out of the car, thanking your driver. Luckily there's no exchange of cash as you've paid for the trip already. You dash into the coffee shop and pick up the order for Jordan. Sweet nectar of life! You're now ready to smash this presentation.
Tech Touchpoint
You quickly glance at the calendar app on your phone to remember the names of everyone attending the meeting.
At Your Meeting
You enter the room and greet everyone. There are a few people you weren't expecting so you hand them a business card and quickly write down their names on your notebook, so you don't forget.
Tech Touchpoint
You plug your laptop into the projector and kick off with your presentation.
The client loved the presentation and has LOTS of questions. They ask you to present to their executive team tomorrow (eek!). You agree to stay overnight and pop back in the morning to present to them.
Tech Touchpoints
You quickly call your Travel Manager to change your flight home to tomorrow evening. Phew! Lucky you could do that.
You open up the Corporate Traveller App and look for accommodation nearby. You book a great hotel near the office and head to check-in. Lucky you brought that spare change of clothes in your carry-on.
You check-in, kick off your shoes and settle in for a night of presentation prep.
Executive Presentation Day 
You head to the client's office, business cards in hand, presentation ready, laptop charged and ready to roll. The executive team think the presentation is great and they're ready to sign up for your cost-saving ideas.
Tech Touchpoint
You pull up a contract on your laptop that can be signed electronically, and they confirm the deal in the room. You email them a copy and a copy to your boss (who will be ecstatic).
You shake hands with everyone, leave the room, exit the building, and try really hard not to do a joyous Toyota jump when you're outside.
Getting to the Airport
It's time to get to the airport and thankfully you pre-booked a return trip to the airport with the private car this morning.
Tech Touchpoints
BING! You get a text from your driver with their license plate and location to pick you up. You meet them there and jump in the car.
You ask your driver if they mind you making a call and phone your boss to let them know the great news.
You check-in to your flight from the Corporate Traveller app and get your boarding pass on your phone.
Sydney Airport
You head through Sydney airport (gosh there are so many people), navigate through security, and head to your gate.
On the Plane
You board the flight using your mobile boarding pass again and get comfortable in your aisle seat.
Tech Touchpoint
Free in-flight Wi-Fi again? It must be your lucky day. You send an email to the client and everyone in the meeting with a recap, next steps, and your contact details in case they have any further questions.
You then switch off your laptop and take advantage of that free in-flight Shiraz. You've earned it.
At Brisbane Airport
Finally, you're off the plane and heading to the exit. You head to the pickup zone for your pre-booked GPU private car. You are ready to head home.
Tech Touchpoint
While you're in the car driving home you quickly snap photos of your receipts and send them through to your Online Booking Tool on your phone. No more manual handling of receipts and you'll be the finance team's favourite person!
Finally Home
You say goodbye to your driver, you are home. You head up the stairs, open the door and hug your partner/child/pet. You kick off your shoes, sit down in an exhausted heap and wonder how on earth anyone travelled before technology.