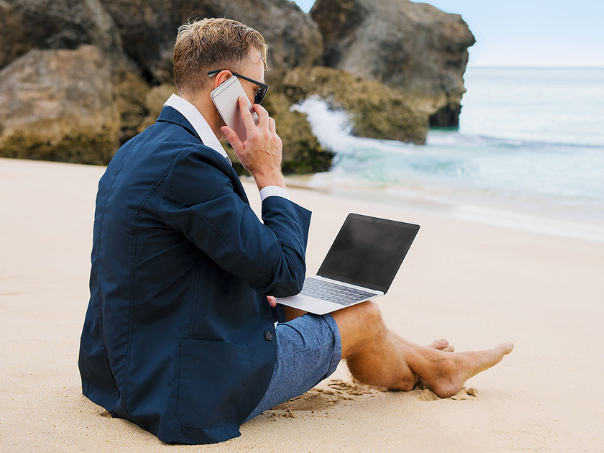 Five must-have travel tech tools (and one that reigns supreme)
Does talking travel technology make your eyes glaze over? So many tools. So much functionality. We get it! 
But….it's kinda important. 
Actually … it's super important – especially if you're an SME with growth plans and employees that travel to facilitate your company's growth.  
As your business expands and more of your employees start travelling, the number of hours involved in managing your business travel, if you're doing it manually, would be massive! And we all know that when it comes to hard-working SMEs … time = money.  
Technology for business travel is all about making things simple, streamlining processes, gaining visibility of your spend and travel activity, and most importantly - making sure your people are safe and informed. 
On that note, here are our top five technology tools SMEs need for business travel. 
1. Online booking tool (OBT) 
First and foremost, for a travel program is an online booking tool (OBT). An OBT helps travellers or a travel booker search, book and manage all their business travel needs in the one easy, online location. This means users can quickly search for airfares, hotels and ground transport options. The best kind of OBTs these days are powered by artificial intelligence (AI). AI enables your OBT to deliver a personalised user experience and ensures you're looking at only the most relevant, in-policy and best priced global travel options during the booking search. An OBT also makes it easy to manage itinerary changes, view and cancel booking. And lastly, an OBT helps to consolidate all your company's travel bookings in a single platform, which makes it easier to use your data for other things such as reporting or traveller tracking.  
2. Reporting tool  
Reporting functionality gives your business visibility into your travel spend and activity. A reporting tool helps businesses to understand how much is being spent, where people are travelling to, which hotel, which car provider and car types, what airlines and fare types are being booked, as well as buying behaviours. This tool allows your business to review travel data at a big picture level or in a more granular format, to identify: 
where opportunities for future savings can be made 
what the key booking and buying trends are  
how well travellers are complying to your travel policy
3. Managing expenses 
Expense management functionality helps to automate travel expense filing for business travellers and your finance department. An expense solution for corporate travel saves time with easy processes for submitting and approving expense reports and reimbursing travellers. These tools also keep all your travel expense data in the one spot. 
4. Risk management 
Risk management tools help businesses to meet their duty of care obligations for travel. These tools provide visibility into traveller locations, real-time updates on events or issues that could disrupt traveller journeys and a central location for travellers and travel bookers to view travel program and policy documents.  
With travel conditions vastly different to what they were pre-COVID, risk management tools are essential for keeping everyone informed on changing travel conditions and protecting the health and safety of your people. Below are some of the functionalities these tools offer: 
traveller messaging capabilities 
traveller tracking reports 
information hubs for travel policies and supplier information  
real-time updates on global events or disruptions 
single-click access to travel consultant support    
country risk assessments. 
5. Mobile platform 
A good mobile app for business travel is akin to having a handy travel assistant in your pocket to help with all your travel needs. A good mobile app will provide the support and information your people need to stay on time and on track wherever they are in the world. Provided you're using an app that's integrated with the rest of your tech tools, your travellers can use a travel app to view itineraries, change their plans on the go, check in for flights, receive flight delay, gate change and cancellation notifications anytime, anywhere.  
Wrapping it all into one, with Your.CT and SAM
One of the most important tips we can give you is to make sure that when you're looking at different technology tools and platforms, that you choose one that does it all! Yep. We're talking one platform with a single log-in that enables you to do most things we've mentioned in this article and more – all from the one platform. (Trust us - they do exist!)
Want to learn more? 
If you're new to travel technology, it may seem all a bit hard. But that's where a trusty travel management company (TMC) comes in handy. A TMC will help you to choose the right tools for your business and your travel needs.