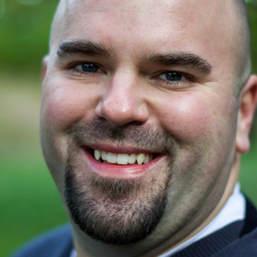 A lot of the conversation on the future of travel has been around artificial intelligence or AI, and there's little question as to why; the capabilities that technology presents can undoubtedly take us to a whole new world of travel.
And while technology will make the future even more seamless for travellers, John Morhous, Chief Experience Officer of Flight Centre Travel Group's corporate brands, paints a picture of the future that includes human interaction as a critical component, especially for corporate travel.
With both technological capabilities and the personal touch set to continue evolving, we spoke with John to find out what business travellers can expect from the future of travel.
The speed and direction of change
We've seen a lot of changes to the way we travel, especially the booking process, in a relatively short period, including the introduction of technologies and digital platforms. And travel is an ever-evolving industry; just when we think things will become a steady-state, something new comes around the corner.
And John says that while the rate of change will continue at pace, we are likely to see some changes in focus: "I fully expect this rate of change to continue, but it will manifest itself in different ways. We've had a lot of recent focus around traveller experience and AI, and while that matures, other less mature areas will get a new focus."
So, what can we expect to see more of in the meantime?
"Payments and content distribution are key areas seeing a lot of focus now, with things like blockchain and NDC," says John.
NDC, or new distribution capability, is a hot topic in the travel industry as it's one of the most significant changes to affect the industry in recent years. NDC is essentially a new method of pricing and packaging airline content, such as airfares, seats and other air-related products, providing an end-to-end booking experience. It's a global movement, but one that will impact travel management companies and travel bookers more than it will the traveller themselves.
Technology will make travel seamless
So, we know the travel industry is going to keep evolving. But what exactly will it look like in the next five or ten years? The short answer is: an even more simplified and seamless experience for travellers.
"As travel platforms evolve and move more into the world of modern computing, I believe we'll see a more integrated travel experience end-to-end. To date, we've focused on parts of the journey, such as the flight or the booking process, but haven't looked at the whole experience. As airports modernise and advancements in content distribution and purchasing start to happen, the possibilities to plug it all together to make the experience dramatically better are endless," says John.
And we're on our way, with technology on the horizon that will impact the travel experience.
"NDC is the clearest example in this space, as it will usher in a new capability to better tailor the airline experience to the individual. I also feel we're just starting to see the potential impact of things like AI to help improve parts of the travel process," says John.
Seamless transit
John describes a time when technology will take care of changes to travel itineraries based on factors outside the travellers' control, and all without giving it a thought.
"Imagine a weather-induced delay automatically updating your car pickup, rebooking you to the next available flight, and providing a complimentary lounge pass at your connecting airport due to your arrival delay – all automatically delivered to you without thinking about it. That is the world we want to get to, and it's just a matter of time before we get there," says John.
Simplified payments
You can forget about the zip lock bag of receipts you keep for expense reconciliation with virtual payment processes simplifying the whole travel expense process. Here's what that might look like:
"Your company pre-pays your flight; a virtual payment available via Apple or Google Pay is on your phone for hotel incidentals; and a pre-allocated virtual card available for meals that is allocated to the employee, based on trip locations and duration, for example, New York City might demand a higher per diem than Lisbon," says John.
Tailored flight options
With custom flight options, travellers will be provided with tailored booking options based on their needs. Doing a day trip? Only pay for the seat and on-board WiFi. Taking a longer international journey? Include your first bag plus meals.
"Travellers will also have a seamless way to split payments with their company, so the company can pay their portion as provided by their travel policy, for example, premium economy, and the traveller can choose to upgrade themselves to something better at their own cost, either via personal credit card or redemption of frequent flier points," says John.
"All of this will be done in a single experience and available throughout the lifecycle of the trip. So, you could choose it upfront when the ticket is booked a month out from travel, or you could decide the day before you fly when you're tired and want to lie flat to sleep on the flight."
Personal expertise will be invaluable to travellers
But it's not all about technology and AI. Human interaction will be even more relevant in the future, with people-to-people contact proving valuable to travellers on the road. And nothing beats personal expertise, especially in the decision-making process.
"I subscribe to the belief that people will always play a vital role. As long as there are busy individuals that are time-poor, there will be the need for travel experts to help make their experiences simple and easy," says John.
But it is the services they provide that might see the biggest change.
"What those experts may do, however, will likely evolve. Today it may be stitching together a complex itinerary from a variety of sources and systems; tomorrow it may be orchestrating experiences or ensuring the seamless hand-off of disparate services in the journey," says John.
Regardless of how sophisticated technology gets, it can never really replace the personal touch that people offer.
"Technology may advance the searching and booking process, but it will never replace the comfort and expertise of getting support and advice from someone you trust," says John.
So, what is driving change in travel?
There's no doubt that technology has been instrumental in progressing the travel industry to where it is today. But if you think about how far we have come, one factor has remained consistently important: the human expertise of booking travel.
So, with all this talk of the expansion of technology and the importance of human interaction, it begs the question: what is the biggest influencer of change – is it technology or people?
"I feel human expectation is actually the biggest influencer of change, but I do believe that expectations are increasing due to the improvements in technology over the last decade. Consumer demand is certainly paving the way for the majority of changes you are seeing in business travel. However companies, particularly large multi-national ones that spend hundreds of millions of dollars in travel, are also helping to push the industry forward," says John.
The future is now
We don't have to look hard to see the future of the travel industry taking shape. It's constantly happening. With each process turned digital and each new app making business travel that little bit easier, we take a step into the future and our expectations grow just that bit higher.
If this sounds like a future you want to be part of, upgrade your business travel expectations and talk to a Travel Manager today.