Designed for the future, backed by experience. Savi has been built on a foundation of exceptional market knowledge and user insight.
Delivering a revolution in online booking
Our new online booking tool, Savi, has taken inspiration from the very latest in artificial intelligence. Savi has been built on a foundation of exceptional market knowledge and user insight. Savi features richer travel content that is exclusive to our business. Its cutting-edge design draws on Flight Centre Travel Group's 40 years of travel experience and Serko's 25 years of technology specialisation. The result is a unique online booking product that features intelligent functionality such as persona-driven user modules – all  exclusive to our corporate customers.

Savi sets a new benchmark for the travel industry, and it propels users into the future of online business travel booking.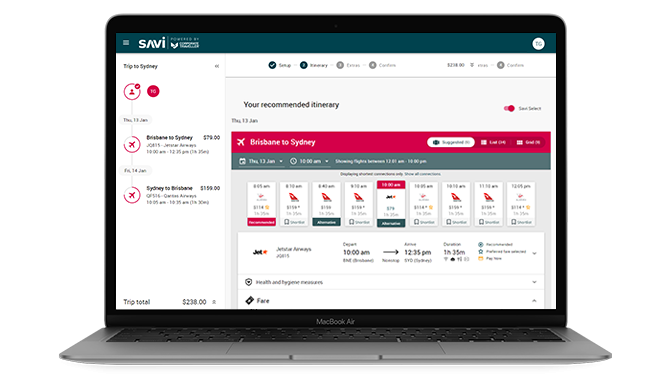 For the Savi Booker
Savi bookers enjoy an intuitive and predictive user experience that's easier to use than any booking tool currently in market.
Savi's exclusive travel booker module, Savi Select, streamlines travel requests, quotes and interactions between Travel Bookers and their travellers.

The tool's machine learning capabilities enable your booker/s to create multiple options for a single trip via a shortlist, which the traveller can accept or reject.

The process reduces back and forth between booker and traveller, helping businesses to expedite the selection, booking and approval process.

For clients that have configured the platform to suit their needs, itinerary recommendations will be in policy, helping businesses to drive compliance.

Manage travel cancellations via Corporate Traveller's online booking tool, Savi – anytime, anywhere. All cancellations are reviewed by your dedicated Travel Consultant.

Search, shop and book multi-stop international trips online for single-ticket itineraries.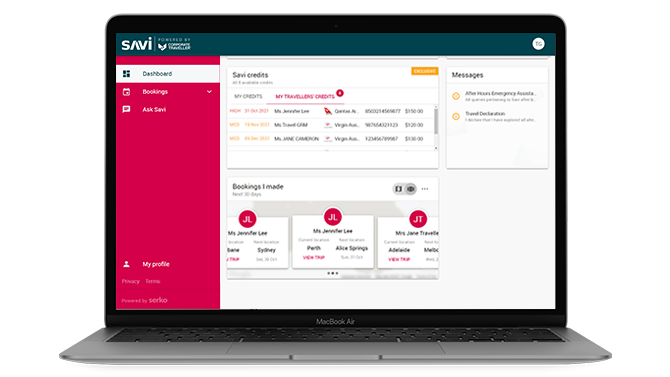 For the Savi Business
Savi businesses are more efficient and effectively maximising savings because they're making smarter decisions with the help of a more intuitive and responsive online booking tool.
Savi's design and functionality will drive compliance, giving you more control and visibility of your travel spend and activity.

Exclusive to the platform is Savi Credits – which ensures you'll never miss out on credits on hold. Savi releases air credits according to the traveller's frequency of travel, value of the credit and expiry date.

Savi's simple user interface and engaging functionality encourages users to book in advance, whilst also capturing booking exceptions. It will calculate potential savings from all the available options.

Savi also enables multiple credit cards to be used for different elements of an itinerary, which helps if part of the trip is for work and part is for leisure.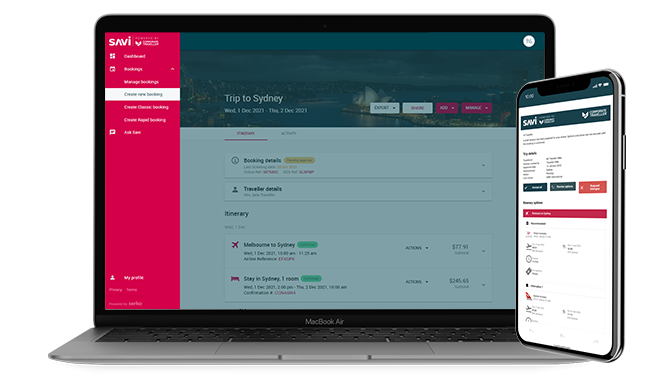 For the Savi Traveller
Savi itineraries are built interactively in a way that provides users with intelligent options and solutions built on insight.
Savi's functionality has been designed to provide a highly customised experience for travellers.

Savi memorises a traveller's preferences to customise and shortlist options for your flight routes, times, carriers, properties, room types, car options and rates.

The platform's intuitive prompts and everyday language dramatically reduce the time it takes to make a booking