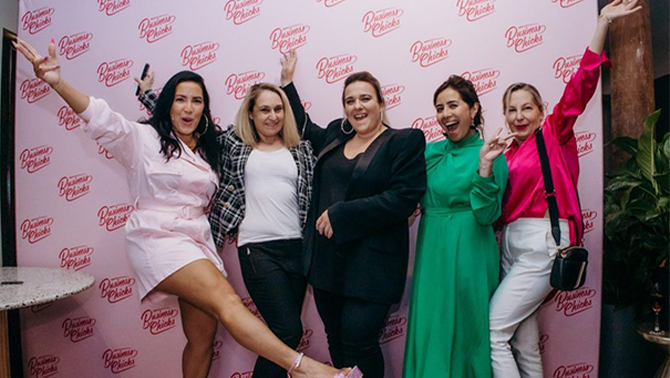 Corporate Traveller has announced a formal partnership with Business Chicks to support the organisation to bring incredible talent to Australia such as the upcoming Prof. Jimmy Choo events.  In doing so, Corporate Traveller aims to deliver experiences, insights, and inspiration to not only their customers but for all women in business around the country.
Business Chicks is Australia's leading networking organisation and community for women in business. With Corporate Traveller's support, Business Chicks has been able to curate an amazing line up of experiences including the upcoming Professor Jimmy Choo events, International Women's Day and Office Professionals Day.  
The Jimmy Choo events will be held over the next 10 days on the Gold Coast, Brisbane, Melbourne, Sydney and Perth. Guests will learn from, and be inspired by, Prof Jimmy Choo, who is today Ambassador for Footwear Education at the London College of Fashion and a spokesperson for the British Council in its promotion of British Education to foreign students. 
Corporate Traveller will also partner with Business Chicks in its upcoming six-city series of International Women's Day events 6-29 March 2024, and its three-city series of Office Professionals Day events in May 2024.
The partnership helps Corporate Traveller to deliver their recently launched and market first, Customer Care Program, Up, to their customers across Australia.  The brand promise from Corporate Traveller with Up is that as their customers' business travel program grows, so does the 'beyond the booking' support services, expert insights and access to exciting new Up Exclusive Perks and experiences on offer, such as the Business Chicks events. 
Ruth Ford, Corporate Traveller's Head of Customer Success for Australia, says: "In addition to providing valuable travel management services to Australia's SMEs, Corporate Traveller has long been a strong advocate for women in business, with approximately 80% of my peers in our leadership team in Australia, being women. 
"Our partnership with Business Chicks is another example of how we are selectively partnering with organisations with aligned values, to add even more value to our customers via the Up Customer Care Program.  Our customers are some of the most well-known, iconic and inspiring brands in the country and from many different industries from high end fashion to open cut mining and everything in between.  It is great to see that our partnership will hopefully both inform and inspire our customers but it's great to know that many women will now have the opportunity to attend these events across the country. We are grateful to have our amazing customers trust us with managing their business travel programs and to be able to offer them an opportunity to be part of these empowering experiences."
Emma Isaacs, Business Chicks Founder, expresses her excitement to work with a brand so well aligned with the values of Business Chicks, saying, "We are thrilled to be in partnership with Corporate Traveller. The brand synergy we share in our commitment to empowering and uplifting women in business has paved the way for this exciting collaboration, and we are thrilled to be able to give Corporate Traveller customers access to our events and initiatives."
You may also be interested in