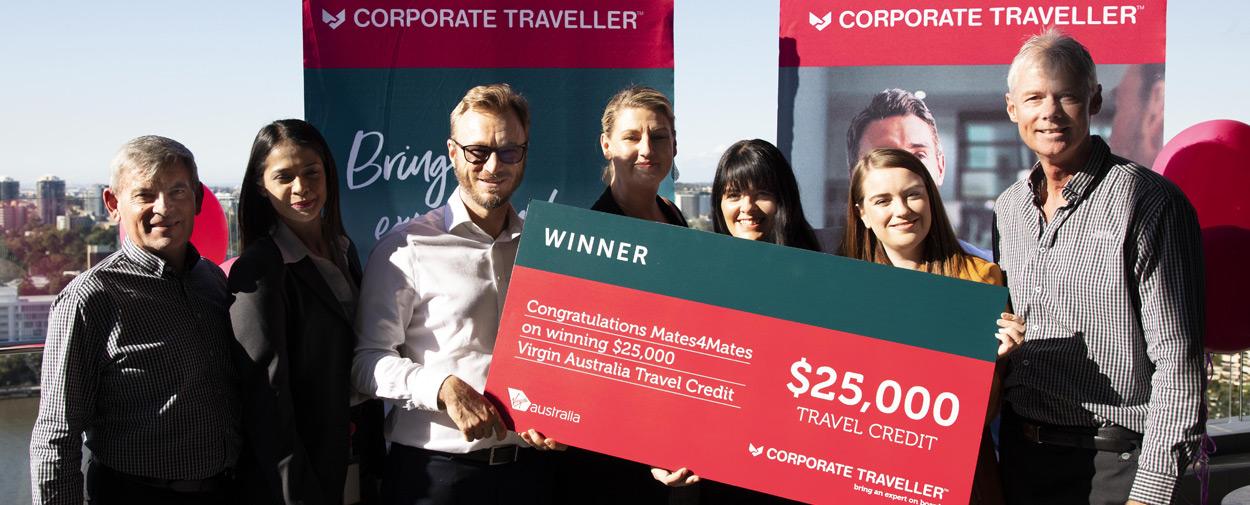 When Emily Halpin from Mates4Mates received a call from her Corporate Traveller team requesting she visit Corporate Traveller's Brisbane office in South Bank recently, Emily wasn't 100% sure what the 'meeting' was about.
The Milton-based Business Support Officer for not-for-profit organisation Mates4Mates, thought she had been called into Corporate Traveller's office for some technology training or a travel update.
But, when Emily and three of her Brisbane-based colleagues walked out onto the 15th floor balcony, atop of the Flight Centre Travel Group head office building – the Mates4Mates' team was delighted to discover they were the lucky recipients of a $25,000 travel credit with Virgin Australia.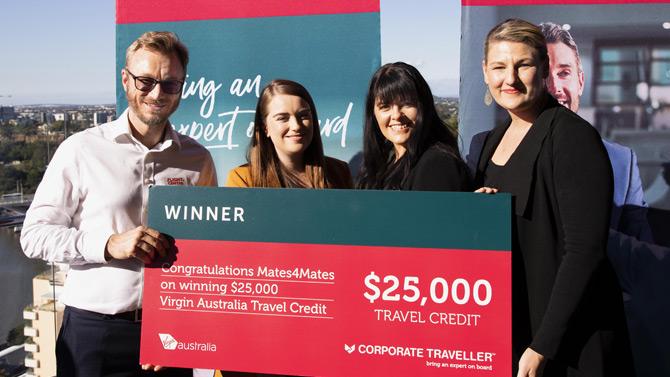 As they ventured out towards the balloons and celebratory fanfare, the Mates4Mates staff were greeted with a round of applause from their Corporate Traveller team and a giant cheque with their name and the $25,000 credit sprawled across the front.
As the key travel contact at Mates4Mates, Emily's written response she submitted to Corporate Traveller as part of the campaign was deemed the best entry from almost 400 worthy customers vying for the credit.
Established by RSL Queensland, Mates4Mates is a charity organisation that has been partnered with Corporate Traveller for the past 18 months. The organisation has been booking their travel through and working with Corporate Traveller to ensure their travel program, which is an important part of their operation, is as cost efficient as possible.
Mates4Mates provides life-changing support to veterans who have physical or psychological injuries as a result of their service, and their families.
Emily told Corporate Traveller the Virgin Australia travel credit would be instrumental in helping give veterans access to vital programs held across Australia, including their Rehabilitation Adventure Challenges and Equine Therapy programs.
"To offer these programs at no cost to our 'Mates' and their family members, Mates4Mates needs to cover the cost of flights and expenses. This grant will help fund flights so that more veterans can access our programs, no matter where they live in Australia," she said. "It would also support important operational travel between our three Family Recovery Centres."
The charity organisation's Rehabilitation Adventure Challenges vary from trekking the Kokoda Track to multi-activity challenges in Tasmania, or horse-trekking through the Snowy Mountains. Each program is between 6-10 days in length and are designed to extend participants physically and psychologically in positive and supportive environments, building motivation, teamwork and trust.
Through the challenges, participants strengthen their coping skills and resilience, including emotional regulation, while improving physical health and fitness. Participants are supported by psychologists in the lead up to the event, during and after, with a focus on developing short and long-term goals and working on ways to achieve these.
The Mates4Mates Equine Therapy program is a five-day residential program that allows participants time to reflect upon and process their experiences in a supportive environment. The program provides participants with a life-changing experience with horses, which are known for their therapeutic abilities.
The program is based on a model of Equine Assisted Learning (EAL), using the Equine Psychotherapy Australia Model and has proven to be a very effective part of the holistic rehabilitation services offered by Mates4Mates.
The organisation added that a portion of the credit would be allocated for operational travel to and from their Family Recovery Centres, which are based in South East Queensland, North Queensland and Tasmania.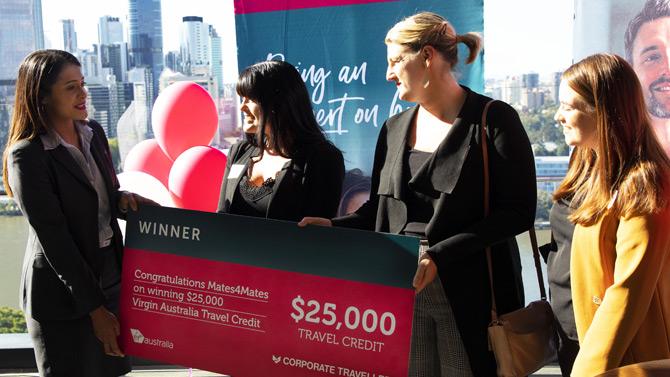 The Centres are used to provide ongoing physical, psychological and support services for current and ex-serving Australian Defence Force members with service-related injuries, and their families.  
Each Family Recovery Centre offers a welcoming, non-judgemental space for Mates and their families to access support services and connect with others who understand what they're going through.
Mates4Mates CEO Troy Watson said the organisation was deeply grateful for the travel credit.
"A huge thank you to the team at Corporate Traveller and Virgin Australia for your generosity and support of Mates4Mates," Troy said.

"As a charity, we rely on the support of businesses and the community to provide vital services to those in need. With your contribution, we can continue to positively impact the lives of thousands of veterans and their families."
The organisation has also just launched its Mates4Mates tax appeal, which raises funds for injured Defence Force personnel as shown in their latest video.  
If you would like to show your support for the Mates4Mates appeal, head to their website.
4138      Registered mates and family members
85%       Male
15%       Female
80%       Army veterans
11%       Airforce veterans
9%         Navy veterans
Military service status of 'mates':
73%       Ex-serving
24%       Currently serving
3%         Reservists