In recent years, Brisbane has carved a new niche for itself in the psyche of the nation. No longer belittled as a sleeping country town, its inexorable rise towards becoming a major international centre continues, and its maturation has attracted the interest of economic, investment and lifestyle pundits nationally and internationally.
The locals still refer to Brisbane as BrisVegas - in a semi-ironic nod to its cultural backwater past – and that style of self-deprecating banter is central to the cities' overall relaxed charm.
However, with a population in the metropolitan area of c. 2.4 million, and an economy currently worth $162 billion, Brisbane is going next level. Significant infrastructure developments such as Queens Wharf and a second international runway lead the way, with burgeoning industries linked to the digital economy capturing their fair share of attention.
Brisbane's relatively close proximity to Asia is endlessly appealing to businesses, as connecting with global markets is easier and more affordable. They are also drawn to Brisbane's population growth and stable policy and political environments.
Culture vultures and lifestyle aficionados have also taken notice of what Brisbane offers: the cultural precinct on the South Bank of the river is recognised as being world class, and the culinary magnets of Newstead, West End, Fortitude Valley and the city have enough craft beer breweries, eclectic bars and welcoming cafés to sate any appetite.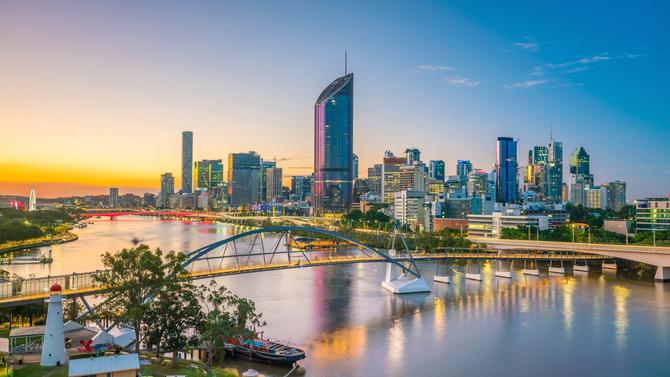 The city of Brisbane is located along the snake-like bends of the Brisbane River, with the official CBD sitting on a point of the northern bank. The CBD is relatively compact and is easy to navigate on foot.
The beauty of Brisbane is that it retains a heritage feel but also balances this with a new, modern edge, giving the city a dynamic and progressive feel. This narrative readily applies to the architecture of the city but is also reflected in the mood of the business fraternity. 
Key landmarks include the CBD, South Bank Parklands, GOMA and historic landmarks to note are the Story Bridge, The Old Windmill and the Shrine of Remembrance located in Anzac Square.
In the hottest months – December to March – the temperatures can soar in Brisbane and the humidity can be irrepressible, so be prepared for the heat, dress appropriately and get ready to sweat literally moments after walking outdoors.
Brisbane streets
The CBD is set up on a grid system with streets flowing in a parallel direction; for simplicity, female street names run at right angles to male street names. Queen Street is Brisbane's main street and you can almost use this as your "home base" when navigating the streets of Brisbane.
The main suburbs surrounding the city include New Farm, South Brisbane, West End and Fortitude Valley, all of which enjoy their own unique style. Fortitude Valley is well known for its burgeoning nightlife, while New Farm is home to the iconic New Farm Park and Brisbane Powerhouse arts centre. South Brisbane is home to the South Bank Parklands and cultural precinct, including the acclaimed Gallery of Modern Art, while West End can be described as bohemian meets inner city hip.
Arriving and getting around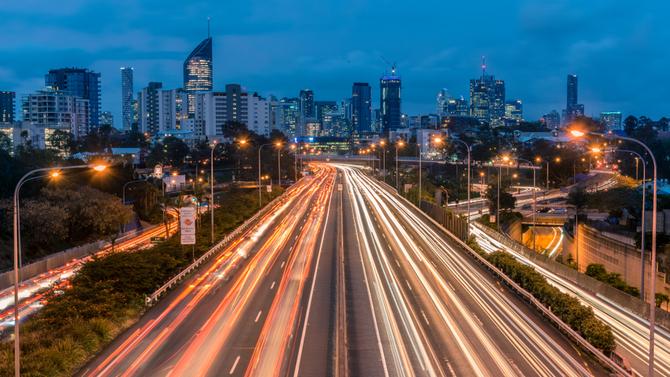 The Brisbane Airport is located 25 minutes outside the CBD, so keep this in mind if you're planning a meeting straight up. A taxi or Uber into town costs about $40-$50, depending on the time. Peak hour in Brisbane is between 7am-9am and 4pm–7pm, so it can take a little longer if you arrive during these times.
If you're keen to squeeze in a little more work during your commute into Brisbane or need to avoid any peak hour traffic, then catching the Airtrain is an option. It's also a way to save a little bit of your business budget that can be used elsewhere. (Perhaps an extra boutique beer or wine at the end of the workday?)
The trains depart every 15 minutes during peak and every 30 minutes off peak - they are 99.04% (to be exact) on time. The cost for a return ticket from International Airport to Central Station is $35. From there you have access to buses or taxis depending on where you've opted to stay.
Brisbane Transport
The Brisbane River is one option for getting around Brisbane and is a pleasant way to take in the city on route to meetings. CityCats leave regularly throughout the day from various terminals scattered around Brisbane and are not free, contrary to popular belief. However, the CityHopper ferry does operate a free half-hourly service between the inner suburbs. Depending on how many zones you're travelling, a ticket for one day can cost $6, although a more economical and no fuss option is to buy a Translink Go Card which can be used on ferries, trains and buses.
There's also a free bus service available that circles the Brisbane CBD, which is very convenient if you're working within the city centre.
Brisbane Hotels for Business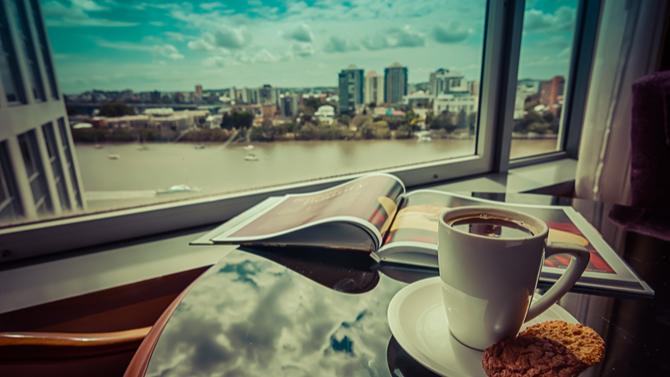 Brisbane city itself is quite compact which makes it easy to locate your hotel. The city is spoilt for choice when it comes to hotels that set the benchmark for business travellers.
4.5-5 Star Hotels Brisbane
W Brisbane
This hotel is the talk of the town and is the first for 5-star accommodation in Brisbane. Encouraging guests to swap laptops for swimsuits together with their signature Whatever/Whenever service promise, W Brisbane offers an unmistakable change of pace to the business day. Coupled with the addition of renowned Three Blue Ducks restaurant (plus three bars) and located in the CBD, this is a hotel that captures the essence of river city living at its absolute finest (but with a whole lot of attitude).
FV by Peppers
A little bit of New York's iconic skyscraper architecture is now part of Brisbane's Fortitude Valley's skyline with the new addition of FV by Peppers. FV by Peppers is an exclusive and impressive 970 room hotel that present guests with standout facilities like a moonlight cinema, yoga retreat and top-notch gym. Rooms also offer stunning views of Brisbane city.
Novotel South Bank
Catering for the business traveller, Novotel South Bank has thought of everything and more when it comes to making any business trip that little bit easier. The hotel is conveniently linked via a walkway to the Brisbane Convention and Exhibition Centre, a major venue that plays host to many high-level corporate events and conferences. This makes it very easy to go from networking over a couple of drinks or three to unwind in the comforts of your room within a short distance. 
Stamford Plaza Brisbane
A 5-star hotel with river views, the Stamford Plaza Brisbane offer rooms with impressive views of the Story Bridge. You will also find executive work style desks in certain suites, a gym and pool, plus an authentic Japanese restaurant that doesn't disappoint when it comes to showcasing some pretty impressive Teppanyaki manoeuvres.
Boutique Hotels Brisbane
Spicers Balfour Hotel
Spicers Balfour Hotel is set in a charming, Queenslander style house with a long, windy veranda that circles the outskirts of the hotel. Located in New Farm, and only a short distance from Brisbane City (3km), this hotel radiates chic and style. As well as being close to great restaurants and bars, it also caters for business meetings in two beautifully appointed venue spaces and is home to its very own well-known restaurant, The Balfour Kitchen (voted as Queensland's best breakfast in 2017). Did we also mention a rooftop bar?
The Calile Hotel
As the hotel itself describes it, the Calile is 'Beverly Hills luxe meets James St cool'. The Calile Hotel, is a seven-storey 'urban resort' that's home to 175 rooms, a mix of boutiques, cafés, restaurants and pool terrace. The hotel's leafy, urban streetscape façade will pay homage to Brisbane's subtropical climate, with an adjoining micro-precinct, Ada Lane, featuring five new eateries and bars.
TRYP Fortitude Valley Hotel
The hotel is an artwork itself. Bold artwork features heavily throughout and blends with the more rustic elements of the restored building. The 65-room hotel offers sophisticated accommodation choices, with some rooms featuring internal spa rooms and uniquely themed private courtyards. TRYP offers a unique take on a hotel experience.

 
Pet Friendly Hotels Brisbane
Mantra on Edward
If you're lucky enough to be taking your furry friend with you to Brisbane, rest assured that you'll both be looked after at a pet-friendly hotel. Mantra on Edward will cater to your fur baby's needs with a welcome pack including a bed, litter bags and feeding bowls, and will equip you with a list of local parks, vets and dog-friendly beaches. Surcharges range from $10 to $40 per night depending on the length of your stay, and bookings must be made directly with the hotel (or through your Travel Manager) to ensure they can cater for your fur baby.
Brisbane Business Culture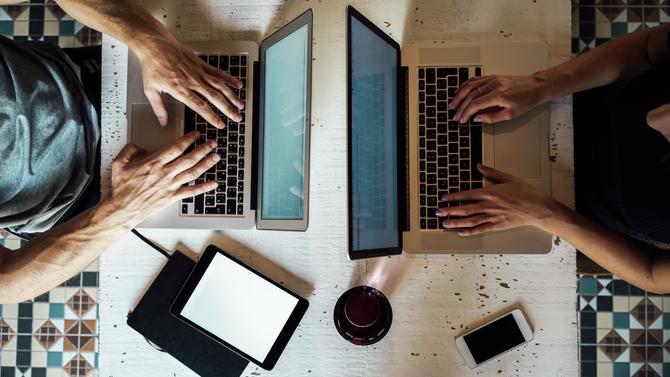 While Australians are known for their casual and laid-back approach, there are certain expectations when it comes to business.
Arriving at a meeting on time is paramount. While punctuality is always important for any business meeting, Brisbanites are sticklers for being on time.
Keeping your interactions succinct and to the point is also highly regarded, as is balancing your demeanour with an element of friendliness and professionalism.
A point of note: Queenslanders are passionate about their sport. There's often quite a bit of banter shared between work colleagues on a regular basis, so brush up on your knowledge of the Queensland Reds, Brisbane Broncos, Heat and Firebirds. In particular, Brisbane people fall into two very definitive categories - Rugby League or Rugby Union supporters. Nearly never both.
Networking groups
If you're wanting to make business contacts fast, Property Leaders Brisbane run regular networking meet ups in Brisbane's CBD and is a good fit for those in the property and construction sectors. While ACS has a digital focus and connects tech professionals from Australia and around the globe. They run both online and events across Australia's capital cities.   
There's also an opportunity to connect with other business leaders through local chambers across Brisbane. To find a chamber and event to help build your networks then try Chamber of Commerce and Industry Queensland.
Coworking Spaces
Coworking spaces are a convenient option to get work done when you're travelling, and they're a great way to connect with a diverse range of business professionals. You'll find each space has its own vibe whether it's a village style, eco or corporate feel, whatever the case, these spaces are proving to be a popular option for many professionals. And once you find one that fits with your line of work, there's big potential to grow your business.
Studio 42 East Brisbane 
Studio 42 East Brisbane is a popular, boutique space where you'll find a combination of tech professionals, recruiters, charity organisations and startups. It has an eco-focus and brand-new facilities including fully furnished offices. To book a hot desk you're looking at $30 a day.
Rivercity Labs
This bustling space is located in Fortitude Valley and if you're looking for a more formal style of setting, this is it. With a global mindset, you'll be connecting with many small businesses and entrepreneurs here. There's also a strong focus on start-up companies. Rivercity Labs have drop in desks for $33/day inclusive of GST.
Little Tokyo Two
Little Tokyo Two has five locations throughout Brisbane and the wider South East Queensland area. This dynamic company prides itself on not only providing inspirational spaces to work from, but also fostering an environment in which companies can grow. They hold regular member catch ups, offer business development support and a strong partnership network to help you make contacts and discover talent.
Hosting a business meeting in Brisbane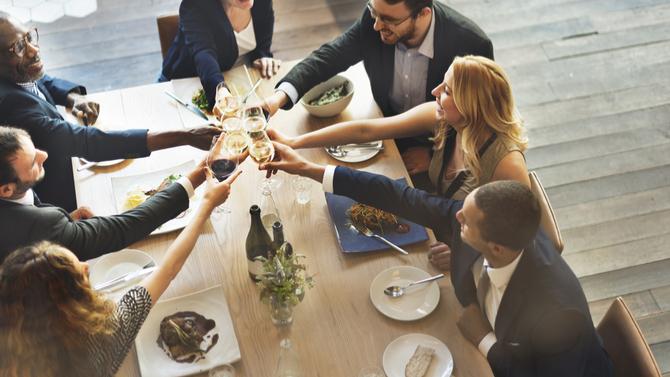 Every business meeting calls for different levels of decorum. Whether it's a formal or informal setting you're after, here are a few restaurant and bar suggestions guaranteed to suit your varying requirements.
e'cco Bistro
If you're after a fine dining touch, then e'cco Bistro is perfect. A Brisbane institution, this restaurant has been charming locals since the mid-nineties. The meals are intricate pieces of art that not only look amazing but taste just as great as they look. This restaurant will impress and because of this, bookings are a must.  
Gauge
Located in South Brisbane, if it's more of a local and seasonally sourced style you are looking for then Gauge ticks these boxes. They produce creative dishes and offer an all-day brunch and lunch. They also step it up for dinner, switching to a classier type of feel. With a tempting small plates menu (for those on a timeframe) that includes roast chicken skin, white anchovy and sesame and an option of two, three and seven-course tasting menus, Gauge is certainly a choice that won't disappoint those who appreciate a little more out of the box style of thinking. 
Stokehouse Q
Think open style pavilion and alfresco dining at its best. If you'd like to take in the Brisbane River in "relaxed elegance," then this is your venue. The menu includes influences and flavours from the Mediterranean and greater Europe. The Stoke Bar is also another option and offers a lighter menu of snack type fare that's still impressive. There's also an extensive wine and cocktail menu to match.
Three Blue Ducks, W Hotel
One of the newest additions to the Brisbane dining scene, Three Blue Ducks is on everyone's to-do or to-do-again list right now. Spearheaded by chefs Mark LaBrooy, Darren Robertson and Andy Allen, the menu features the best of Queensland and Northern New South Wales produce. Expect signature dishes such as crab scramble, Moreton Bay bugs, fermented chilli glazed chicken and smoked eggplant from the wood-fired oven.
Brisbane's Bars
Sometimes a bar is an ideal setting for an informal style of business meeting. Fortunately, Brisbane has quite a selection. If you're wanting to add a touch of drama to the evening, there's even a few with hidden entrances.
Jack Rabbits Whisky Bar
Located in Woolloongabba, you'll find the entrance into this establishment via an antique wardrobe of clothes. The wardrobe leads to a 1920's, prohibition style jazz bar decked out with leather armchairs, art deco chandeliers and most importantly, an excellent selection of whisky from around the world together with a sizeable array of wine to choose from.
The Cloakroom Bar
Blink and you might miss this one. You'll find this bar down an industrial laneway in Brisbane's CBD. Upon arrival, you will be met by a bartender who politely enquires how you're feeling and if there are certain flavours you prefer. You'll then receive your very own cocktail. This bar includes an impressive cocktail menu and is a classy establishment.
Cru Bar
If you're wanting a straight-up beer, wine or cider without the drama, then Cru Bar is your pick. An elegant yet relaxed environment, the stylish surroundings of Cru Bar caters for everyone's tastes whether you're a wine connoisseur or someone who's delighted by a cool glass of anything. Quick Tip: if you're meeting requires some higher level strategising we suggest trying one of the "drinks that make you think," from the cocktail menu.
Savile Row, Fortitude Valley
Inspired by the sartorial of Savile Row in London, this detail focussed bar aims to provide a highly tailored experience for its patrons. Moody and lush in design, it's a friendly, intimate haunt that's perfect for getting down to business, or simply getting down to the 450 whiskies, 52 gins, 50 rums and 50 tequilas on offer.
Some must do activities in your down time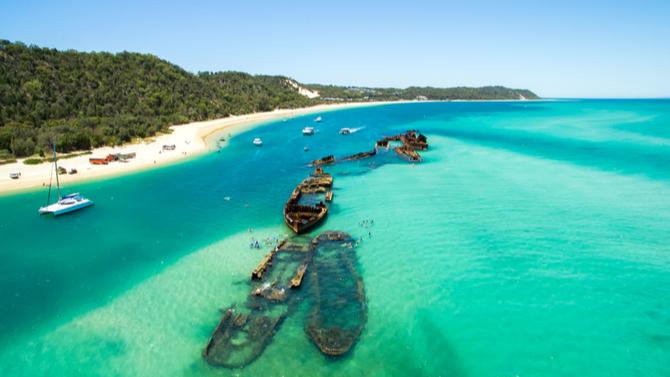 Day trip to Moreton Island
Just a short ferry ride from Brisbane you'll find yourself upon the beautiful sandy shores of Moreton Island.  The third largest sand island in the world, there's plenty of activities to fill in a day trip or weekend. Whether it's sand tobogganing, snorkelling, feeding wild dolphins or a swim in the Blue Lagoon, this is a great opportunity to experience what Queensland is well known for – its beaches.
You can get to Moreton Island by coach or private transport from Brisbane then either catch a ferry, barge, boat or even fly over to the Island.
Golf trip to Gold Coast
Brisbane is the gateway to the Sunshine and Gold Coast. A one hour drive is all it takes to reach the iconic Surfers Paradise on the Gold Coast, but if it's a day on the green you'd rather instead of a day at the beach, then the Gold Coast has plenty of high-quality golf courses to choose from, many of which are of international standards. 
RACV Royal Pines has played host to some of the world's top professional players, while Lakelands Golf Club was designed by PGA Championship winner Jack Nicklaus. Sanctuary Cove Golf and Country Club are well known for its luxury type feel and highly regarded reputation to match.
Closer to Brisbane, golfers can tee off at Victoria Park or the Nudgee Golf Club
Abseil off the Story Bridge
For something completely different and for climbing and adrenaline enthusiasts, a climb and abseil down Brisbane's iconic Story Bridge is a one of a kind, not to be forgotten quickly experience. The "only bridge climb and abseil in the world," this is an opportunity to enjoy a 360-degree view of Brisbane and beyond. A climb and abseil that takes 3 hours and 1,138 steps, will cost $159 for one adult which also includes a group photo (and proof you actually did it).
The bottom line - it's an exciting time to be doing business in Brisbane. And there's more to come with interesting times afoot. Already considered a strong influence in the Asia Pacific market, Brisbane continues to pave the way on a global scale in many different industries.
Plus, with a diverse mix of things to do after work hours, it's easy to see why Brisbane is a choice for many business professionals, offering the perfect balance of work and play.