As Europe's biggest economy, with an 82.67-million-person population and $4.2 trillion GDP, Germany is a major international business player. Being a world-leader in manufacturing, fashion and technology means there's a lot more on offer than just great beer, schnitzel, cuckoo clocks and a beautiful landscape.
Germany's current position as the world's fifth largest economy and third biggest exporter is impressive considering it spent decades after World War II both physically and politically divided. It may have been through a lot but modern Germany definitely means business.
Your guide to doing business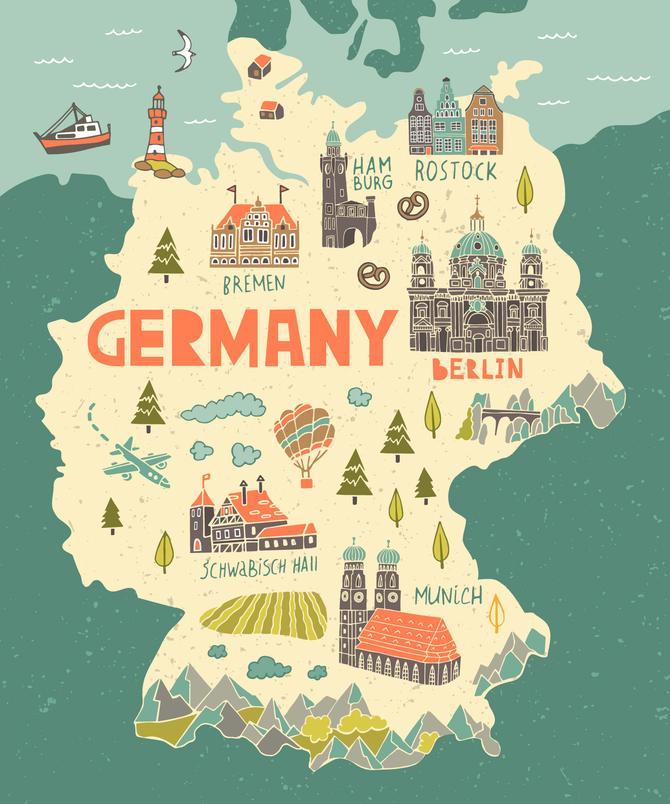 If you're heading to Germany for business, the first thing you should do is throw out any preconceived or stereotypical ideas about the country you might have. Less than 150 years ago the sixteen states that make up modern Germany (plus Austria and Switzerland) were separate nations and republics with their own individual identities, languages (250 of which are still spoken today) and customs. And while a collective identity may have been established overseas, within Germany the different states can be as distinct from each other as if separate countries.
But while they may be different, there are some commonalities beyond a shared love of well brewed beer. Germans tend to be direct and extremely organised in regards to how they do business. The separation between work life and private life is clearly defined and while in Australia we might get away with casual conversation in a meeting, this won't fly in Germany. For example, you should never automatically call someone by their first name in a German business meeting unless you already know othem, otherwise wait to be asked.
To help you out, here are a few tips for navigating German business etiquette: 
Business meetings in Germany tend to follow a strict agenda. Making a plan and sticking to it will make a big impact in a business culture that values structure. Surprises will not be appreciated, and even gifts are frowned upon.
German business is a serious thing, even in less-formal settings. Organise your meetings well in advance and whatever you do be on time! Time in Germany is managed very carefully so schedules must be respected.
You'll find that Germans have a direct conversation style. They're not being rude; directness is just the best way to get to the point. Follow their lead and be as frank as possible, it'll make you seem more trustworthy. Also, make sure to maintain eye contact when speaking to a German – it might seem weird but it's a sign that you respect and are listening to them.
German directness can actually work in your favour as they tend to lay all their cards on the table and their first offer is usually their best. What's the point in wasting time haggling? Follow this lead and don't haggle too hard, it could come across as being disrespectful.
In the business world you may have to master the skill of doublespeak to understand what people really mean. But not in Germany, speak in facts – it'll take you a lot farther.
Sometimes laughter is not the best medicine, and a German business meeting is one of those times. It might be hard, but try not to be funny.
When organising a business meeting it's also important to determine what kind of meeting it is. If you're there to talk about setting up potential business, then a business lunch is your best bet. But when it comes to doing actual business it should never take place over a meal, and instead occur in an office environment as work and pleasure should never meet.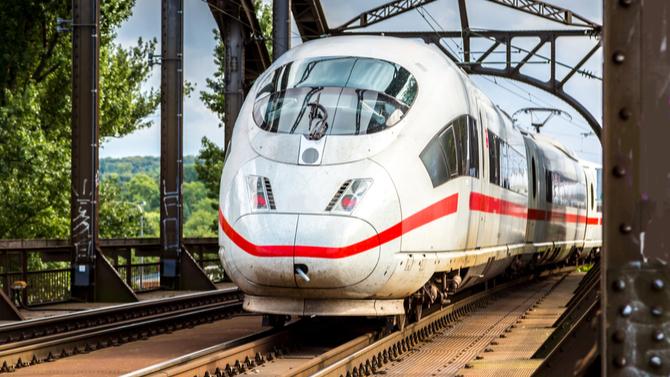 Getting around
The transport system in Germany is VERY good. Every major city has an airport and a train network consisting of fast rail network (S-Bahn), trams and in many cases an underground system (U-Bahn). All public transport runs to a very strict timetable and in most cases is faster and easier than driving.
And if you are travelling between cities but are not keen to fly, the country is also connected by a series of highways (if you're brave – there is often no speed limit) and train lines that make getting around easy.
Travel Essentials
Currency: Euro
Language: German
Time Zone: GMT +1
Electricity: 230V 50Hz
Dialling Code: 49
Business Visa: not required for Australians for a period of 90 days
Trade shows
Trade shows run all year round in Germany and are the perfect place if you're travelling to establish the right connections for your business. Check out this website for a complete listing of what's on. 
Welcome to… three of Germany's major cities
Every city in Germany is unique, with industries and cultural backgrounds varying across the country. And while every city has something to offer, both in terms of business and pleasure, here are three of the biggest to do business in.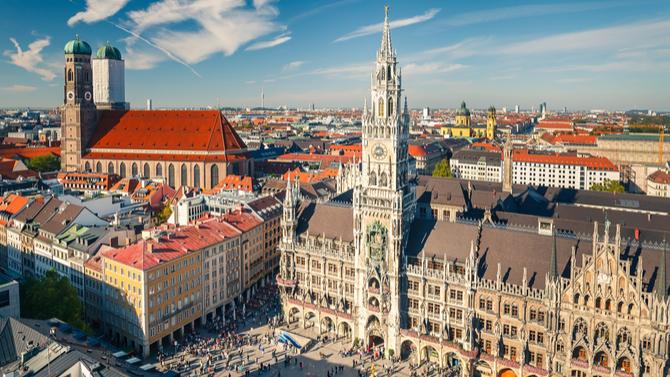 As the capital of Bavaria, Munich is probably the closest you'll get to picture-postcard Germany. Bavarians are proud of their distinct culture and heritage, even if the rest of the country makes fun of them for it. It's the land of cobbled streets, baroque architecture, beer halls, cuckoo clocks, lederhosen, oom-pah bands and folk festivals such as Oktoberfest (thank you Bavaria).
Historically, Bavaria was an agricultural state but since WWII it has transformed into the industrial centre of Germany. Home to Audi, BMW, Siemens and a host of major insurance companies not only will Munich give you the 'classic' German experience, it'll give ample opportunity to make those sought-after business connections.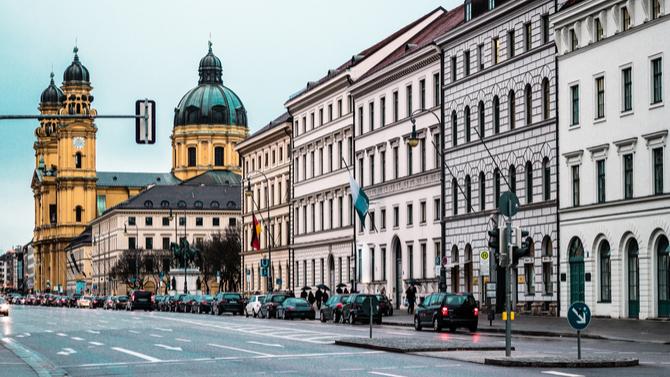 Where to stay
Boutique
Not only are the rooms in Cortiina designed as if you're staying in a (very stylish) apartment not a hotel room, it's also home to the Grapes Wine Bar – one of the best restaurants in Munich with one hell of a wine list. Cortiina is also located in the middle of the Aldstadt close to Marienplatz, Viktualienmarkt and the river Isar.
Luxury
Also located in the Aldstadt, Louis Hotel is close to the best Munich has to offer. Only around ten years old, the hotel rooms are fitted out using elegant modern designs and furnishings that tie in with the Louis' popular Emiko Japanese restaurant. And the rooftop terrace with views over St Peter's makes it a hard place to beat.
Mid-range
Roomers is located just over a mile from Munich's city centre, putting it within an easy distance of all the Central Business District. The hotel is what could be called 'corporate cool' with a lot of dark woods, leather, metallic surfaces, warm lighting and black marble in all the bathrooms. It's also right across the road from the iconic Augustiner Brewery, home to traditional Bavarian fare.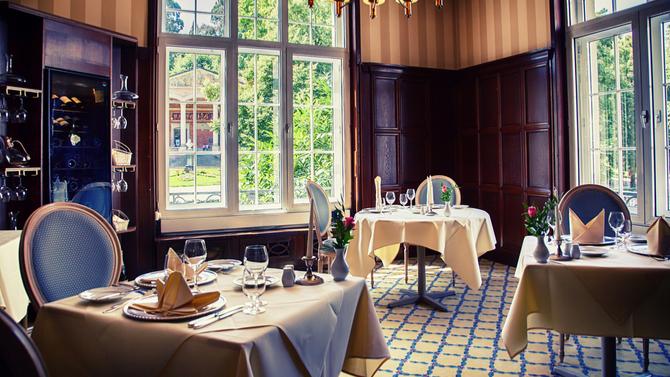 Where to eat
If you're looking for a Bavarian experience that isn't too cheesy, Maximilian is the place for you. It manages to stay true to the kitschy Bavarian culture while staying up-to-date and cool, with a modern twist on the décor and menu.
For a business lunch, you can't go wrong with Brenner (make sure to book in advance). Once the stables of Munich's royal residence, the Mediterranean-style restaurant overlooking the state opera is now one of the best in the city.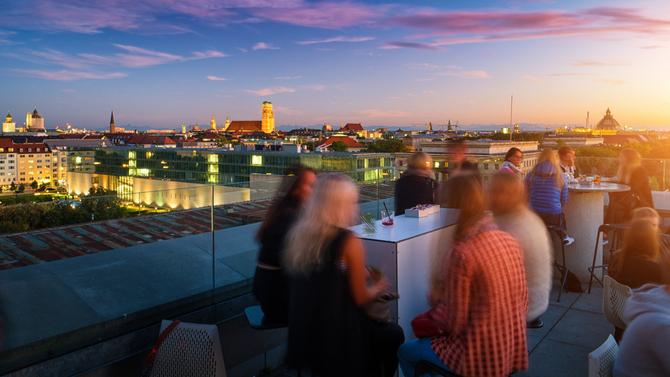 Where to drink
Everything about Die Goldene Bar is classically cool. From its wam-toned modernist interior and outdoor terrace to the vintage maps on the walls showing the origins of wines, spirits and tobacco, everything is well done. Located both next to the Haus der Kunst art museum and the Eisbachwelle (where people surf the Alpine ice stream waves), the bar hosts a mixed crowd of people linked by their appreciation for quality.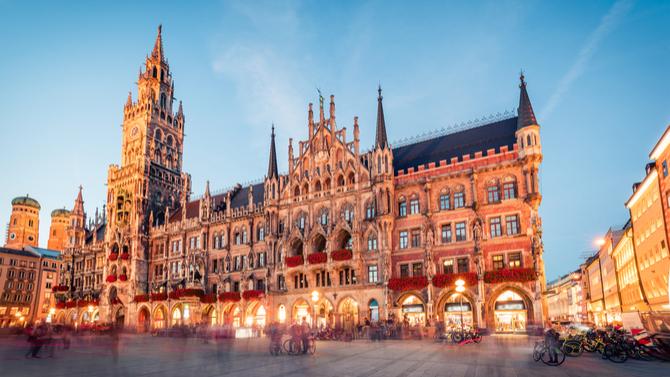 What to see and do
Munich's central square, Marienplatz, is home to a much-loved cuckoo clock dating back to 1908. Two or three times a day the 43 bells and 32 life-sized figures tell the story of the city's history from the tower balcony of the Neues Rathaus. It's seriously mesmerising and very Bavarian.
These indoor pools are some of the most beautiful in the world. From the 100-foot heated pool under an Art Nouveau dome to the Roman steam baths, Mullersches Volksbad is a must-do in Munich.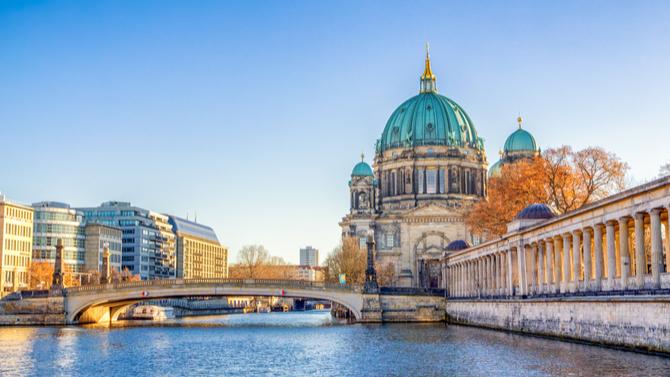 Berlin is the biggest and most well-known of Germany's cities – it is the nation's capital after all. It's a very historical city which still bears the marks of WWII with many of its buildings crumbling and speckled with bullet holes. But since the fall of the Berlin Wall, it has transformed into a hub of art, music, nightlife and a bohemian lifestyle that is unlike anywhere else in the country.
It's truly the city that never sleeps. Originally stemming from the subversive history of East Berlin, the whole city now sets the standard for cool of the rest of the world with the perfect balance of glamour and grit.
And while Berlin is certainly home to a huge amount of international businesses, there has been a recent shift towards tech start-ups that reflect Berlin's individual and more laid-back style.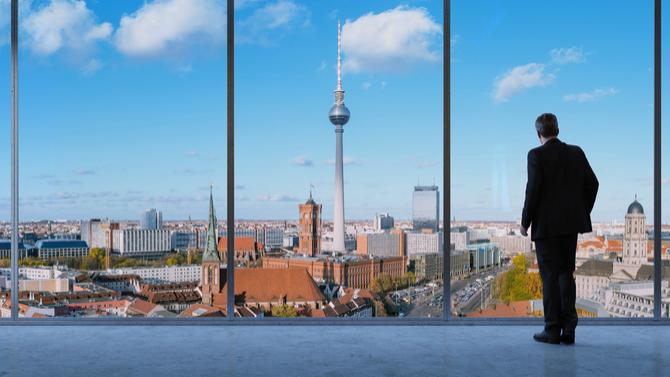 Where to stay
Boutique
Autograph Collection Hotel am Steinplatz
Located in exclsuive Charlottenburg close to world-class attractions, the Hotel am Steinplatz offers a seamless blend of culture, history and lifestyle. Boasting a distinctive private atmosphere as well as a fitness centre, a sensational on-site restaurant, bar, and a rooftop spa which offers panoramic views of the Berlin cityscape, this is a hotel not to be missed. 
Luxury
Located near the Potsdamer Platz in Berlin's vibrant city centre, Grand Hyatt Berlin is the ideal location for business travelers who also want to indulge in a little pleasure. Relax in the hotel's artful ambience and contemporary guestrooms while indulging in international dining and enjoying grand meeting spaces. Enough said.
Mid-range
This hotel is a perfect balance between old and new, with every aspect designed down to the smallest detail. Also, the views from the top floors are incredible.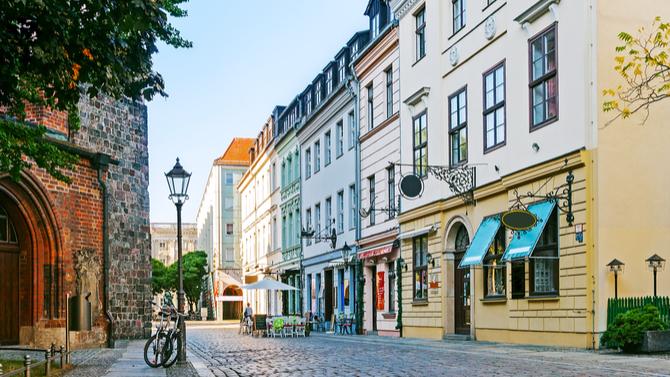 Where to eat
Image:                 
Jolesch is one of the best-known and most loved places for schnitzel in Berlin. It hosts all the classics of the German and Austrian cuisines, as well as serving some more adventurous dishes.
Berlin has a massive Turkish population, so eating some of the local Turkish food is a must-do. And Defne, overlooking the Landwehr Canal in Kreuzberg, is one of the best. The food is hearty, fresh and authentic and goes way beyond the usual kebab.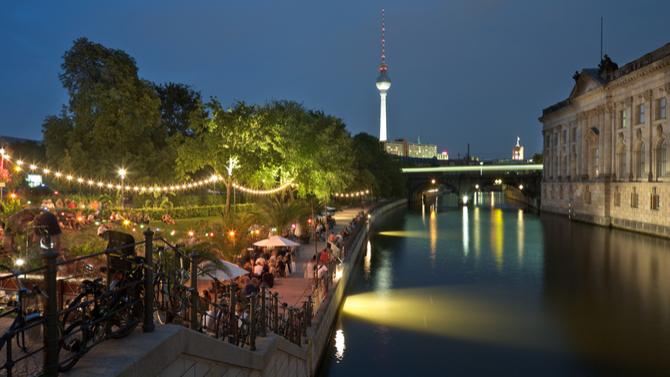 Where to drink
Madame Claude in Kreuzberg perfectly sums up the atmosphere in Berlin. Everything is upside down with a lot of the furniture stuck to the ceiling. Inside is cool and vintage, making it a popular spot for the many artists and hipsters the city is home to.
Having a drink at Rum Trader in Schoneberg is a classic when visiting Berlin. It's a tiny bar covered in green tiles, wooden furnishings and art deco lighting. There is no menu and instead the eccentric owner, Gregor Scholl, will ask you what you like, go away and come back to you with the best cocktail you've ever had.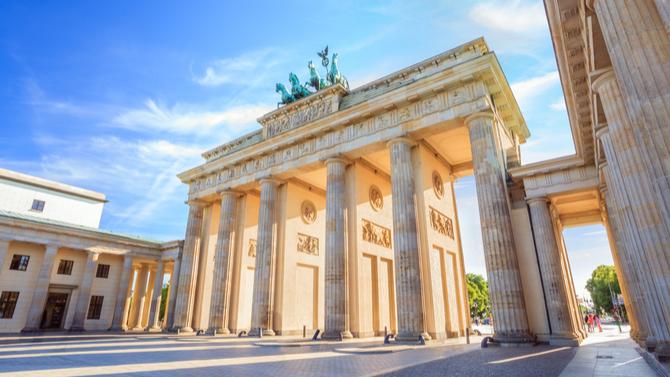 What to see and do
There is A LOT to see in Berlin. With Checkpoint Charlie, the East Side Gallery, Brandenburg Gate, Museum Island, Holocaust Memorial and Jewish Museum only a few of the must-dos.
The best way to see everything is from a Hop On Hop Off Bus Tour. It might seem touristy but Berlin is a huge city and if you only have a short amount of time it's a great way to get around. Find information about routes and pricing here.
And if you're feeling adventurous…
The Berliner Unterwelten (Subterranean Berlin)
 It may not be as ancient as Paris' catacombs, but underground Berlin is arguably eerier even without the bones. There you can see the WWII air raid shelters and tunnels used to smuggle people out of East Germany.
Just outside of Berlin is an abandoned theme park, and yes it is very creepy. There are guided tours in English every second Saturday and if you're into an experience that's a bit weird, it is well worth it. Find out more here.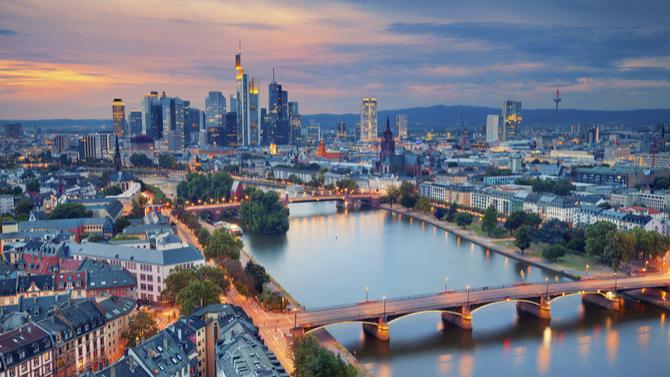 For 500 years (until 1866) Frankfurt was its own independent city-state, much like the Vatican, and one of the most important cities in the Holy Roman Empire.
Today, it is the capital of Hesse, the financial powerhouse of Germany and one of the biggest economic centres in Europe. Home to Europe's largest stock exchange and the national bank, Frankfurt teems with business people from all over the world. And even though its skyline is now mostly skyscrapers, the city hasn't lost touch completely with its German roots. T
he historic town centre, cathedral and Museum Embankment has been preserved and rebuilt after being devastated by bombings, revealing how beautiful the city must have been pre WWII.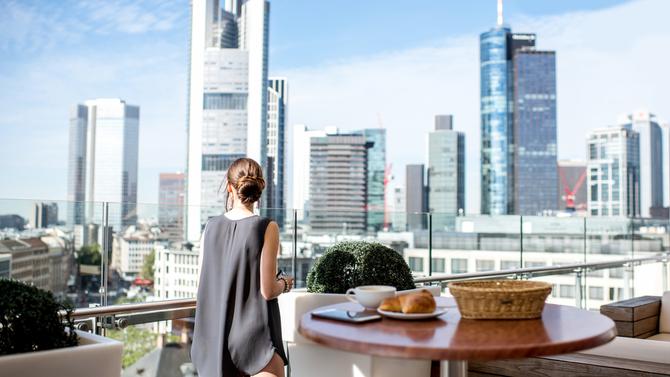 Where to stay
Boutique
Lindner Hotel & Residence Main Plaza
Beautifully located on the Sachsenhausen Main riverbank, the Lindner Hotel & Residence Main Plaza delights its guests not only with a sensational view of the Frankfurt skyline, but also with a New York thirties style architecture and elegant ambience rich in detail. Perfect if you're after a business hotel that's not all 'business'.
Luxury
A delightful combination of innovation and luxury, this hotel is just a few steps away from the popular 'Zeil' shopping street and the financial district. Luxuriate in a sophisticated suite or lavish room before indulging in dinner at the Max on One Grillroom or indulging in some 'me' time at the Talise Spa. Pure bliss.
Mid-range
Hampton by Hilton Frankfurt City Centre Messe
Stylish and comfortable, Hampton by Hilton is located directly at the eastern entrance to the Messe Frankfurt – the Frankfurt trade fair - and is is steps from restaurants, corporate offices and the Skyline Plaza shopping mall. The city center and the financial district are also just a short stroll away, making it the perfect base for your next trip.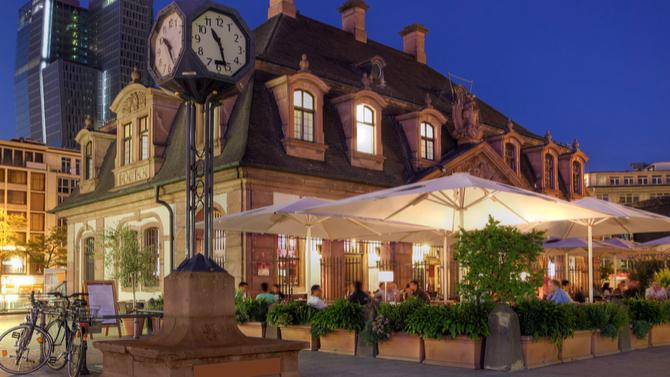 Where to eat
If you're looking for a classic German beer hall, then look no further. Atschel has been around since 1849 and while it is definitely a no-frills, homey establishment, it is well-known for its traditional Frankfurtian food. Also, it's not a trip to Frankfurt without trying Apfelwein and this is the place to do it.
Ramen Muku is at the top of Frankfurt's foodie scene. Mention it to a local and watch your credibility skyrocket. The noodles and broth are homemade and delicious, it's in a non-touristy part of the city and is the perfect place to warm up in Germany's often cold weather. What more could you ask for?
Where to drink
You'll never have to leave your seat in the bric-a-brac filled Hunky Dory Bar. Black vintage rotary phones are on speed dial to the bartender in seven of the wooden booths, who will then deliver your cocktails or tapas plates to the table (whether inside or on the rooftop terrace).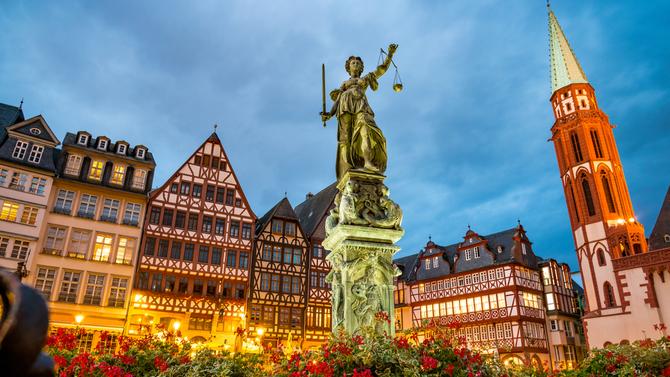 What to see and do
Romer Square is where you can find 'Old Frankfurt'. Here the old buildings have been preserved and gives a small taste of what the city used to be.
'The Palm House' which opened in 1871 (coincidentally the year of Germany's unification) features over 13,000 tropical and subtropical plants. It's free and just so happens to be one of the most beautiful places you'll ever see.
Some of the museums along Frankfurt's Museum Embankment include:
The Museum of Modern Art
Stadel (Germany's oldest museum)
The Jewish Museum
The Archaeological Museum
Museum of World Cultures
German Film Museum
The Goethe Haus and Museum
The Senckenberg Museum (a natural history museum)
German Museum of Architecture
The Giersch Museum
And that's just to name a few, so make sure to choose wisely.
As rich in history and culture as it is in business opportunities, Germany has a lot to offer. One of the world's biggest economies it is the backbone of the EU as well as being an important international player. And the trick to doing business there comes down to thinking like a German and planning your trip well. There are a lot of business opportunities to be found, and it's a lucky bonus that the country itself has so much to offer as well.