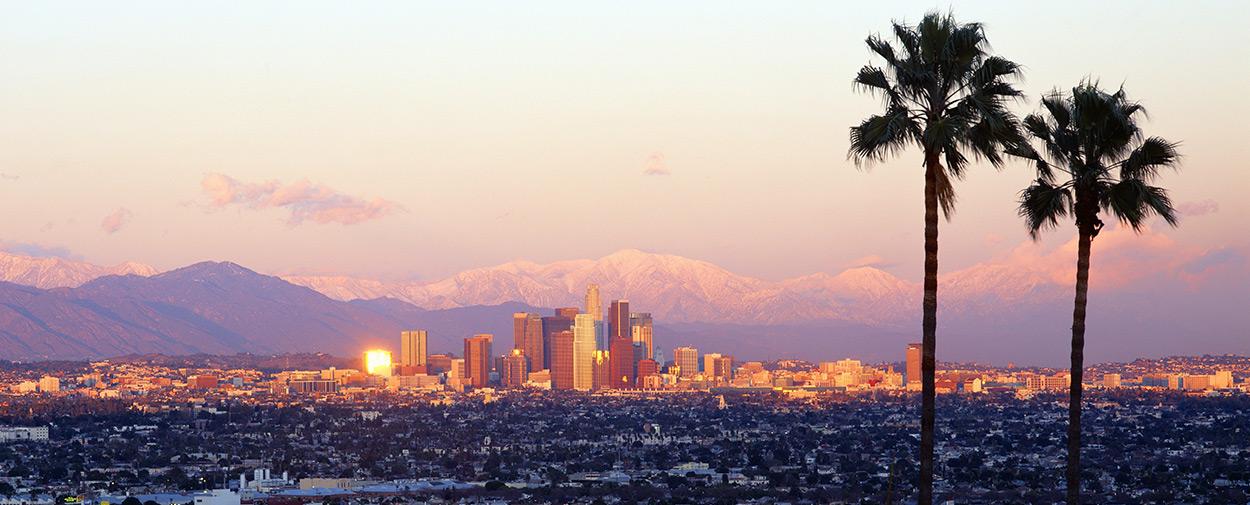 The city of angels. The city of cinema. Big business deals. Casual clothes. Rodeo Drive high fashion. Skateboards. Freeways. Cool creative enclaves, future-shaping conferences, eclectic cuisine and cultural hot spots. Welcome to LA.
Look past the glitz of LA's famous Insta pic locations and you'll find a city that offers a rich, diverse experience and an ever-developing opportunity for business. The internet was born in LA, and famous start-ups have found their home here. Big businesses such as Walt Disney, AECOM, Mattel, Northrop Grumman and Oaktree capital also make LA their home.
LA has worked hard to improve its 'business friendly' image of late, and you're sure to find the relaxed, chilled out vibe to be an endearing aspect of your next business trip.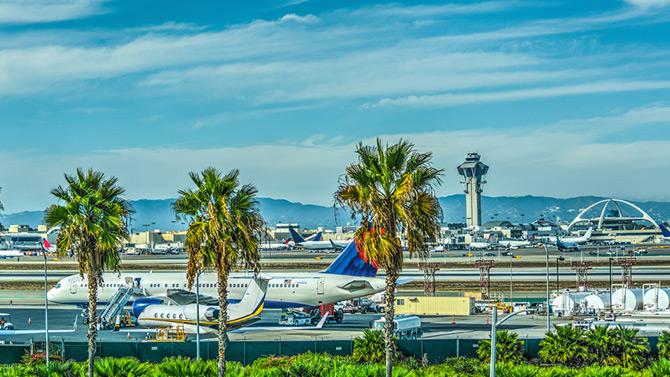 LAX. Is there a more famous airport code than this? Aside from its global rep, Los Angeles International Airport LAX is one of the top five busiest airports in the world, with over 880 daily flights hitting the tarmac. Situated amidst the city's beaches on the cusp of the Pacific Ocean, it's worth studying the map and knowing which one of its nine terminals you'll be landing in. With free WIFI and a multitude of shopping and dining options, LAX is an airport that never sleeps.
As you would expect of a city of this size, there are other airports aside from LAX. These have smaller crowds, shorter queues and friendlier security staff, but they're primarily for US domestic travel. If you plan to travel onwards from LA to another US destination, these may be the ticket. Long Beach Airport and Hollywood Burbank Airport are worth investigating.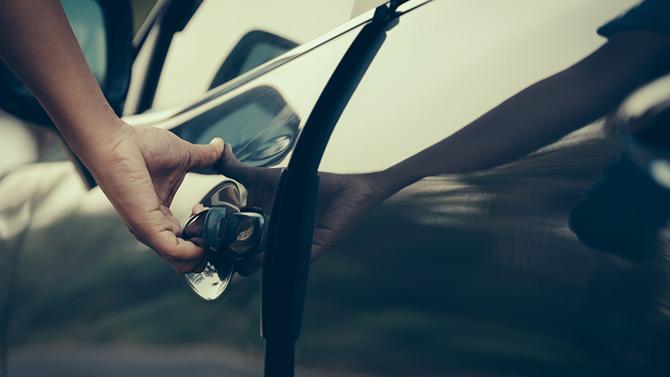 Ride Share: Uber and Lyft own LA. Totally. Especially once you get downtown. At LAX, you'll have to go back upstairs after claiming your baggage to find them, and a fare downtown should be around USD$35.
Taxis: these can be found curbside on the Lower/Arrival Level. A taxi can cost anywhere from USD$65.00 into the downtown area, so always be sure to check an approximate fare with the driver. Or better yet, negotiate a flat rate and don't forget to tip 10%.
Shuttle bus: A convenient bus service is the LAX FlyAway service, that departs from the Lower Arrivals level at each terminal and travels to these locations: Hollywood, Long Beach, Union Station, Van Nuys and Westwood. Fares range from around USD$8 to USD$10. Other shared shuttle services include Super Shuttle and Roadrunner.
Rental Cars
Rental Car offices are located off airport, away from airline terminals. A full list of rental car companies can be found on the FLYLAX website. Because of their location, the hire companies pick you up and drop you off at the airline terminals using courtesy shuttles. Arrivals are met under the purple Rental Car Shuttles sign on the Lower/Arrivals Level islands outside baggage claim.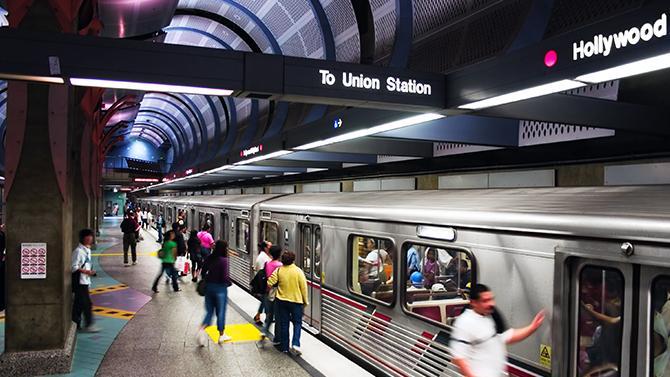 LA is a big city, and it's a sprawling, twisting, serendipitous kind of place. It's divided up into multiple districts, and it takes a little planning to make your way between them. Just jumping in a cab and hoping to zip around is probably not the best option. Sitting in traffic is a big, unfortunate part of living in Los Angeles. While the city is increasing the number of subway lines and ridership slowly increases, cars are still the modus operandi.
Plan ahead and get familiar with the lay of the land with Discover LA's map.  And whether you're taking in a few meetings or taking in a show, it's worth using this public transport link to check your options. 
Los Angeles Metro
Affordably priced and easy enough to navigate, the LA Metro services a comprehensive swathe of the wider county and its top attractions. The Metro system is made up of Metro Buses, DASH Buses, and Metro Rail Trains. Grab yourself a reusable TAP Card for easy payment, which you can get at TAP machines located within the bus or subway stations. You can load it up to a cash value of your choice, and it works across all the Metro travel options. There's a trip planner tool on their website too.
Rideshare and Taxis
Two words: Uber, Lyft.
Car
Renting your own car could be an option if you have multiple locations to visit or have a bleisure trip planned after work and want to see the sights. The roads are jam packed at rush hour, so try to drive outside of peak times in the morning and evening. Rental cars are relatively cheap and there's a good system of toll-free freeways to get you around.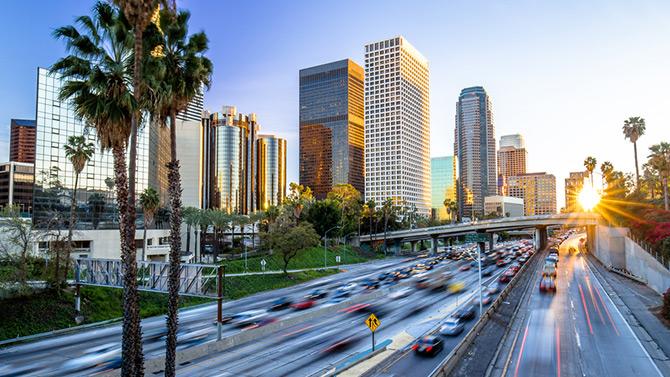 Maybe it's the 300 days of sunshine a year, but LA is known for its laid-back vibe in comparison to other cities of its size. It celebrates diversity, both culturally and economically, and embraces new ideas.
LA doesn't do things like other big US cities. Many businesses and professions walk to the beat of their own drum, and working hours and arrangements are often flexible. The entertainment industry, for example, famously has stretches of downtime where activity basically stops for weeks or even months.
Freelancing is common in LA, and the gig economy is strong. The old paradigm of the formal office has been eschewed in many instances for a looser, café and street-based arrangement. The business dress code is casual, but don't go too far with this unless you're a mega-rich movie producer who can get away with wearing jeans and thongs to important meetings.
LA Tourism and Adventure Board's Top 3 Tips for doing business in LA
Smart casual is the norm in LA, and with its average temp of 25 degrees all year there is no need for a tie.
LA is a huge city and trying to attend meetings in say Venice Beach and then onto Downtown can take 45mins to an hour, so plan accordingly.
No one walks in LA and you cannot hail a taxi on the street, so Uber or Lyft ride share is hugely popular and relatively cheap, so impress your clients and book an Uber SUV.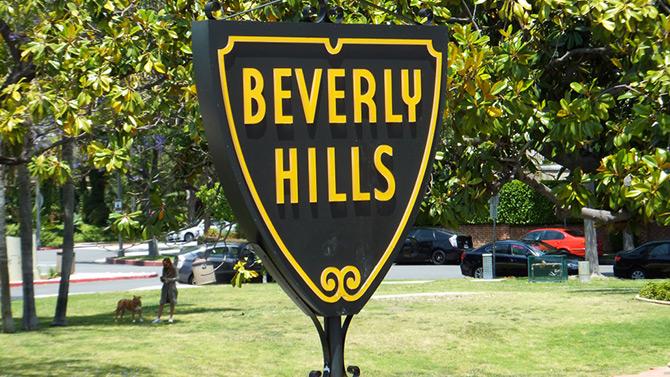 According to Craig Gibbons of the LA Tourism and Convention Board, Downtown LA is going through a major renaissance and has seen a lot of major companies open headquarters in areas like the Arts District and South Park.
"Downtown is also home to many of LA's hottest bars and restaurants and is perfect for a client dinner or after works drinks. For tech industries, head to the area aptly named Silicon Beach which stretches along the coast from Playa Del Rey and Westchester near LAX to Santa Monica and Venice, which is home to over 500 tech start-up companies," says Craig.
Best LA Hotels For Business
Selecting the best hotel for you depends a lot on where you need to be for work, or where your meetings will take place. Pick the right hotel and you could save significantly on your time spent in traffic jams wishing the lights would change. If you have a good hotel program in place, staying with a hotel partner will help you save, and will reduce the risk of getting a bad hotel. LA has endless hotel options to choose from, so here a few of our top picks to consider. 
Montage Hotel Beverley Hills
With a rooftop pool overlooking the Hollywood Hills and Rodeo drive, the Montage Hotel is hard to beat in the spectacular location stakes (shopping anyone?). This hotel is all vintage glamour, sophistication and elegance, with a serious side of hedonistic indulgence. Rooms are designed to reflect the Beverly Hills mansion aesthetic; the spa is world class and the various dining options provide a taste of modern American cuisine. 
Waldorf Astoria Beverley Hills
With its classic Californian lobby as a design centrepiece, the Waldorf Astoria Beverley Hills is a true statement in style. Light filled and crisp, the rooms here boast palm filled views, private balconies and high-tech features to please the most demanding of visitors. The rooftop pool is a destination in its own right, perfect for enjoying a cool drink after a day living the LA life.
Freehand Hotel, Downtown
Dripping with Hipster Cool motifs and attitude, the Freehand Hotel LA is located in the heart of the burgeoning Downtown region, where new bars, restaurants and places for the cool kids to hang out are opening all the time. There are a range of beautiful rooms available, from the spacious and stylish Loft Suites to economical shared rooms. Check out the Broken Shaker bar for cocktails on the rooftop pool deck.
Looking to access competitive hotel rates and benefits? Ask your Travel Manager how to become a SmartSTAY customer.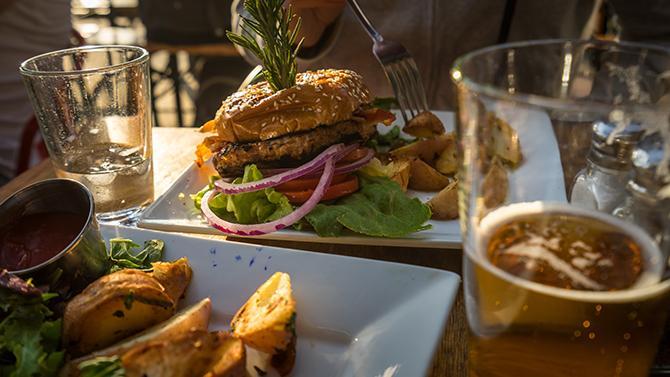 The LA foodie scene is as diverse as it's people. From old-world Hollywood glamour to Insta-worthy vegan Mexican and street burgers done right, there really is something for everyone.
Chateau Marmont
Perhaps the most famous hotel in LA, Chateau Marmont provides the star-power and grandeur you need to close out a business deal. Cocktails appear on the menu from breakfast through to late night entertaining, with wining and dining options to suit everyone. Unless you're an A-list celeb, don't arrive without a reservation, which is recommended for lunch and required for dinner.
Dudley Market
If you're by the beach in Venice, reserve your table at Dudley Market. This popular local hangout has recently reopened with a renewed focus on wine and seafood, and pairs the city's laid-back vibe with class. The menu is kind on your hip pocket, but also offers the opportunity to live large and impress your business partners. There's a reason this one topped LA Eater's hottest restaurants list.
Craig's
Order a classic American meal with a twist at Craig's and get a side of celebrity spotting. Billed as 'upscale comfort food', the menu features pigs in a blanket and chicken parmigiana alongside scallops and filet mignon. Settle in for the night with dessert, wine and cocktail menus and keep your eyes open for Hollywood's hottest who frequent the West Hollywood haunt.
LA Bars Only a Local Knows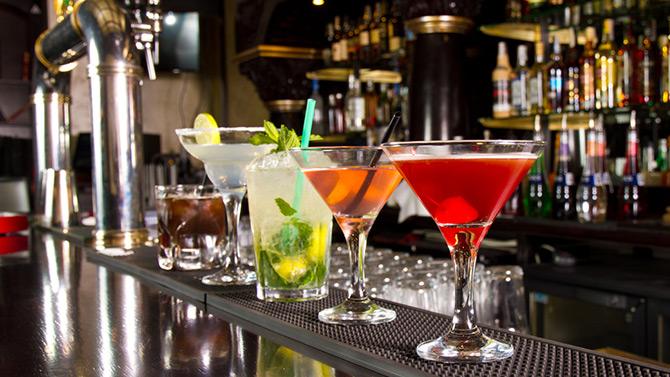 Want a sip of the local life while in LA? We asked Reggie Markham, Assistant Team Leader at Corporate Traveler Los Angeles, for his hot spots to wind down and take in the city.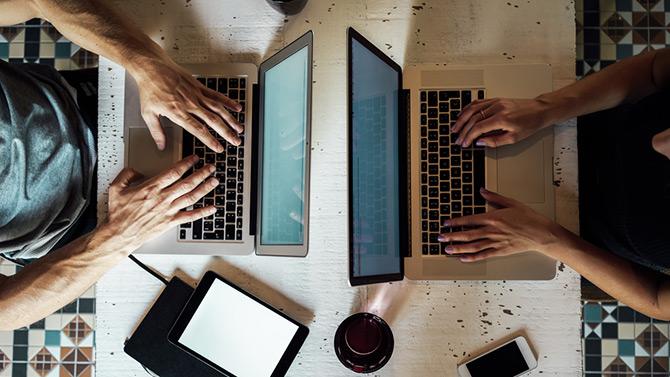 Get out of your hotel and into an idea incubator at an LA co-working space. As well as being inspired and feeling connected, you might just share a desk with Silicon Valley's next big thing.
Cross Campus
From the visually interesting work spaces to the amenities on offer, the vibrant and flexible culture of the city is captured by Cross Campus. Everyone from solopreneurs to teams of 100 are welcomed at the 7 locations around the city, with the professional work stations complimented by lounge and games areas, full kitchens with beverages on tap, and meditation rooms. Prepare to be inspired.
Epiphany Space
Cultivating connection in a city of millions, Epiphany Space opens its doors to business travellers to work alongside others with flexible schedules: freelancers, contractors, remote workers and students. Designed and run more like an office, with standard business hours and work stations encouraging the type of connections you make with colleagues, you'll get to know some locals while working side-by-side.
Kleverdog Coworking
In the centre of LA's Chinatown, Kleverdog Coworking is a fusion of communal inspiration and homely office space. Spruiking the benefits of working with others – connection, sharing ideas and accountability – Kleverdog caters to a diverse community of professionals…and the occasional dog. Those looking to work around others yet engage at their own comfort level will enjoy opening their laptop here.
The Hatchery Press
While it caters to the wide range of working styles and preferences – from indoor rooms to outdoor patios, libraries and quiet spaces to communal lounge areas – The Hatchery Press has one requirement: you must be a writer. If that's you, prepare to rub shoulders with aspiring and accomplished screenwriters and authors who emerge from their solitude to join this thriving community.
LA's Top 5 Conference Venues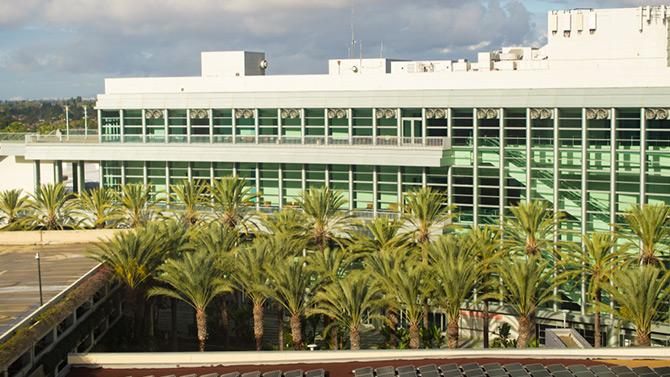 It makes sense that the home of film and TV has some of the most unique, dramatic and exciting venues for meetings and conferences in the world. If you're looking for inspiration to host an even in LA, or want to see if you're heading to one of the top 5 conference venues in the city, read on.
Universal Studios Hollywood
Screen sophistication blends with a little theme-park fun at Universal Studios Hollywood to offer more than 45 indoor and outdoor spaces, award winning catering, state-of-the-art audio, visual and lighting, and capacity for up to 20,000. Even Sound Stage 29 – the filming location for Fast Five and Jurassic Park III – offers 14,000 square feet of incomparable event space. You might spot a star, or at least feel like one, if you're on the guest list for an event at Universal Studios.
California Science Center
Talk about an ice breaker! Guests attending a conference or event at the California Science Center can get hands-on with hundreds of exhibits, unique artefacts and amazing animal-inhabited ecosystems, and mingle with other delegates under the Endeavour Space Shuttle, the last orbiter built by NASA, in The Samuel Oschin Pavilion. Located near the heart of downtown Los Angeles in Exposition Park, this unique venue accommodates up to 800 standing or 500 seated guests seated.
Petersen Automotive Museum
There is no other venue like the Petersen Automotive Museum. Three floors are dedicated to the history, industry and artistry of the automotive world, with exhibits including Hollywood Dream Machines, and over 250 of the most iconic and rare cars, motorcycles and trucks from around the world housed in the Vault. The fourth floor – The Rooftop Penthouse and Terrace – features panoramic views of the Hollywood Hills and Century City. Having undergone a $125-million renovation in the last few years, this venue offers more opportunities to impress and interest guests between event formalities.
Banc of California Stadium
The home of the city's newest Major League Soccer franchise, LA Football Club, the Banc of California Stadium is the jewel in the crown of a $350million sports complex in Downtown LA. If you're attending an event, meeting or conference here, you can expect premium hospitality, an unrivalled sporting experience and spectacular views of Downtown LA and the Hollywood sign.
Los Angeles Convention Center
One of the most environmentally-friendly and technologically advanced convention and exhibition facilities in the world, the Los Angeles Convention Center provides creative and flexible meeting and conference facilities. Located in the heart of Downtown LA, making it close to transport and accommodation options, millions of visitors attend events at this venue each year, including world-renowned events like the Electronic Entertainment Expo and the L.A. Auto Show.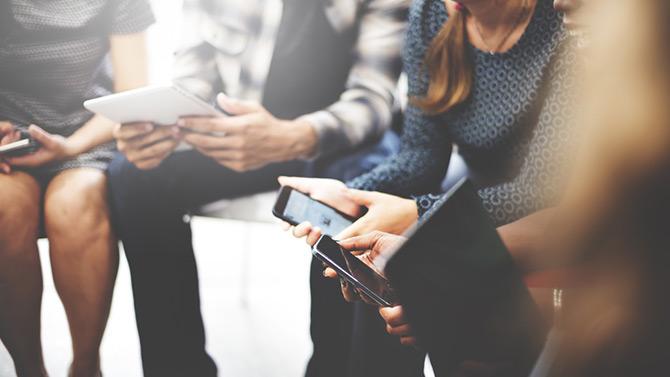 It's all about who you know, especially in a city like LA. Whether you're looking to invest, expand your business operations into LA or are just after some local connections during your work trip, make it happen with these networking opportunities.
World Trade Center Los Angeles
The World Trade Center Los Angeles (WTCLA) provides business assistance to international companies seeking to locate or expand operations in LA, and to local companies seeking to export internationally. Providing business assistance, education and matchmaking programs, WTCLA might just be your ticket to breaking into the competitive US market.
The Centre for Global Trade and Foreign Investment
The Centre for Global Trade and Foreign Investment at the Los Angeles Area Chamber of Commerce is widely recognised for their experience in developing, managing and implementing international trade and investment programs and strategies, designed to enhance trade and investment in the LA region. If you're looking to invest or build international relationships with business in the area, this is your first port of call.
Networking Events
If you're visiting the city for work and want to connect with like-minded, professional locals, add some LA networking events to your schedule. Try Meet Up's professional networking groups in LA, or a Network After Work event.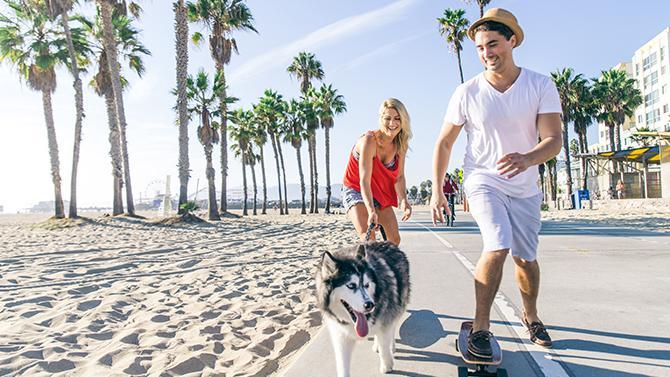 LA Bleisure Ideas – Time to Play Tourist
Once a mere celebrity-lovers stop over, LA now boasts a mecca of hip bars and foodie hangouts, some of the most pristine nature trails and beaches in the world, and a thriving arts and culture scene. However you like to spend your downtime, there is something for everyone.
Explore a Museum
LA has more museums and art galleries than any other city in the US, including New York. So why not spend some of your downtime exploring one or two? Grand Avenue is a bustling cultural corridor with a number of galleries and The Broad museum, or try the Museum of Contemporary Art across the street for works by Jackson Pollack and Andy Warhol. If your event isn't at the Peterson Automotive Museum, you might like to pay it a visit, while the J. Paul Getty Museum is housed over two locations featuring international artworks and ancient antiquities. And prove that you've been to LA by snapping a photo with one of the most Instagrammed artworks, Urban Light, at the Los Angeles County Museum of Art.
Visit the Zoo
Get up close to wildlife at the Los Angeles Zoo, with over 1,400 animals, including mammals, birds, reptiles and amphibians. 58 endangered species are housed at the LA Zoo, which aims to inspire and educate people about their plight. This is well worth a visit if you have a day spare.
Attend a Concert
Regardless of when you're travelling to LA, you can be sure there'll be a concert you'll want to see. From top-of-the-chart artists and bands to up-and-coming talent, and venues ranging from stadiums and concert halls to local bars and clubs, there is a show for every genre.
Catch a Home Game
Not to be outdone in the variety stakes, LA's professional sports offering also has something for everyone. Perhaps the best known of these, the LA Lakers and the LA Dodgers have the basketball and baseball fans covered respectively, while The LA Rams and LA Chargers provide options for NFL fans, the LA Kings have NHL covered and the new LA Football Club bring soccer to Downtown. With so many teams, you're sure to catch a professional sporting match while in LA.
Hit the beach
Stretching from the adventurous haven of Malibu and the fun beach of Santa Monica, to the famous Venice Beach and down to the stylish Hermosa Beach, even LA's beaches offer something for everyone. Head to your nearest sandy stretch to enjoy the sun and people watch, or make a day of it and venture north or south to find your ideal seaside spot.
Take a Hike
Enjoy the Californian sunshine with a hike through the Hollywood Hills. Runyon Canyon is a popular trail for celeb spotting, but you'll have to dodge the many locals. Put aside an hour and half to reach the top for the stunning views. Or try Griffith Park for a number of trails that weave up and into the hills. For a memorable off-road run, take the trail that leads from the Observatory parking lot to the summit of Mount Hollywood, the highest peak of the park, which rewards you with spectacular views of the entire Los Angeles Basin.
Join the Downtown Art Walk
Join like-minded art lovers for the Downtown Art Walk, which guides thousands of people each month through galleries, past local murals and street art, all in support of the local artist and gallery community.
Experience a Food Tour
A great way to sample the diverse food on offer in LA is with a tour. From walking food tours with Six Taste, to a progressive four-course culinary experience with Avital, or a journey through farmer's markets or the city's Latin, Spanish and Thai cuisines with Melting Pot Tours, you're sure to find one that suits your taste.
Check out Knott's Berry Farm
If you're travelling with your family in tow, carve time out of your work schedule to experience Knott's Berry Farm. From humble beginnings as, literally, a berry farm, to a wildly popular theme park, the whole family will enjoy this day out.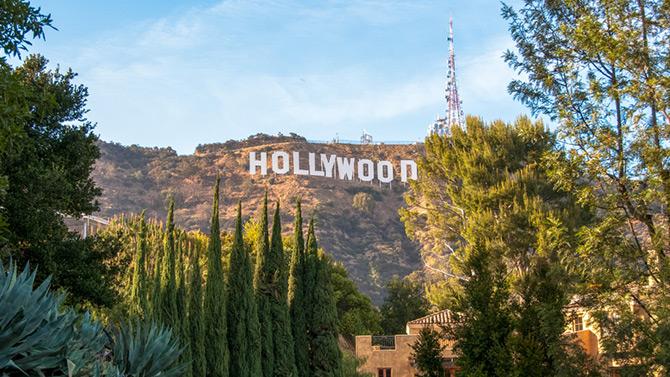 Essentials
Electricity
You'll need an adaptor to power up your electronics with LA's parallel flat plugs, which run at 110 volts.
Currency
The currency is US Dollars, so load up a multi-currency card and exchange some cash before you travel – you'll need it for tips.
Speaking of tips, its voluntary but customary to tip, so you should be somewhat familiar with it. A gratuity isn't included in your bill, but a good rule of thumb is to add 15-20% of the total of your bill at restaurants, for taxis and tour guides, and $1-$2 per bag for luggage handlers, per day for maid services and per car for valets.
Language
English is the most common of the more than 200 languages spoken in LA, followed by Spanish. Like anywhere, LA has its local slang, but chances are you've already heard it on your favourite TV show or movie.
Weather
The Mediterranean climate is popular with locals and tourists alike. Between Winter's low of 9°C (December/January) to Summer's high of 28°C (July/August), it's not uncommon to see beachgoers in their shirts and shorts year-round. The wet season is from November to March, but the dominant sunshine and clear skies means rainy days are few and far between.
Fun Fact

The famous Hollywood sign originally read as 'Hollywood Land' and was actually no more than a real estate outdoor ad.