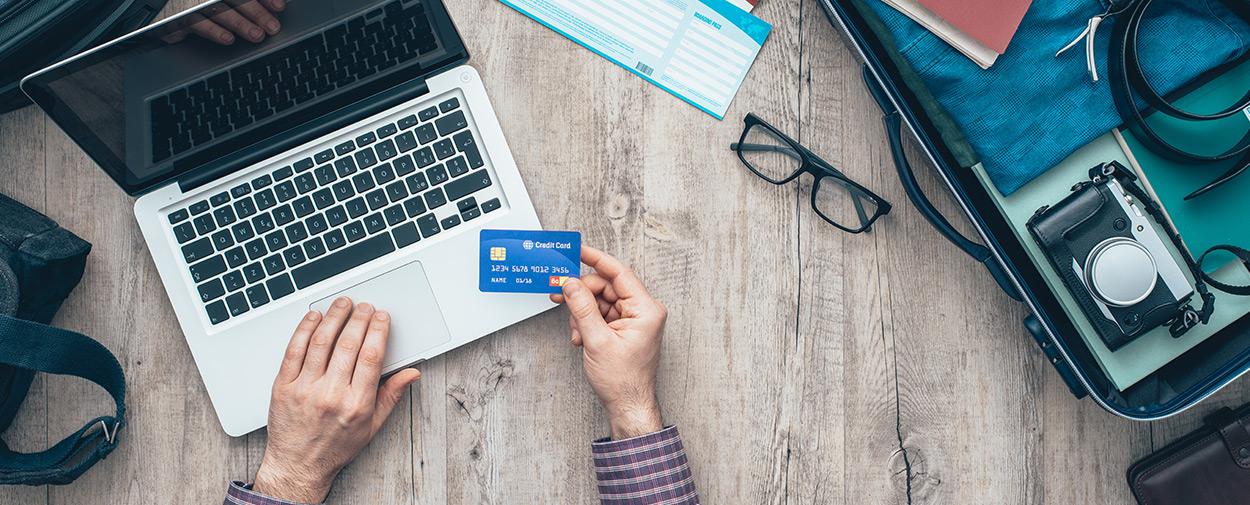 We often take for granted the ease at which we can book travel these days. Need to be in a different state tomorrow? Jump online and book a flight. Book overnight accommodation while you're at it. And a transfer to be waiting when you land at your destination.
But how did it all become so easy, and is it time to upgrade your expectations when it comes to travel booking options? Thanks to the introduction of the internet 30 years ago and the integration of AI into our daily lives, booking travel has become more efficient and less costly.
But we haven't stopped there. From single-login dashboards to personalised preferences, booking systems that align with your travel policies and keep your travellers safe, and even post-travel expense reconciliation with the click of a button, we're embracing the possibilities of online booking tools (OBT), and here's why you should too.
An evolution of online travel booking
To consider the evolution of booking travel online, we need to go back even further than the introduction of the internet, as the patterns and practices we have now were influenced by events in the travel industry in the 1950s and 60s.
It was quite a process to book travel back then, especially internationally. Once airlines developed centralised booking systems which recorded occupancy and availability, and gave access to travel agents, the process became much easier for travellers. Hotels eventually introduced a similar system and travel agents grew in popularity as an easy, one-stop-shop for travel: you'd discuss your destination and leave with your printed airline ticket and itinerary.
We could say here that with the development of the internet in the late 1980s, the rest is history. But there's much more to it than that. Early adopters of the online platform provided customers with direct access to the industry, with information and bookings now available within a few clicks, and metasearch making the research process a relative cinch.
The travel industry was again changed forever with the bombing of the World Trade Centre in New York in 2001. The industry was turned upside down as people became weary of travel; airlines flew with empty seats and hotel rooms went unoccupied. Enter a plethora of travel e-commerce websites – OTAs – which sprung up to fill vacant hotels and planes and provide exposure to brands in the process. Consumers now had endless choices, and with online shopping becoming the norm, it seemed like the answer to simplify travel bookings for businesses as well.
These days, a typical travel site offers details on flights, accommodation, car hire, travel packages, deals and destination guides. With so much choice and access at your fingertips, what could be better than an OTA?
Why an OBT is better than an OTA
It's safe to say that when it comes to the way we buy travel, there's no going back. The changes to our processes and habits over the last 60 to 70 years have ultimately changed consumer behaviour by:
Bridging the information gap;
Making access easy and instant;
Driving prices down thanks to online comparisons;
Providing variety of choice; and
Enabling us to be influenced and base decisions on others' experiences.
You only need to look at the numbers to grasp the significance of the online travel booking industry today: the average traveller will search online nearly 50 times, visit 38 websites, start researching months in advance (yet increase their research time in the week prior to booking), and read a dozen reviews.
However online access alone doesn't make the process easier. Paired with the knowledge and support of a dedicated travel manager and the backing of a travel management company, OBTs take a fraction of the time. 
When Corporate Traveller timed how long it took one of our customers to make a domestic booking with accommodation and car hire on other travel sites, it took them 1 hour and 4 minutes. When we made the same booking, it took less than 10 minutes.
As technology and the use of customer data expands, OBTs are better able to cater to travellers based on their demographics, transaction history, reviews and ratings. Platforms are being designed with users in mind, with single-login dashboards streamlining the travel booking process even more, mobile apps making accessibility on the go easier, and real-time report generation taking the stress out of budget forecasting, tracking and reconciling.
For this level of functionality and benefit to businesses, there is no doubt that if you have staff that travel for work, then you're better off using an OBT for your travel management. See how the benefits of an OBT compare to a generic OTA:
 

Corporate Traveller

(OBT)

OTA

Low management and running costs

✔

✔

Easy to compare offers, rates and availability

✔

✔

Variety of choice to personalise travel experience

✔

✔

Mobile app to take your travel booking and itinerary on the road

✔

✔

Functional solutions for all travel scenarios

✔

 

Streamlined and integrated request and approval process

✔

 

Single-login dashboard improves visibility of bookings

✔

 

Easily make changes via dashboard

✔

 

Increased compliance with company travel policy

✔

 

Reporting capabilities help to identify potential savings

✔

 

Having multiple users reduces overall transaction costs

✔

 

Data collection and reporting

✔

 

Easy accessibility of traveller's movements for safety and security measures

✔

 

24/7 support of dedicated Travel Manager who knows your business

✔

 

Greater negotiating leverage with global power of Flight Centre Travel Group

✔

 
If you've gotten by in your business using an OTA thinking that you don't have the number of staff, budget size or travel frequency to warrant implementing an OBT, you're missing out and costing your bottom line, says Karen Ling, Business Improvement Manager for Corporate Traveller: "For companies who might have five to 10 travellers and don't have a complex travel policy, they can still access the online booking tool and all of our travel deals through simplified versions of the technology."
What's next for OBTs?
There is a lot of talk about AI driving change in the industry, especially for business travellers. But just how will AI capabilities and new technologies shape the way we book travel in the future?
For starters, AI will help to make the process, which is still somewhat complex, even easier by suggesting the best way to get from A to B, efficiently and within policy guidelines. And travel bookers will benefit from the availability of more relevant information on the travellers, such as their needs and preferences, automatically narrowing down hundreds of options to those that are most useful for the booking.
Personalising preferences will only move to make the process even quicker, with one-click bookings not that far off, says Karen: "With AI capabilities, technology can recognise your preferences and speed up your processes by recommending those. It's more advanced and has fewer clicks to get through the process. And it's changing pretty quickly; we're adding more and more AI enhancements all the time."
And this is just the beginning. From suggesting alternative days to travel that work around personal commitments, to booking another flight before you even know yours is cancelled, and even offering recommendations as soon as you accept a calendar invitation for a meeting in another city, the possibilities for OBTs are endless.
Upgrade your expectations with an OBT
The travel booking process has come a long way in the last 70 years, but the changes have been exponential in the last 20 years; just imagine where the future of online travel booking will take us. So, if your idea of a simple travel booking process is an OTA, it's time to upgrade your expectations and implement an OBT.