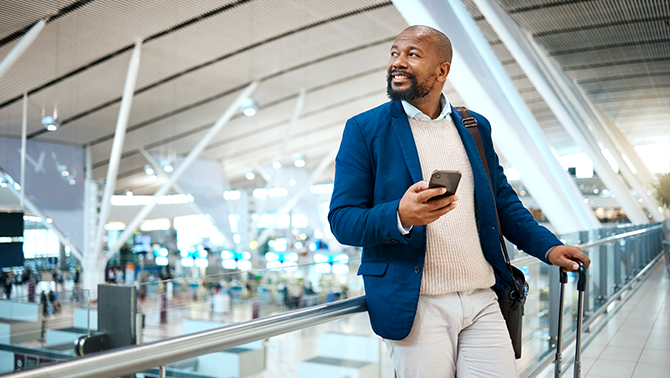 The 6 Rs of effortless business travel management
When you're shortlisting your future travel partner choices, it's important to remember what is most important. Ultimately, you want a travel management company (TMC) that makes business travel effortless for everyone involved: from the top bosses to the finance or HR team, to the travellers themselves.  
So, how can a TMC ensure they deliver an effortless experience every time? We recommend thinking about these 6 Rs: readiness, reach, responsiveness, resourcefulness relevance and relatability. Let's dive in.  
Readiness  
No one likes roadblocks, especially when you're starting a project and need people to be on the move. A travel management company (TMC) that's ready and raring to go will clearly know what your business travel needs are, and then have the tools and human support in place to deliver on those needs....and it all needs to be delivered as a consistently effortless experience.  
Also, don't underestimate having a service that is customised to your specific travel needs. At Corporate Traveller we ensure that your travel programme fits your company culture, policies and traveller needs. It can make all the impact on the success of those projects, those meetings and, ultimately, your organisation's success.
Reach
You want options for your business travel! Working with a travel provider that has a global network of suppliers across air, hotel, car and  insurance, and the ability to negotiate direct deals, means your business has options and can maximise savings and value.  It's ideal that your travel provider is independent so that your travel is not bias to a particular supplier that won't always deliver what's best for your business.
Responsiveness
No-one likes sitting on hold, wondering if their problem will ever be resolved – especially if you're in a different country or there is an emergency. That's why responsiveness is absolutely critical in the business travel space. When your business needs bookings made, flights changed and advice provided, you need to know that your TMC will respond quickly. 24/7 emergency support is peace of mind for your business and your travellers.
Resourcefulness
Dedicated experts in business travel level up your experience with their resourcefulness. Simply put, they know how to solve the most challenging problems and add in those touches that are game changing for your trips. Tips and tricks on days to book and lead time to bookings can mean big savings. Likewise, knowledge of destinations and accommodation that's close to where your meetings along with the best on the ground transport options, save time, stress and improve meeting outcomes.
Relevance
Technology can do so much now, but some systems neglect user-experience. Traveller-facing technology needs to be top of its game and sync up with the support network behind it too. It's that blend of technology and human support that provides the most value when needed; it should be one consistent experience from your TMC. 
Relevance is also important when it comes to the parameters and information that everyone across your business needs now. Take sustainability for example. Is your TMC providing the relevant travel data and reporting needed for your goals? Do travellers have relevant information they need to make informed decisions at time of booking? It's those touches that are available with Corporate Traveller that elevate the service you're getting from your corporate travel agent.
Relatability
All travel is personal, even when it's for business, and we pride ourselves on delivering that personal touch for every booking. A travel team that knows exactly who you are is invaluable, whether you're making a quick booking or it's a more complex business trip. We'll remember (partly thanks to your profile) that you need that vegetarian meal or special assistance; you shouldn't have to repeat those preferences time and time again.
And if your travel requirements are a little…not the norm? No sweat, our teams are used to that kind of thing and can connect you with the people that know exactly how to make sure those travel plans run smoothly.  
Ready to work with a travel management company that covers the 6Rs effectively?
With decades of travel experience under our belts, our team and technology are ready, resourceful, responsive, relevant, relatable and we have the reach to achieve your business travel goals.
 
Contact us today
You may also be interested in...