If you're a frequent business traveller, you'll be used to a busy schedule with little consistency or routine – so staying healthy can be a challenge. Unfortunately, there's no one magic pill to fix your health and wellbeing so staying balanced does take some work. Creating healthy habits now is going to make a big difference in the future.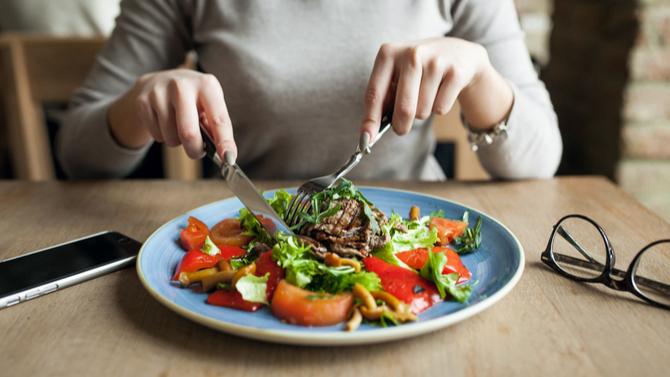 Food is a tricky one as you won't have access to a fridge of healthy vegetables and fruits like you would at home. Business trips can often include client entertainment, or even grabbing something quick to eat before meetings. While work might be paying for your meals, they might not be the ideal ones for your body. Here are our top tips when it comes to food.
Start the day off right with breakfast
It's important to kick off any day with breakfast, but even more so when you're travelling. If you're heading off on an early domestic flight without breakfast, you might be hungry for a few hours before you can grab a snack. Try oats or muesli before you head to the airport to fill you up for longer.
Eat the side salad or vegies 
How many times have you ordered a meal with a side salad or vegies, only to ignore them? Sure, that steak and chips are delicious, but you can add some much-needed vitamins to your day just by consuming the salad.
Snack healthy
We've all been there. You're hungry, you're walking through a CBD, and you stop outside one of the many 7-Elevens across the globe. Inside you have options for snacks, plenty of options. You walk in and grab a packet of chips, or a donut, or a meat pie. But there are healthy options you might not have considered. 7-Elevens also sell items like nuts, yoghurt, muesli bars, fruit cups and popcorn. So next time you're searching for a snack, give something healthy a chance.
Kate Laird, National Marketing Leader of Healthwise Global - a corporate health company, recommends her top five travelling snacks to give your body the fuel it needs.
Fresh Fruit – you'll find all different varieties across the globe, just make sure they're washed with drinkable water.
Hummus with Celery and Carrot – Hummus is high in protein and will help keep you going. Grab a tub from the supermarket and pair with celery or carrots.
Salsa with Pita – Low in fat and not to mention, delicious! Add some avocado to mix it up.
Nuts – Generally high in protein and stacked with good fats. You can keep them in your bag all day and they won't go off.
Cheese and grapes – A great combination and you can try the different cheeses from across the world.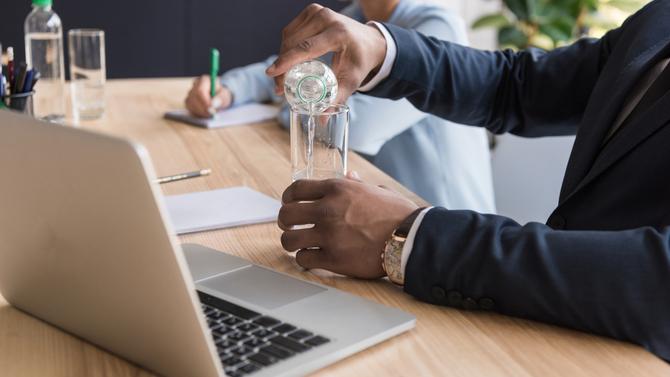 Hydration is key to any day, but when you're travelling around and not spending time at your desk it can be difficult to track the amount of water you've consumed in a day. You might find yourself downing several coffees in meetings or to keep yourself awake, which can leave you over caffeinated and dehydrated. Alcohol can be another factor in dehydration. While we don't want to stop you from indulging in the free wine on a flight or at a client lunch, or stop you from getting your caffeine fix, we do want you to top up your hydration to counter-balance.
Realistically you should be aiming to drink a one-to-one ratio to replace your water. For every coffee you have, you should drink one cup of water to balance it out. If you're travelling on long haul flights, pack an electrolyte replacement like Hydralyte or Gastrolyte to help hydrate quicker.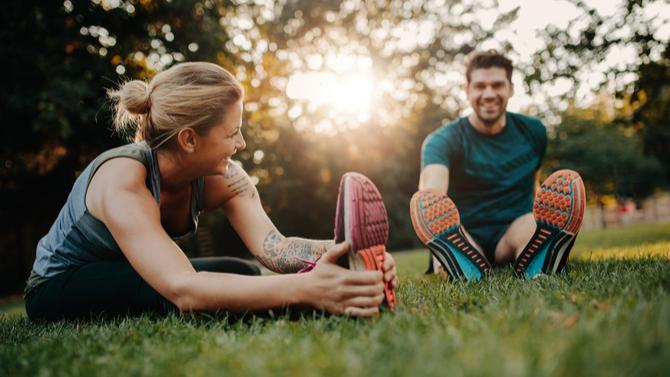 On a business trip you likely have a million things on your mind. What time does my meeting start? What preparation do I need to do? What is the client's name again?
We understand that you're busy, and that you might not have exercise high on your priority list. Exercise is important for your body, health, energy and mindset. You'd be surprised what a quick workout can help you achieve during the day. Healthwise Global recommends an exercise routine where you can maximise the effort in minimal time.
"If you don't have time to get to a gym or there isn't one at your hotel, there are a number of exercises you can do from the comfort of your hotel room, a local park, or even at the airport if you're game." – Katina Karydas, Healthwise Global.
Ten exercises to do on the go
1. Squats
2. Skipping
3. Walking Lunges
4. Push Ups
5. Burpees
6. Mountain Climbers
7. Plank To Pushup
8. Tricep Dips
9. Tuck Jumps
10. Bicycle Crunches
If that's not for you, some hotels have on-site gyms that you can access. Your dedicated Travel Manager can help you find the hotel that suits your recreational needs.
Mindfulness and Mental Health
Time stresses and travel stresses can take their toll on the mind and your mental health. The last thing you want is a boil over or breakdown on your business trip. Time away from family, friends, pets, and our normal routines can unsettle even the most zen person, and it's important to make sure you maintain a healthy mind balance.
Editor of WellBeing Magazine Ally McManus recommends incorporating yoga and meditation into your travels: 
Easy Yoga ideas for hotel rooms

Yoga can be done almost anywhere! Hotel rooms are great as they're an environment that provides little distractions. Pillows folded in half make for great "yoga bolsters" and books like the Bible in a hotel room can be great makeshift "yoga blocks". There are plenty of great apps out there like Simply Yoga + Yoga Poses to be guided through a yoga sequence, as well as yogis on YouTube if you've brought along your smartphone + use the hotel Wi-Fi. If you're already a practising yogi and are really strapped for time, 3-4 sun salutations finished with a few minutes of seated meditation is a great way to energise you for your day, whereas 4-6 yin postures topped off with a yoga nidra is the perfect way to prepare for sleep in an unfamiliar environment like a hotel room. You don't have to put in too much effort or make it anything fancy – even just dedicating 20 minutes of your day to movement + stillness is a wonderful gift to your health + wellbeing.
Easy meditation / mindfulness ideas for hotel rooms

Meditation apps like Headspace, Oak and Insight Timer are great ways to cultivate a regular meditation habit, offering guided recordings as well as a timer if you already have a strong meditation practice. All you need to do is make sure the space is quiet, elevate your hips by sitting on a folded pillow (makes for a great makeshift "yoga bolster") cross-legged or sitting cross-legged/back on your heels on a few books (a Bible or two If you've got one in your room!). A very easy way to meditate in a hotel room is also on the big comfy bed provided. Lie on your back in savasana/corpse pose, place your hands on your belly and connect to your breath as it travels in and out of your nose. Try to lengthen the exhale. This is also the perfect posture for yoga nidra.
Vaccinations and Medication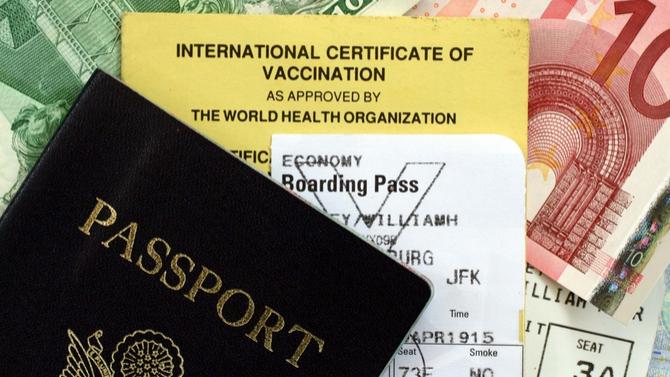 Dr Deb Mills, Travel Doctor and a pioneer of travel medicine in Australia says that good health is key for not just the traveller, but also their colleagues, family and friends. "You won't be popular if you bring back a communicable disease as a souvenir of your travels."
Domestic business travel can often be last minute, but thankfully you shouldn't have to worry about additional vaccinations if you're staying in Australia. If you're heading overseas however, you will need 1-2 months before your departure date to start checking off all the vaccinations you'll need. There are a few things you'll need to consider:
Where are you going?
What are you doing there?
What is your current and past health like?
How well do you look after yourself?
Your local GP will be able to tell you what vaccinations you'll need for your trip and direct you to the right places to get them. Note: there are some locations that require compulsory vaccines so that you can get back into Australia. Make sure you know which ones are compulsory and which are recommended.
When it comes to medicines you won't likely need to do much different if you're staying in Australia. You should be able to buy most things you need, unless you're travelling through the middle of the country. If you're heading overseas it's a good idea to pack any prescription medication in different bags (make sure one is your carry-on) just in case, you lose a bag. It's a good idea to take a copy of your prescription as well, just in case you need to show what you've been prescribed. If your medicine is seized at any point and is critical to your health, contact your travel insurance provider so see what options you have available.
It's always a good idea to pack paracetamol, antihistamines, a first aid kit, and some tablets for diarrhoea for international trips. Make sure you talk to your doctor about any medication you're taking and how to correctly administer it.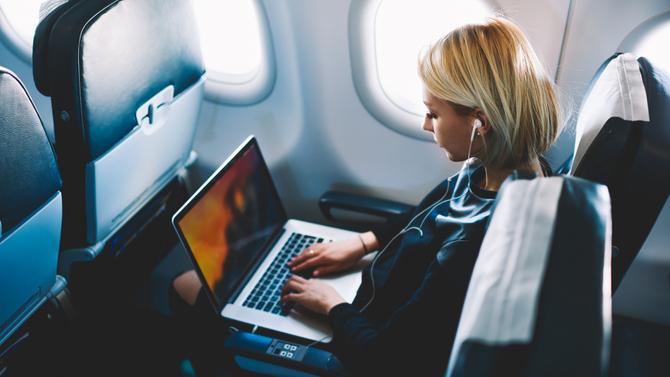 Deep Vein Thrombosis is a serious concern of many travellers on long-haul flights. DVT is when a blood clot occurs in a deep (non-surface) vein as a result of inactivity and reduced blood flow to deep veins. This can be found in travellers on long-haul flights, and more likely if you:
Are travelling more than 12 hours
 Are over 50 years of age
Have cancer
Were recently hospitalised or have a leg in plaster
DVT is most likely to occur in your legs and can start as a mild soreness or swelling in one leg. You can reduce your risk of DVT by:
Exercising
Moving around on your flight
Stretching
Taking shorter flights
Staying hydrated
Wearing compression stockings
According to Dr Deb Mills, taking sleeping tablets on a plane can be detrimental to avoiding DVT. "Sleeping tablets are not recommended on aircraft, since they tend to immobilise you and increase your risk of thrombosis. When you are uncomfortable you move around, rise from your chair for a walk, go for a drink etc. This keeps the blood flowing and stops clots forming."
Spending time away from your friends and family due to work commitments can take its toll on relationships. It's important for you to maintain a connection while you're away, as well as rejuvenating the relationship when you return. Ally McManus recommends that you practise gratitude for your loved ones.
"It is a powerful way to nurture your relationships with them. Prioritising quality time with each other, whether that's through sharing a meal, helping each other with a task or simply having a meaningful conversation without any distractions (like technology) are effective ways to connect with your loved ones. Quality time over quantity is also an important reminder to have when work commitments keep you away from your loved ones."

Ally McManus, Editor at WellBeing Magazine
Find the right travel fit
A lot of the health and wellbeing of the traveller is in the hands of the person that books the travel. They make decisions on flight times, stopovers, hotel accommodation and location, transport, and access to gyms or good food. Your dedicated Travel Manager plans the journey for travellers with all of these things in mind. Our Online Booking Tools like YOUR.CT allow our customers to store traveller preferences so they can save time and be happier, higher-performing employees.
Looking for a travel management company? Contact us today and one of our team members will walk you through our products.