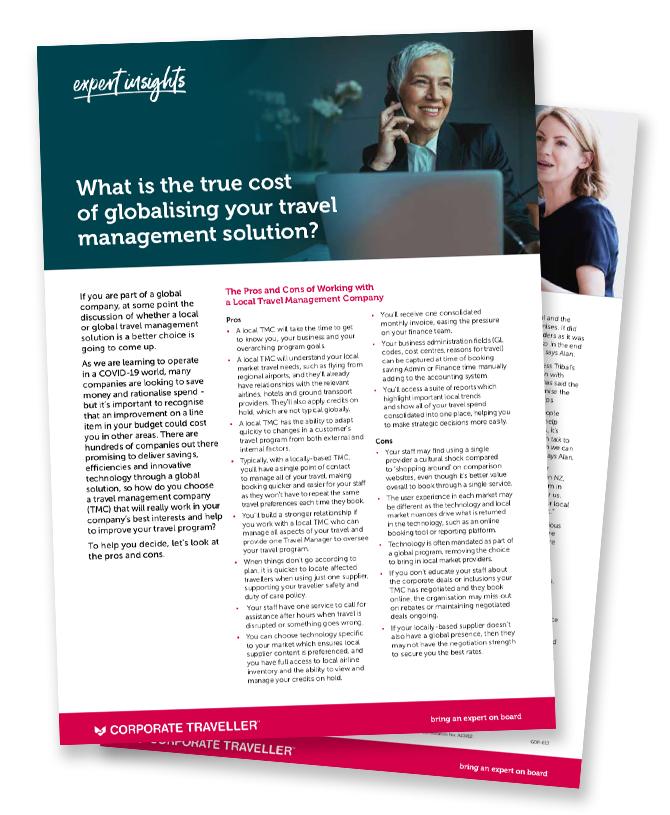 If you are part of a global company, at some point the discussion of whether a local or global travel management solution is a better choice is going to come up.  
As we are learning to operate in a COVID-19 world, many companies are looking to save money and rationalise spend - but it's important to recognise that an improvement on a line item in your budget could cost you in other areas. There are hundreds of companies out there promising to deliver savings, efficiencies and innovative technology through a global solution, so how do you choose a travel management company (TMC) that will really work in your company's best interests and help to improve your travel program? 
To help you decide we've created a handy guide that takes you through the pros and cons of working with local and global TMCs, so you'll be better informed when weighing your options.
Download our guide to get expert advice on:
The difference between local and global TMCs and the services they can provide.
How each option can potentially have an impact on culture, technology and price.
What to look for when reviewing your options. 
You'll also get a special look into Corporate Traveller customer Tribal's recent 6-month global review of their travel program.
Making the decision to change up your travel program can take some time and it's important you have the facts. Download our guide today to get started.