At Corporate Traveller, we're always looking for ways to help our clients grow. After all, it's one of the highest ranking priorities of most SMEs, and we understand how important it is to you and your success.
That's why we recently teamed up with Qantas to create a Money Can't Buy Experience – an intimate workshop with 4 of Australia's leading innovators. It was an inspiring new initiative designed specifically to give some of our lucky clients access to the brightest and best mentors and innovators in the business.
This inaugural event had a theme of 'Innovation', and was held on the 1st November 2018 at the Qantas Training Centre in Sydney, known as Centre of Service Excellence. Featuring high profile names such as Jane Huxley (MD of Spotify) and former Olympic swimmer Michael Klim, the day was an unforgettable opportunity for attendees and the businesses that they represented.
Unsurprisingly, the event was a huge success, and attendees all agreed that it provided them with an enormous amount of invaluable insights and ideas to take back to their organisations, and inspired them to prioritise innovation in their own careers. 
Find out more about the day and what our attendees learnt below.
The Entry Process
With such a valuable prize on offer, places were strictly limited. But, we wanted to give everyone a chance to attend, so we held a national competition to find our lucky attendees. To enter the competition, we asked our clients to describe in 100 words how their business would benefit from attending the event. Needless to say, the entries flooded in. The Corporate Traveller team then pored over the entries in great detail, and 5 companies were chosen to send 2 employees to attend.
Meet The Winners
All of the winning entries had one thing in common: they showed a true passion and understanding of innovation and its implications on business. The winners were:
Ross Lee Norris and Rohan Woodward, TSI Pharmaceuticals, QLD   Video testimonial
Laura Jennifer Maskrey and Charlotte Sarah Adderley, Megaport, QLD  Video testimonial
Natalie, Australian Property Institute, ACT  
Henk Oudman and Dani Patching, Access Group Australia, WA  Video testimonial
Fernanda Leorato De Araujo and Natasja  Kleinman, Hagstrom Drilling, WA  Video testimonial
Meet The Mentors
The event gave attendees a unique opportunity to work with, and learn from, some of Australia's leading businesses innovators. These included:
John Ford, Founder and CEO, The One Centre
Jane Huxley, Managing Director, Spotify
Leslie Barry, Former Head of innovation, Sports Bet
Michael Klim, Olympic Swimmer, Founder of Milk and Co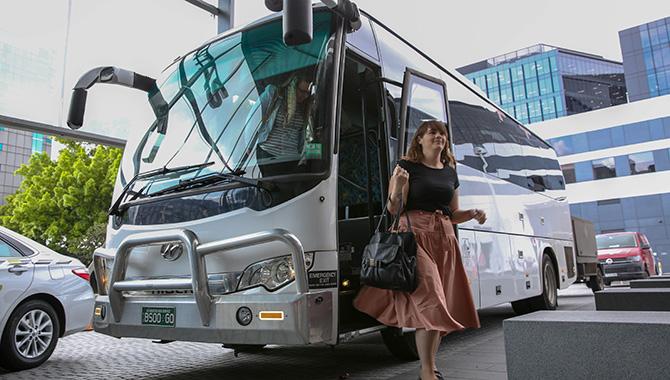 Our Guests Arrive in Style
The winners were flown into Sydney by Qantas (with access to the Business Lounge of course!) on the day before the event, picked up by Jayride, and were soon checked into the Rydges Sydney Central hotel. There was no time to rest, however, as the action was just getting started.
A Delicious Private Dinner
The event kicked off with an exclusive private dinner at Nomad, an icon of the Sydney dining scene.
As guests of host Jess Anscombe, GM Corporate Traveller, the group was seated in a private area surrounded by walls of fine wines. Delicious entrees and mains soon started appearing, and a glass or two of bubbles may have been poured. The conversation sparkled as the group got to know each other and shared stories of their business ideas. At the end of the evening the group made their way back to the hotel, filled with excitement and anticipation of the day ahead.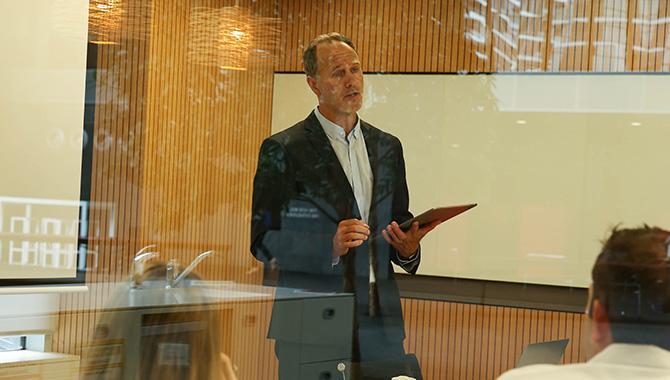 Down To Business
The next morning our guests rose early to be bussed to Qantas HQ for the first session of the day. John Ford of the One Centre set the tone of the event by discussing the fundamentals of innovation and providing a range of thought provoking case studies. No one wanted the session to end, but our guests were soon back on the bus travelling to the Qantas Training Centre, where more surprises awaited them.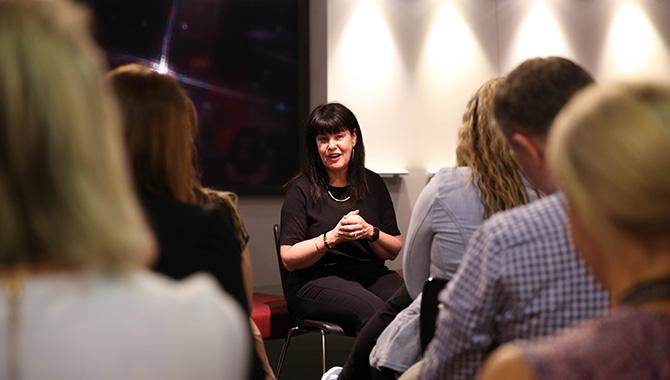 Workshop
After a dramatic big curtain reveal, our guests were given a fascinating tour of the Qantas Training Centre. With the obligatory selfies taken in the First Class training seats, the group then settled into a session with Jane Huxley. She captured her audience's attention with a treasure trove of valuable stories and examples drawn from her vast and impressive experience. Jane's insight into modern business and the new economy left her audience walking away from the intimate session with their heads filled with ideas and challenges they could pose to their own thinking.
Next up was Leslie Barry, who provided insights into how to validate ideas so success and failure can happen fast. Leslie's insights left the audience with an ease around failure, and the tools and techniques to find the winning ideas faster!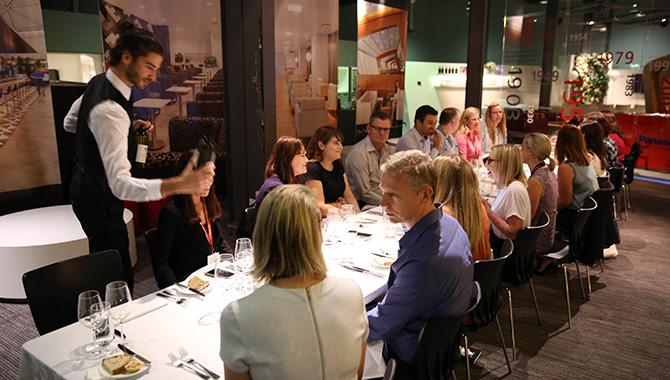 Rockpool Inspired Lunch
After three intense and stimulating sessions, it was time for a well earned lunch. A first class experience was again enjoyed by all, with the Qantas / Rockpool combination serving up a delectable selection of culinary delights. Fine wine was again on hand, though restraint was the order of the day as our guests kept a clear head for the afternoon sessions ahead of them.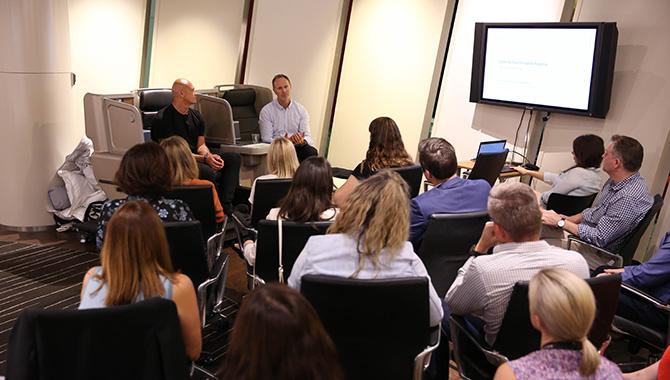 A Golden Performance
After the final after lunch coffees were finished, the group got back to work - if you can call sitting back to hear Michael Klim recount tales of his Olympic Games glory work, that is. Michael described how he himself had to turn to innovation to become a world beater in the pool, and then later in life when he launched the Milk and Co skincare product ranges. It was hard to not be inspired by his tenacity and determination in both the sporting and business areas, and the business case study presented by both Michael and John Ford provided the finer detail on how he achieved his consumer brand's success.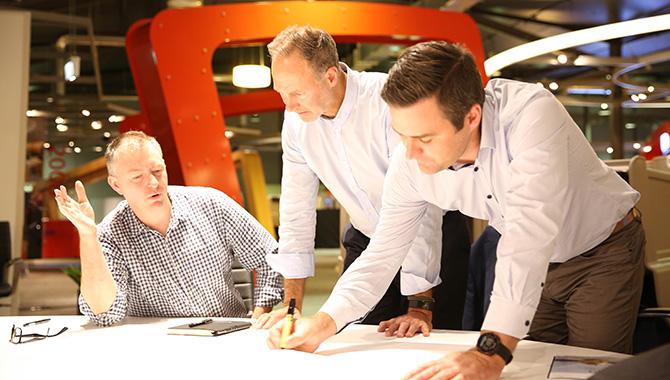 Getting Creative In An Applied Workshop
With heads filled with new ideas on innovation, the group were then challenged in a workshop to develop up one central concept on how they could apply a 'disruptive shift' to their own business. The group was split up into teams based on their workplace, and then asked to go way and work up their idea, which was then later to be brought back and presented to the group. One on one sessions with the mentors assisted the attendees as they worked on their presentations.
One by one the presentations were then delivered, and were later all judged by John Ford to be a resounding success. According to John, they all displayed a high level of innovative thinking with clear, actionable insights that would be of great benefit to their businesses upon return.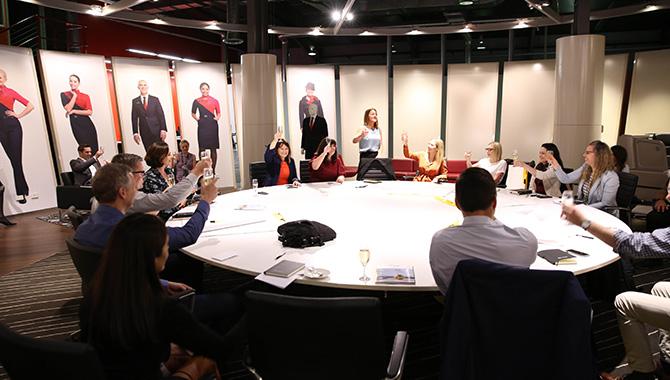 Wrap Up and Planning For 2019
All good things must come to an end, and sadly so it was with our first ever Mentor day. To celebrate the event, the group shared a champagne and raised their glasses to their amazing mentors, and we thanked our participants for their unbridled energy and enthusiasm. And then, for all of our guests, it was back to the airport to enjoy some more Qantas hospitality, before arriving home and getting back to business.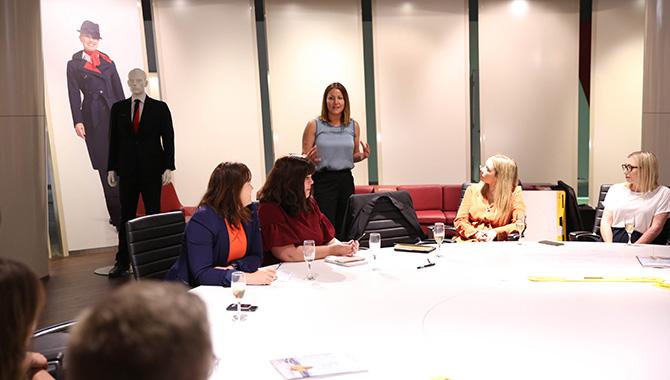 Why Is Innovation So Important To SMEs?
According to Jess Anscombe, GM Corporate Traveller, innovation is critical to the SME business.
"Innovation is about being creative in your thinking and always striving to be better, and you can't grow or survive without it," said Jess. "Creating a culture of innovation and an environment where you are encouraged to challenge traditional thinking will enrich your business and set you up for ongoing success."
About The Qantas / Corporate Traveller Partnership
The partnership between Qantas and Corporate Traveller is strong, built on a common passion for innovation and growth. We're both equally invested in our customers, with a shared desire to support the continuous growth of our businesses, alongside the development of our employees. Together we can't wait to see our customers apply new thinking from this event and to see the impact this has on their businesses in the months and years to come.