Travelling first class is now like booking a hotel room in the sky.
It should come as no surprise that economy flyers face a continued squeeze while at the pointy end of the plane, space has become the final frontier.
The latest generation of first class suites are adding more squares to what is already prime real estate.
Indeed, reel off a list of key features – reclining leather armchairs, double beds, room to entertain, a large flat-screen telly on the wall – and you could well be talking about a studio apartment.
It's an impressive evolution from the original suites which Singapore Airlines and Emirates launched on the world's first Airbus A380 superjumbo jets almost a decade ago, and which are still flying today.
Those well-appointed suites were based on the concept of a seat which converted into a bed, with high walls and sliding doors for privacy, providing sky-high havens for the well-heeled.
Luxury Cribs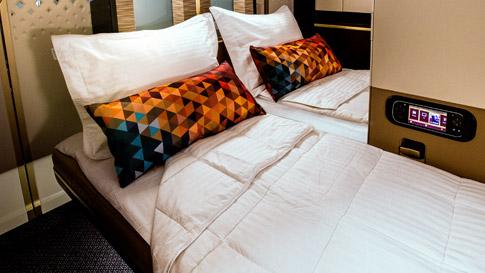 Etihad raised the bar in mid-2014 with the launch of its Airbus A380 'Apartments' – 3.6m² suites with a separate armchair and full-length ottoman which opens into a 2m-long bed.
There's actually room to walk around (well, at least pace a few steps) in your luxe crib above the clouds.
The Gulf airline added top-end touches such as a chilled personal mini-bar and a vanity unit with its own mirror.
Don't confuse this with Etihad's over-the-top Residence in the nose of the superjumbo: these are Etihad's 'standard' first class suites which sell at highly competitive prices.
Keen to avoid falling into second place in the battle of first class, the past fortnight has seen Singapore Airlines and Emirates pull back the curtains on their own second-gen suites.
A Hotel Room in the Sky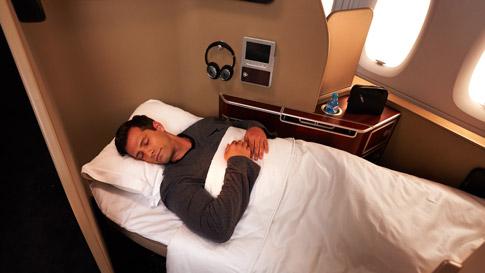 Singapore Airlines modelled its spacious new Airbus A380 suites on the idea of a room at a boutique five-star hotel – hence their moniker of 'Skyrooms'.
"Our concept was the idea of a passenger who stays at a (luxury) hotel" Singapore Airlines' suite designer Jacques Pierrejean told High Flyer. "He should find this type of hotel room on the flight, with a swivelling seat and different functions for day and night."
As with Etihad, there's a seperate chair and bed, with that chair being an elegant 21-inch wide swivelling Poltrona Frau leather recliner.
Once nestled in that ridiculously comfortable chair, you'll find everything is within reach: the suite serves as your office, dining room, living room (complete with a 32 inch HD screen on the wall) and of course bedroom.
Service Based Details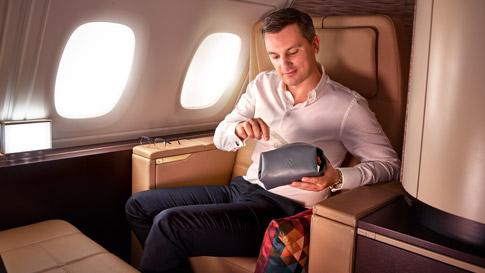 Two of the six suites can be joined to create a double bed, although in reality the lowered wall makes this more like two single beds pushed together.
There's also a thoughtfully-oversized loo so it's easier to change into and out of your inflight pyjamas, although Singapore Airlines decided not to follow the lead of Emirates and Etihad by adding an inflight shower.
It's odd that despite the space – and this 5m² suite has plenty of it – Singapore Airlines didn't add a personal minibar, although this perhaps reflects an Asian emphasis on hospitality and service.
And speaking for myself, as nice as is the notion of grabbing a drink from the minibar I enjoy and prefer interaction with the crew.
Singapore Airlines will begin flying its new Airbus A380 daily on the Singapore-Sydney route as SQ221/SQ232 from December 18 2017, with Singapore-London services tipped to follow from March 2018.
A Private Jet Experience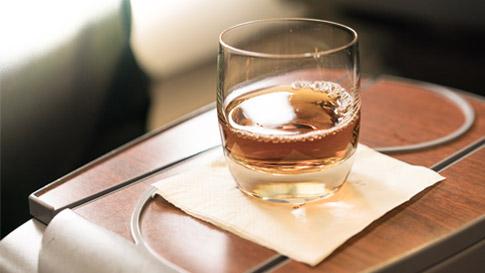 If Etihad's first class concept is an apartment and Singapore Airlines is a hotel room, Emirates drew inspiration from a private compartment in luxury train, or perhaps its modern equivalent of a VIP jet.
Developed in partnership with Mercedes-Benz – a  link which has also seen the Gulf airline and Qantas partner rope in Jeremy Clarkson as its latest celebrity spruiker – the new suites will debut on Emirates' latest Boeing 777 jets, with its double-decker A380s to follow.
The 3.7m²  suites are fully private cabins, with walls and doors which go all the way from floor to ceiling.
Inside, Emirates has thankfully dialled down the bling to favour subtle woodgrain and softer accents of cream and Champagne gold instead of the heavy brass and faux 'burled walnut' plastic panels.
Getting Personal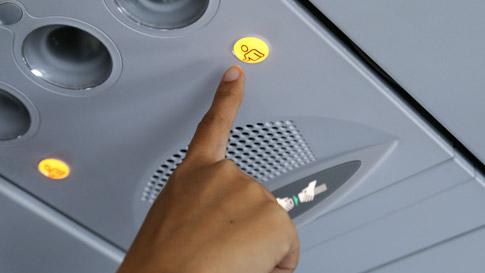 And what's a private carriage without a butler? Tap a screen in the suite to place video call to the first class crew for ordering meals, drinks and mid-flight snacks, which are be delivered to your suite through a hatch in the wall.
Again, this to me seems oddly disconnected from the first class experience where friendly attentive service is a vital part of the recipe. To be honest, having meals pushed through a hatch strikes me as less suite and more jail cell.
Emirates' new Boeing 777 first class suites will debut on flights from Dubai to Brussels and Geneva from December 1 2017, while airline CEO Tim Clark has name-checked Chicago, Brisbane and Perth as possible candidates for the new birds in 2018.
Few people spend more time on planes, in lounges or mulling over the best ways to use frequent flyer points than David Flynn, the editor of Australian Business Traveller magazine. His unparalleled knowledge of all aspects of business travel connects strongly with the interests of Executive Style readers.
This article originally appeared on Executive Style. Credit: David Flynn/Fairfax Syndication.