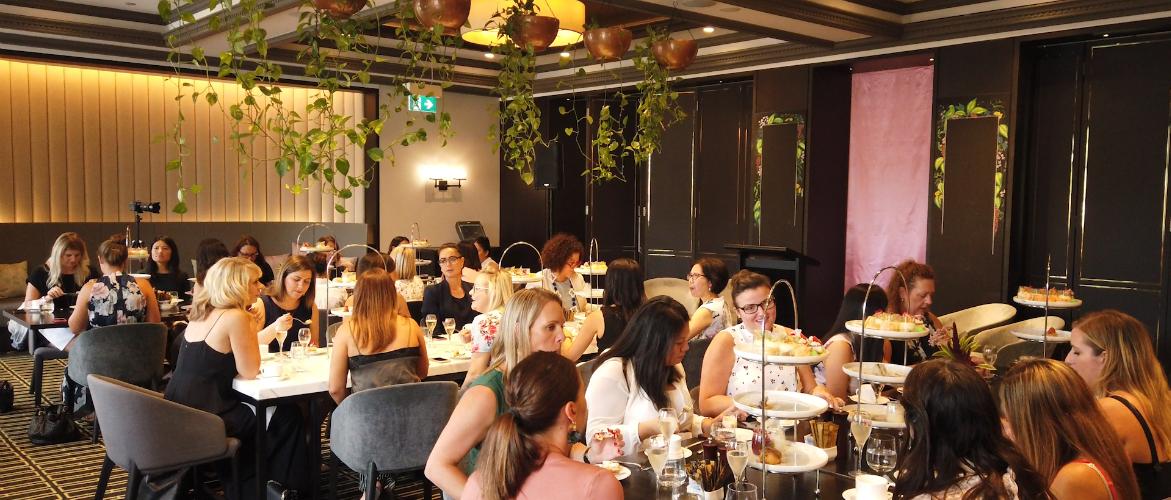 Disruption is coming to the workforce and women will be uniquely placed to benefit from the impending change, according to Kate Mills business builder, creative thinker and the keynote speaker at Corporate Traveller's International Women's Day event in Sydney yesterday.
The former business editor gave an insightful and positive view of the future for the 40-plus guests celebrating the annual women's event at the InterContinental Sydney in Double Bay.
"Disruption is coming to our workplaces and women are uniquely placed to benefit from the change particularly if we know what is going on and what those shifts are likely to be," Kate said.
During her talk, which was aptly titled The Future is Female, Kate said there were three key disruptors at play and about to redefine the workspace as we know it.
"Automation ...with the first phase being the automation of computational tasks and analysis of structured data, such as spreadsheet data. Then, there is the automation of unstructured data via tools such as chatbots, which are dealing with content, conversations or questions that are different from your typical data and quite unstructured. And thirdly there is problem solving automation or artifical intelligence (AI)."
As part of her keynote, Kate cited The Household, Income and Labour Dynamics in Australia (HILDA) Survey that found women - regardless of whether they worked full time, part-time or were the household breadwinner, took on substantially more housework and caring roles within the community each week.
Kate said that in light of these statistics automation had been incredibly kind to women, with the advent of washing machines and dishwashers, speeding up the time taken to complete domestic chores around the house.
Kate's predictions for the future also included the growth of pink collar jobs, or jobs that required significant levels of caring, adaptability, improvisation and emotional knowledge – all jobs that are hard to automate.
"Jobs that involve children or healthcare such as childcare, pre-school teachers, therapists, nursing or any jobs where there is face-to-face interaction are all incredibly difficult to automate. Statistics show that many of these role are typically fulfilled by women," she said. "So it makes sense to say that women will be in a good position when it comes to the skillsets required by the future workforce."
Kate's keynote was followed by a panel of three of Corporate Traveller's senior leaders including Miling Harpur, National Sales Leader, Sally King National Account Management Leader and General Manager of NSW/ACT for the business, Jaclyn Reynolds.
The panel touched on themes important to many women in the workforce including finding a healthy balance between work and family, the importance of women backing themselves and having the confidence to find and use their 'voice' at work, socially and in the home.
When asked what the day meant to each of the panellists Sally King said, "For me International Women's Day is a day of reflection ... and this comes from a place of gratitude, in that while there are some gaps that we need to work on, we're actually very lucky in Australia that we don't face some of the challenges that women come up against in other nations. We have a lot more opportunity and acceptance in our environment."
Mother of two children and NSW/ACT General Manager for Corporate Traveller, Jaclyn Reynold's said it was the advice from another female leader she had heard during a presentation that had helped her to find a healthy balance between her professional and personal life.
"For working mothers, the issue of balance is probably one of the biggest challenges that females face. It was the advice I heard from another female leader to set boundaries that has worked for me. Strategies like working out how many days of the month I was comfortable with travelling away from home or setting limits such as one night a week to catch up on any work overflow, helps to ensure the lines between the workplace and the home don't become blurred."
Miling Harpur, who has just returned from maternity leave told the audience she had the fortune of being offered a promotion by Corporate Traveller while she was on maternity leave. Miling had been in her past role as state sales leader for three years previously and said she was ready for a new professional challenege.
"The call about the opportunity came a few months into my maternity leave ... and while I did have a bit of hestiation I knew it was something I wanted to pursue," Miling said.
Miling added that because Corporate Traveller offered a supportive network for working mothers, this made her feel more confident about her decision.
When asked what advice the panellists had for the next generation of up-and-coming female leaders Miling said: "I think it's important for women to be themselves, be brave and be honest with yourself as that will help you to achieve your goals and be the team member or leader that you want to be and also be proud of."
Media enquiries to Sally Gordon 0412 492 433