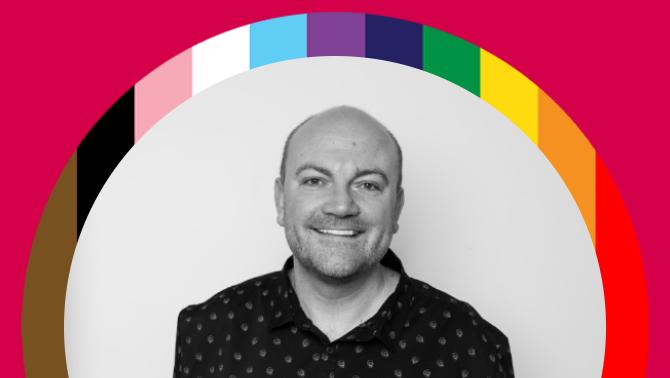 For Pride Month we sat down with Stage and Screen General Manager Adam Moon for a frank conversation about diversity and inclusion, life as a gay man in Australia, and travelling with Pride.


 
Despite growing up in the midst of Australia's sporting culture, Adam Moon has always proudly owned his identity – which happens to include the fact that he is gay.
"I came out when I was 15 years old, which was big for me, because I was in a very 'boys club' environment."  (In fact, Adam's dad had played football at a senior level and famous players would frequent their home regularly for weekend barbecues).
"So being in that environment, it was really scary, but I kind of just went, you know what – and back then it was still taboo to come out as gay – I just thought… this is who I am, I just need to own it, I don't want to be something that I'm not."
"Funnily enough, dad was amazing.  I think mum was a bit worried as she pictured me with kids and didn't want me to miss out …   My response was life is what you make it.  And I've been single my whole life, but being single is the life I've chosen.  I mean, I would love to have kids.  I want to be a dad.  I'm really nurturing and I think that's just helped to make me successful in this company…  I care about people and want them to be the best they can be, which you know, has been a win for Flight Centre because I've been able to put that nurturing and that same fatherly energy into the people that I work with… I know that sounds a bit soppy."
For Adam, being gay doesn't define him: "It's just this one little piece of me. It's not why I exist type thing… its 10 per cent of me – I love people irrespective of their sexuality or race or gender… but I also acknowledge the importance of things like this, in me coming out and telling my story for other people – because I want to help my community, as well as everybody else."
Adam has high praise for Flight Centre and its Diversity and Inclusion's 'Come As You Are' program which aims to ensure everyone at FCTG feels a sense of belonging – no matter their ethnicity, religion, abilities, sexuality, or gender, or if they are part of a minority. "Come As You Are really resonated with me because I really feel like I can be exactly whoever I want to be without any judgement or any recourse of action as a result of me being me."
Do you think Diversity and Inclusion is being discussed more in this Industry?
Adam counts himself lucky he landed at Flight Centre and within the travel industry 15 years ago because of its inclusivity… "that's how I always felt.. like oh, this is my home." 
Throughout his life. Adam has had exposure to many other industries, like sports, and reflects these industries have come a long way.  
"I know sporting codes have invested heavily in education… to understand that while you say something and think it's funny at the time, it can be hurtful. If one of your teammates is gay, would you still say the same thing? From what I've heard, the resounding response to that has been we would never want to do that. So, I think education is massive in those 'boys club' type environments."
"I believe in five years' time seeing 'out' male and female players in national sporting codes will become more the norm. I think in time it will be a safe environment for them to be able to do that."
So, while Adam will be out celebrating Pride Month soon with fellow rainbow Flighties and allies, and is proud of his identity, he reiterates that being part of the Pride community is just one part of him.
"I'm just being me.  I think because I came out when I was 15, I made that choice really early on that I want to be me for me, I don't want to fit any stereotype.
"Today even, a lot of the time, people have no idea I'm gay…   I'm just a bloke who happens to be gay and I've always led my life like that, not because I'm trying to hide something, but because I'm happy and comfortable with who I am."