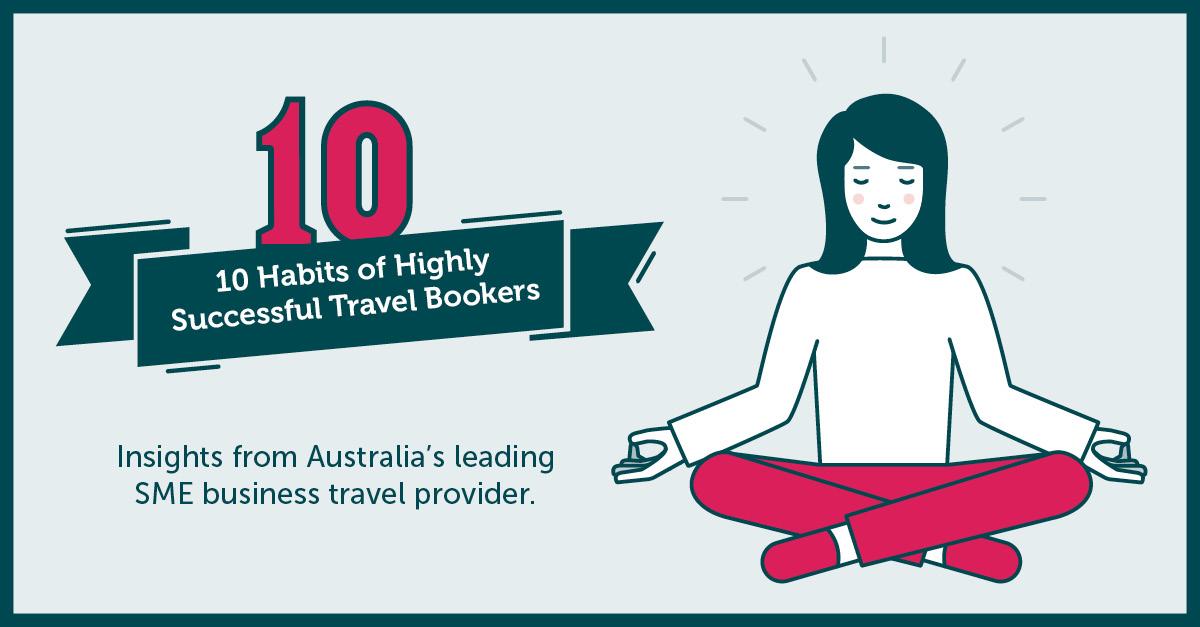 Sydney-based Sally King has been working in the travel industry for the past 15 years. She holds the role of National Account Management Leader for Australia's leading SME business travel provider Corporate Traveller.
As an experienced corporate travel professional who has held a number of senior roles within parent company Flight Centre Travel Group, Sally is more than happy to share her thoughts on how the industry's best Travel Bookers play a hand in shaping high performing travel programs for their employers.
Sally says the best Travel Bookers in the business use similar strategies and have a certain mind-set that influences their approach to work, regardless of the size or industry of their company.
According to Sally – the best Travel Bookers …
1. Work in partnership with their TMC's Account Manager
Many of the most successful Travel Bookers I know have a very close working relationship with their Account Manager. This kind of relationship allows the Account Manager to gain valuable insights into your business and business travel processes. By better understanding your internal processes and your requirements, your Account Manager will find tailored ways of creating cost and process efficiencies for your business. Account Managers are also a great source of information for you to learn about new products, services and technology that can streamline your travel program.
2. Don't just focus on the dollar savings
Client Travel Bookers who chase extra dollar savings by sourcing a flight, hotel or vehicle outside of your travel program (because it seems cheaper!), can quickly negate productivity and efficiency gains. Plus ad-hoc bookings over the web, can cause headaches if you need to make changes. Likewise, paying a minimal fee to use new technology to streamline and automate your processes may be painful at the outset, but over the long term generate incredible financial and time efficiencies for your company. Technology such as the Rapid Reconcile platform, may cost your business per booking, but will save your finance team days in processing and reconciliation time.
3. Take the time to learn about new tech products and traveller tools
From online booking tools, pre-trip approval products or mobile apps for travellers, technology is transforming business travel as we know it. The upshot is that many of these tools are developed to make your job easier and increase yours and your travellers' productivity. These tools streamline the booking process, and by tailoring them to suit your business, they represent low-fee travel options, expedite pre-trip approvals, manage traveller preferences and improve policy compliance. While mobile apps give travellers vital information and updates – and the ability to make changes on the go. Technology is your friend!
4. Involve all their key company stakeholders
No-one is denying this is one of the hardest balancing acts … but you need to involve all the key stakeholders in your company's travel ecosystem. By involving all stakeholders - such as the finance team, C-level executives and travellers – in your travel program development, you can use their feedback to help shape your business' program. It's also a great way to help everyone understand the why, when and how of your policies, to increase compliance across the organisation. As part of this it's important they all understand the benefits of the travel program, product or policy changes and the advantages of new technology.
5. Listen to their travellers but also enforce the rules
Today's travellers have a strong voice and it's important to understand their needs. However it's equally important that they understand the need to comply with your travel policy. Apart from incurring additional costs, non-compliant bookings can jeopardise supplier agreements and compromise the company's duty of care responsibility to its employees.
6. Set goals, measure outcomes but don't get caught up in the data
Successful Travel Bookers know the value of setting goals to measure outcomes and to provide a focus for all stakeholders. However, it can be easy to get overloaded with reviewing reports and analysing data, which isn't going to make a tangible difference to your program. While data can be very useful, the key is to only focus on relevant information and also work closely with your Account Manager for a big picture view of your program.
7. Provide regular feedback and raise issues with their Account Manager
By allowing your Account Manager to really get to know your business, by providing constant feedback and by encouraging effective two-way communication, your Account Manager is in the best position to provide tailored solutions that are going to make you look good! It's highly likely your Account Manager has seen a similar situation before, and will give you independent advice that is not emotionally or financially driven.
8. Minimise the number of suppliers you work with
Reducing the number of suppliers you deal with delivers both time and cost efficiencies. Working with your Account Manager to consolidate your program with the most appropriate suppliers can help you take advantage of booking tools, streamline processes, leverage your spend, reduce leakage, negotiate value adds and enhance your duty of care. Suppliers such as hotels, also work hard to look after repeat travellers and to enhance the traveller experience.
9. Keep up to date with industry trends
With the industry changing so rapidly, it's important to stay up to date with the latest travel trends, products and information. Industry and supplier events can be a great source of information, along with your Account Manager who can provide advice on industry benchmarks and best practice. These insights are invaluable when reviewing and setting goals for your own program. If you're interested in attending industry events or functions make sure you let your Account Manager know!
10. Make things easier for the finance team
The finance team is an important partner for any successful travel program, so communicate openly with them and understand their needs in terms of reconciliation or expense coding. A well-managed, integrated program can provide visibility and transparency, while also helping to reduce administration costs.