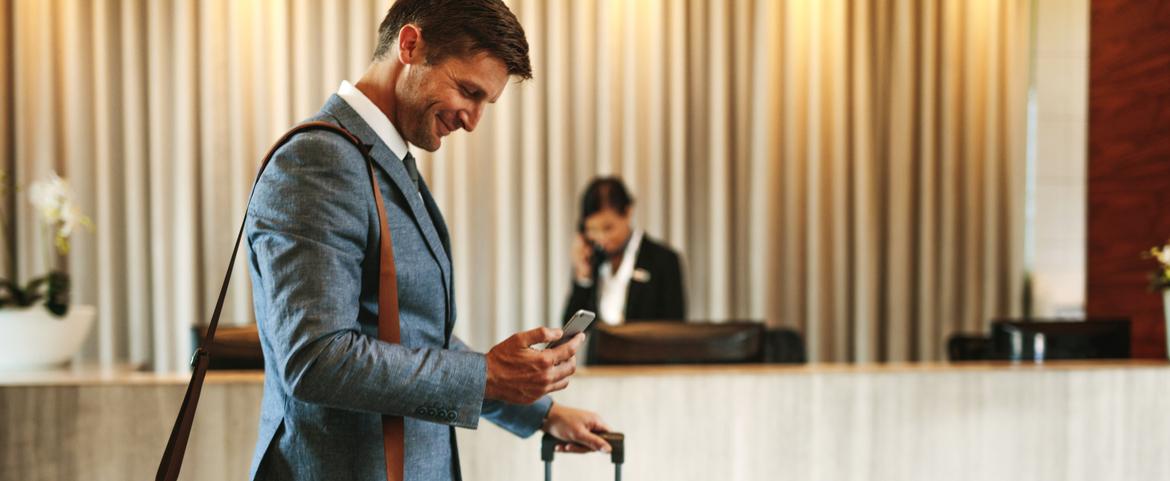 You're away on a business trip, and you've had a big day travelling, attending meetings, making calls and working through the to-do list. You're exhausted and getting your head on a pillow can't come soon enough. And then you discover that the hotel you're booked in is next door to a nightclub, and the mattress is like a bag of cement.
With literally tens of thousands of hotels around the country to choose from, it's easy to get it wrong. 
Apart from missing out on a good night's sleep, if you end up in an unsuitable hotel you could be charged too much and miss out on extra perks.
According to Dean Easton from 4D consulting, the key to avoiding these mistakes is to have a quality hotel program in place. Here Dean takes a more detailed look at what the benefits of a good hotel program are, and how to build one.
What are the benefits of a hotel program?
Hotel programs are an essential part of any travel program, and the more strategic they are, and the more detailed they are, the better. According to Dean, there are three main benefits of a good hotel program:
Cost containment
Traveller satisfaction
Duty of care
Cutting the cost of hotels
According to Dean, you don't have to be a big company to save on hotels.
"Not everyone realises that if you have more than just 100 room nights per annum in one location, you could get a better deal. Streamlining your spend into select properties or hotel chains can result in significant discounts. This includes meetings and events spend and ancillary spend such as food and beverage, parking and more," says Dean.
Under a good travel program, you can access more flexible rate conditions, which is important should you need to cancel. Plus, you can also access last room available rates, which protect you from surge pricing.
Getting the right room rate for your business
Hotels typically offer a range of rate types, and the trick is to pick the one that suits your needs and the market conditions the best. The primary rate types are:
Last Room Available (LRA)
Non LRA
Dynamic (% discount off Best Available Rate)
With an LRA rate, if a hotel has a room for sale and if you have an LRA contract in place, you can buy it at your contracted rate. LRA rates are usually higher than NLRA rates. Non LRA rates are where the hotel has the ability to switch these rates off in periods of high demand. Dynamic rates float up and down depending on hotel occupancy or demand. 
For large corporate programs, Dean recommends a blend of rate types. 
"LRA rates are best in buoyant markets. NLRA are for soft markets. Dynamic rates provide overflow support in constrained markets and regional coverage where low volumes of room nights are produced and don't warrant a negotiated rate," says Dean.
Keeping your traveller happy
Improved traveller satisfaction is another benefit of establishing a good hotel program. Selecting a hotel according to your travellers' needs will mean much happier travellers and having a diverse selection of properties in your program can help to make sure all travellers' needs are being met. 
Traveller safety and security are paramount, so all hotels and properties safety standards should be checked, as well as their equipment, policies and procedures.
Duty of care
According to Dean, a further benefit of a hotel program is to the company's 'duty of care'.
"Most company's today want to – or need to - ensure their travellers are safe and well cared for when travelling on company business.  All bookings through Corporate Traveller are recorded via an emergency traveller locator system, so in the event of an emergency situation (natural disaster, terrorist attack etc), the agent can run a report and identify any traveller whereabouts.  Having a well-designed program and travel policy will ensure hotel booking attachment to flight bookings enabling the ability to locate a traveller during such events," says Dean.
How do I build a hotel program?
At its simplest, there are five key steps to building a quality hotel program.  
Step #1 – Start with your data
The first step is to start with your data. Visibility of data is the key, and you need to look at all expenses, what your spend is, where you are travelling to and where you are staying.
Step #2 – Design your Travel Policy
The next step is to draw up your travel policy so you can devise the strategy around sourcing. A good travel policy clearly defines the type and quality of properties that are allowed and sets the budget for room rates.
Step #3 – Choose your hotel partners  
Next, once the strategy is in place, you'll need to source the hotels that fit your policy and start negotiations with them. Preparation is key here, as the hotels will want to know a few details about your spend. This can include how many room nights per year you need, what your travel patterns are, your average time of stay, and whether other items are required such as car parking, wi-fi and breakfast.
Step #4 – Get a proposal
When you have identified your preferred hotels, they will then prepare a proposal for you, based on a volume commitment. This proposal should list your different room types and rates, the T&C's, seasonality and blackout dates, any ancillary costs such as parking. Dean encourages businesses to ask hotels to provide 'surcharge dates' as opposed to 'blackout dates'. 
"In the event there is an event in town, rather than have your corporate rates 'blacked out', the client can pay a surcharge to stay over the event period. For example, take the Formula One Grand Prix in Melbourne, which is a four day event running from a Thursay to Sunday.  Most hotels will list these dates as a 'blackout', meaning a traveller wanting to stay will have to purchase the best rate of the day (usually very inflated). So rather than pay $500-$600 a night, they can negotiate a surcharge rate which might be $100-$150 on top of their corporate rate which would still be well under the public rate," says Dean.
When negotiating your hotel contracts, you can contact the hotels directly, or of course Corporate Traveller can do this for you. Our calculation for time spent by a business when they handle a RFP themselves is approximately two hours per property. This includes establishing the right contacts, discussion, sourcing the rates, benchmarking, negotiating, contracting, rate loading, OBT setup and GDS audit to ensure rates are accessible. Outsourcing a hotel RFP will deliver many benefits both financial and time saving.
Step #5 – Load your codes  
The final step, if you're happy with the proposal, is to load the codes into your GDS, which will feed into your online booking tool. Once that's done, you can start booking. Your Corporate Traveller Account Manager can assist with the Online Booking Tool setup to ensure your preferred properties are front and centre when the traveller log on to book.
Of course, if you don't want to handle this process yourself, we're help to help, and when you work with us you can automatically access the amazing rates we can offer, thanks to the sheer volume of bookings the Flight Centre Travel Group makes globally. A full ROI document is prepared and presented at the conclusion of the RFP process identifying areas of cost savings for your business.
Rest easy with your new hotel program
Hotel programs are an intelligent way to bring more structure, predictability and savings to your business travel. They help to eliminate unnecessary wastage and reduce complaints from travellers as they go about their trip.
With this understanding of the key features and benefits of a hotel program – and how to build one – you are now in the perfect position to maximise your ROI on hotel spend. With a little effort and insight, you'll no longer be kept up all night wondering if you've spent too much, or what time the party will finally wind up in the club next door.