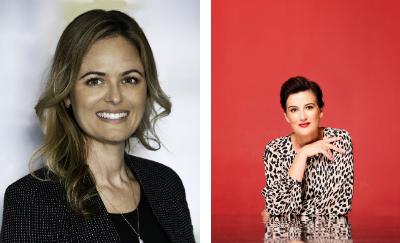 International Women's Day, held annually on 8 March, provides an opportunity to focus on what is being done and what can be done in Australia to support women and the pursuit for equality. This year, the theme for International Women's Day (IWD) is Each for Equal - honing in on how, collectively, each one of us can help to create a gender-equal world. 
Equality is, after all, more than a women's issue. It's a business issue. Gender diverse workforces are proven to outperform others. They have a higher collective intelligence and as a result, make better business decisions. 
In 2019, a panel of guest speakers at Corporate Traveller's International Women's Day lunch spoke about themes important to many women in the workforce, including finding a healthy balance between work and family, and the importance of women backing themselves and having the confidence to find and use their 'voice' at work, socially and in the home.
One year on, and these topics are still very relevant. Corporate Traveller's General Manager of Western Australia, Lisa King, and Time Stylers' Founder and Director, Kate Christie, shared their personal experience and insight to discuss what Each for Equal means to them.
Coming face to face with inequality
Kate Christie belonged to a generation of women who told her that she could have it all. 
"I believed it and went for it", said Kate. 
This attitude led her to pursue law and executive leadership roles, where she rose the ranks and was the only female in the IT leadership team at Telstra, accepting the position of Director of the Office of the CIO. 
After traveling the world, Lisa King pursued a career in the travel  industry. 
"I started with Flight Centre Travel Group (FCTG) in 2005. I moved back to Western Australia and spent five years as a leisure travel consultant and worked up to be the Future Team Leader of the most successful store in WA. I finally moved over to Corporate Traveller in 2011," said Lisa. 
Lisa was the state's top novice and top consultant in her first year, the top consultant for two years running after that, and then became Business Leader in 2014. She excelled and was offered a position as Corporate Traveller's General Manager of Western Australia in 2018.
Despite both Lisa and Kate reaching such heights, each of them encountered, as many women do, challenges that are unique to women in the workforce, blocking them from moving ahead.  
"The wheels really started to wobble and fall off when I had three babies in three and a half years. The myth of you can have it all lost its shine. The juggle became so intense and so hard to manage that I backed myself into a corner. I thought that I could either be a good mum or have a great career, but not both," said Kate. 
She opted out of her career, embarked upon motherhood, and stumbled upon a newfound obsession with time; how to maximise it and use it more productively. 
Lisa's experience was different. Despite her evident achievements, when the GM role came up at Corporate Traveller, she hesitated. 
"When this role came up, I didn't feel I was ready to take the next step. There were things I wanted to achieve in my current role before I felt that I could properly give the team everything they deserved in a GM," said Lisa.
Fear of failure, feeling undeserving and feeling unprepared for a role which so few women currently hold are common feelings for women in the workplace—causing many to shy away from opportunities which they so clearly deserve. Thankfully, in Lisa's case, she had a fantastic leader who advised her of this. 
"What she made me realise is that I had all the skills and knowledge. Anything else I needed to know could be learnt on the job," said Lisa. 
Challenging female stereotypes and breaking down barriers
Women are traditionally seen, both by themselves and by society as selfless, generous caregivers - whether to their family or those around them. Admirable qualities, but not always the most serving to get ahead professionally. 
"The pressure we feel to do it all is staggering. We're left anxious, frustrated, angry, guilty and exhausted. We've forgotten that what we want is just as important as of our other priorities," said Kate.
Faced with this struggle, Kate became a time enthusiast, exploring every way possible to find more time so that she could in fact have it all, or at least all of the bits most important to her - a fulfilling business and a happy family. Through the process of reframing her own relationship with time, she went on to found Time Stylers, helping busy professionals (including working mothers) to get back more time and use some of that time to invest in themselves. 
"I have a reputation for helping you find 30 hours of lost time a month. And I want you to set terrific goals about how this time can be spent a little more selfishly," says Kate. 
As every business mantra goes: "Time is money" and in Kate's opinion "time is not there to be managed, it's there to be invested." With this, Time Stylers explores how time can be invested back into busy professionals and working mums to keep them happy, thriving and prioritising themselves in a guilt-free way. 
"As working mothers, equality needs to involve being a little less selfless," adds Kate.  
As was Lisa's experience, historical inequality can lead women to be their own 'roadblocks': "It's common for women to put a halt on their own career progression as they don't feel they have all the necessary skills." 
To anyone experiencing this, Lisa says: "Take the leap anyway. Be confident of what you do have and your ability to learn the rest."
While the struggle for equal opportunity persists, it's important for women to speak up and be heard. As equality has become a larger fight in recent years, there are allies everywhere that can support you. 
"If you feel things are unjust, make your stance known to your superiors. Then they have a chance to change." said Lisa. 
If all else fails, go where you're appreciated. 
"There are so many businesses out there now, like FCTG , who are inclusive and promote based on merits. These are the companies you want to work for. Not a company that doesn't recognise your worth. If they can't see past your gender, then these companies aren't going far anyway," said Lisa.
What Each for Equal means for us
Freeing women up to pursue the same opportunities to lead and thrive as their male peers can, is the responsibility of all genders. Women need to stand up and men need to support these changes. 
"We all need to shift the dial to support women moving from being phenomenally selfless to being a little more selfish. We've got to remember who we are and we need to prioritise ourselves without guilt," said Kate, who explores this concept and provides solutions in her new book, Me First: The guilt free guide to prioritising you.
Lisa adds, "Each for Equal is about recognising each and every person, male or female, as an individual. I don't want to be at a disadvantage for being a woman, but I don't want any special privileges either."
Working in a gender-diverse environment, Lisa has a unique insight into how businesses can succeed with a balanced workforce. 
"Our Business/Team Leader group has two female managers and five male. Our entire Future Team Leadership group is female. We have four sets of job sharers who are mums returning to the workforce, and two part-timers," said Lisa. 
"It is important to find balance in your leadership team. But don't just see women for their gender. See them for their intelligence, their business acumen, empathy and work ethic. The companies that do this, I believe, will realise true success."
Each for Equal is for everyone.