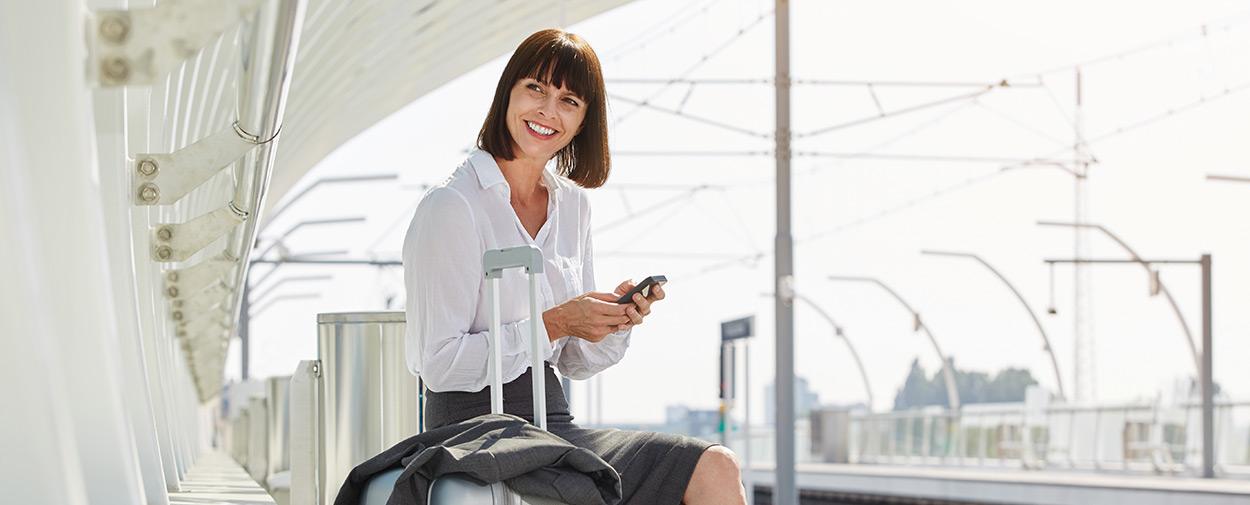 Travelling for business can be a rewarding and exciting experience, but it can also be hard work and leave your road warriors exhausted and discontent. Keeping your travellers feeling positive and productive while they're away is essential to get the most out of their trip, which benefits both your travellers and your business.
Vannin Elliott, Business Leader at Corporate Traveller, says: "When your travellers are happy, they'll stay focused on the job and enjoy the experience more, which will deliver results for your business."
Upgrade your travellers' expectations and keep them happy while on the road with our top five tips to ensure an enjoyable experience while travelling for work.
Personalise their travel
Everyone is different, and the more you know about your traveller and their preferences, the more their travel experience can be tailored, resulting in a better experience.
Here are some questions to ask and keep on file:
Do you prefer the window or aisle seat? Do you like to sit near the front or toward the back of the plane?
Do you have any dietary requirements or preferences when it comes to food?
Are you loyal to any hotel brands? Do you have a room type you prefer, such as one-bedroom to spread out or a full kitchen to make your own meals?
Which cities do you know well? And do you have preferences for locations in those cities?
What are your social or leisure habits when you travel? Do you like to exercise or connect with people?
These might seem like personal questions to ask at first, however, referring to these answers when booking travel will go a long way to providing an experience that your traveller is happy with.
Vannin says that when it comes to personalising travel, loyalty programs can be key: "Because nobody likes to miss out on their points, keep accurate customer data on file, such as frequent flyer numbers and hotel and car hire membership numbers."
Ensure they have access to technology
Access to the right technology can make a traveller's trip so much easier and simpler. Ensure your traveller has the right apps and are connected to your preferred systems to make business on the go stress-free.
This is where the Corporate Traveller mobile app comes in handy, says Vannin: "The Corporate Traveller travel app helps travellers to manage their itinerary on the go and check in online, without having to trawl through old emails. With the app, they can also see cancellations, check the weather, maps, and more."
Another tech essential is good hotel Wi-Fi. This is the number one priority to keep travellers connected. With smartSTAY, you get free Wi-Fi as a value-added benefit for all properties in the smartSTAY program. That means your travellers can log on any time they like, without any extra cost. 
Provide a seamless booking experience
These days there really isn't an excuse for a booking experience that isn't seamless. The technology behind online systems means bookings can be completed quickly and accurately. And it puts the traveller in control.
Booking everything on one platform keeps all details central and easily accessible, says Vannin: "It only takes a few clicks, and thanks to machine learning, the process actually gets to know the trends and it becomes faster and easier every time you use it."
Put their safety first
With the unpredictability of world and weather events, traveller safety is paramount; keeping them safe and secure wherever they are, provides peace of mind and reduces stress. Before booking and again before travelling, ensure you're aware of the current state of affairs at the destination. If travelling overseas, check Smart Traveller for advice and warnings on international destinations.
Our platforms can provide customised reports to give you an accurate picture of where all of your travellers are at any point in time, which is crucial to keep your travellers safe, says Vannin: "Live travel alerts can be issued to help keep your team out of harm's way and keep everyone informed if there's a crisis."
Booking hotels that are in a safe location and that offer good health and fitness facilities is another great way to look after your travellers' wellbeing.
Book in 'bleisure' time
Bleisure travel continues to rise in popularity, with over two-thirds of global business travellers enjoying at least one business trip a year where they've added on some leisure time.
Providing your travellers with time to experience and enjoy leisure travel before or after business trips gives them the chance to explore and discover new places and experiences. And the benefit for your business is better employee performance, says Vannin: "This is an easy way to boost their enjoyment and engagement while they are away for work."
Bleisure time can also be used as a reward for compliant travellers, and to build company culture. But if your traveller is tight on time and can't extend their stay, the Harvard Business Review says a 'built-in break' might be just as good at making work travel more enjoyable. Encourage your travellers to connect with their destination throughout their trip, such as staying in an Airbnb instead of a hotel, eating at restaurants that only the locals know of, or visiting a local attraction on the way back from a meeting.
You can help your travellers enjoy their trip and return happy and ready to get back into work by providing opportunities for Bleisure travel and built-in breaks when next revising your travel policy.
Happy travelling
These tips to ensure an enjoyable experience and make your travellers happy are simple and achievable. For happier travellers and better business results, try including these ideas in your travel program. You'll soon see positive results and productivity improvements in all your road warriors.