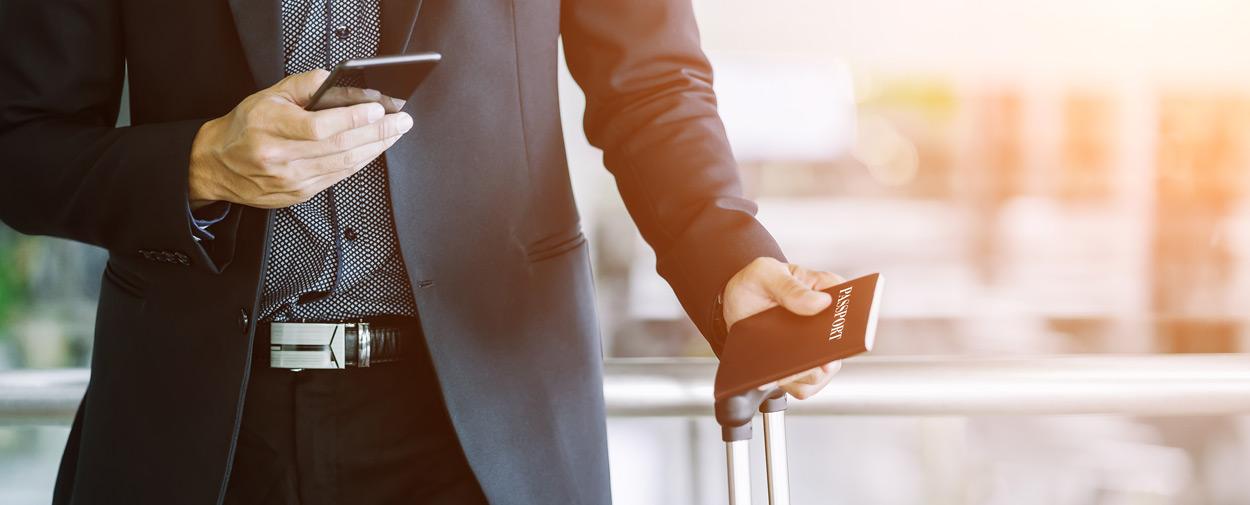 Australia's dependence on business travel is fuelled by continued growth in cities around the country and the largest industry for work-related travel – mining – forging ahead in a number of states. It's not surprising then, that 11 per cent of the Australian population has travelled by air for business in recent years. With travel playing such a significant role in business today, and technology and processes evolving rapidly, there are growing expectations around the experience of business travel.
With a new decade on the horizon, Corporate Traveller is looking ahead at the opportunities in travel and technology, and the challenges that businesses will face when it comes to their corporate travel management. Sally King, National Account Management Leader at Corporate Traveller, shares her insights into the biggest trends in business travel that are shaping the industry.
The sharing economy continues to move into travel programs
From Airbnb for Business to Uber and the more corporate Get Picked Up, the sharing economy is shaking up the corporate travel industry in a big way. Most platforms now offer corporate travel solutions, including business profiles and receipt management, to make their use easier and more accessible for corporate travellers.
And while significant and seamless progress has been made, we haven't seen the full effect of the sharing economy yet, says Sally: "There's still a lot of real interest and conversation at the moment about how to incorporate the sharing economy into travel programs now and into the future."
Mis-information overload is leading to confusion
The significant rise of travel booking sites, business traveller forums and the use of social media has made vast amounts of information about travel and destinations available at our fingertips. However, the quality isn't necessarily up to scratch and can lead to misinformation and confusion when it comes to trying to understand travel options.
"Research is showing that people – the decision makers – are reading more and more before they seek the advice of an expert, salesperson or business travel agents. They'll try to educate themselves, and the problem with this is that there's a lot of misleading information out there," says Sally.
Data-driven decision-making is being boosted by AI
As well as information, there is a plethora of data available now. And with more access comes an increased reliance on data, particularly when it comes to decision making. Data can provide insights into travel activity and booking trends that can inform better policy and program decisions, but data alone is no longer enough.
"Travel data, as it stands, is based on past trends. But businesses are increasingly wanting predictive reporting and a better understanding of what the data trends mean for the future," says Sally.
The answer may lie in the increasing use of artificial intelligence (AI). Using AI as a processor can leverage masses of data and remove cognitive bias, ultimately supporting the decision-making process.
Travellers are becoming more responsible for bookings
With information overload impacting the decision-making process, the result is overwhelmed and stressed decision makers. And travel bookers are not immune, with the significant number of travel options available and growing pressure to meet business travellers' needs.
Post-purchase anxiety, as well as a desire for personalisation, is driving a change in travel booking processes, with more responsibility bestowed on the travellers themselves to make bookings, says Sally: "While productivity, ease of use and compliance are still very important to businesses, we're seeing a shift in the corporate travel market where travellers are making more bookings themselves."
Business travellers are more aware of social impact
As businesses grow more conscious of their impact on the environment, they are putting pressure on their suppliers in terms of corporate social responsibility, says Sally: "Businesses are increasingly holding each other accountable for their impact and, with greater concern for their travellers' environmental footprint, our customers are asking more about our corporate social responsibility policies."
Beyond carbon emissions, areas of growing concern for business travellers include environmental accreditation, Indigenous recruitment, reconciliation action plans, and anti-slavery laws.
Productivity gains are valued over cost savings
It's assumed that everyone wants to slash business travel expenses. But that doesn't seem to be the current trend in corporate travel, says Sally: "Businesses are talking more about proactivity gains than they are about cost savings. We're definitely seeing a shift there, with any conversation around costs being more about cost containment at the moment."
While there are ways for businesses to cut their travel costs, when it comes to their priorities, more emphasis is being placed on an efficient booking process, an enjoyable work travel experience, business traveller wellbeing and duty of care, resulting in greater productivity and positive results for the business.
Customer service is important, but the conversation is changing
In this digital age, customer service is as important as ever, especially to corporate travellers, says Sally: "People-to-people contact is proving really important, especially in the decision-making stage of booking travel and also while on the road."
With technology taking on a lot of the manual processes of business travel management, lines of enquiry have shifted from the business travel booking itself to being more about tech troubleshooting and advice on the logistics of corporate travel. Given this, it's proving as invaluable as ever to have the convenience of a dedicated Travel Manager or corporate travel agents on hand to reach out to.
High use of OBTs leads to benefits for business travel management
The use of OBTs, or online booking tools, is at an all-time high in Australia, says Sally: "The uptake of online bookings in the Australian market is really considerably high versus other overseas markets where the uptake is really, really low. In part, this is because the domestic market is comparably simple, in terms of the number of carriers and travel services we have here."
The adoption of OBTs into the business travel booking process is not only solving a lot of corporate travel problems for businesses, but it's leading to more benefits in terms of the management of corporate travel, such as AI-driven capabilities, reporting and expense management solutions.
Businesses are building trust in travel booking technology
As businesses upgrade their travel booking process to an OBT, a relationship needs to form between the software and the travel booker: the software needs to get to know the preferences of the travellers, while the travel booker needs to trust the OBT. And importantly, as technology progresses, trust in technology is building.
"We've come through this movement where businesses want control of their policy, travel compliance across the business, traveller personalisation, and all these distribution channels. And now that we're getting the integration of AI right with tools like Savi, which is able to deliver in all these areas, we're seeing more and more trust put in the capability of technology as it eases the decision-making process," says Sally.
Business travellers need to be mobile
When it comes to business travellers and their needs, there is a growing trend that travel-related information is accessible on mobile, and the services of a travel management company are no exception, says Sally: "Travellers want information instantly and they want to be able to book however they want, whether that's in person, via an OBT or on a mobile device. Either way, they want to be able to access everything in the palm of their hand. And they'll want this into the future."
With travel-related apps ranging from transport to navigation, and language to currency, and even apps to help with jet-lag, travel booking and itinerary apps are, more and more, designed to cater to this growing trend.
Upgrade your business travel expectations
As we know, trends come and go. But there are some business travel trends that we haven't yet seen the end of, and in fact, we've only just seen the beginning. The industry continues to be shaped by technological advancements and adjustments to processes which cater to travellers' expectations and business needs alike.
Don't get left behind in 2019. Connect with a Travel Manager and upgrade your business travel expectations as we move towards 2020.